Dow Jones Industrial Average Tumbles As Apple Inc. (AAPL) Bucks Downward Trend Despite Weak Chinese Economic Data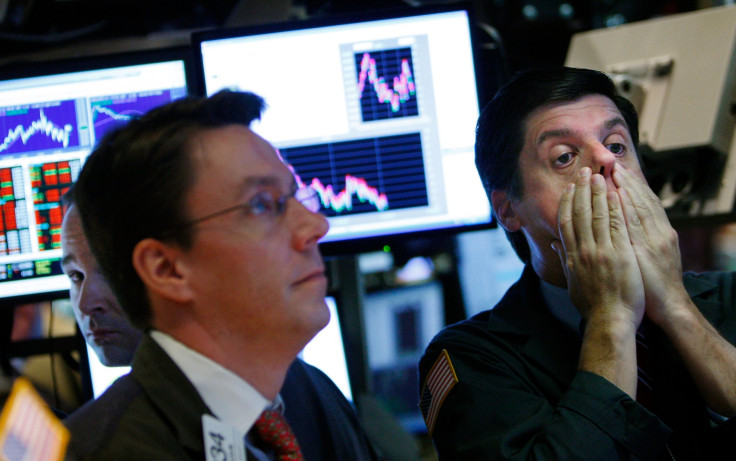 This story was updated at 4:10 p.m. EDT.
U.S. stocks closed with a sizable loss Tuesday after weak economic data in China and Europe reignited worries about global growth, while oil prices dropped for a second day, dragging down energy shares.
Activity in China's factories shrank for the 14th straight month in April as demand stagnated, a private survey showed. Britain's manufacturing output also unexpectedly dropped last month to its lowest level in three years.
U.S. oil prices settled down 2.5 percent as rising output from the Middle East renewed concerns about global oversupply. The S&P energy index, down 2.4 percent, led declines in the benchmark index.
"Equities are in search of a catalyst, and at the moment lack one," said Mark Luschini, chief investment strategist at Janney Montgomery Scott in Philadelphia.
The Dow Jones Industrial Average closed the day down 140 points, or 1 percent, at 17,751, working off some of the 220-point drop seen at the low point of the day. The broader S&P 500 index was off 18 points, or 1 percent, to 2,063 at the close, and the Nasdaq composite was down 54 points, or 1 percent, at 4,763.
Apple Inc. (AAPL) | FindTheCompany
Shares of Apple Inc. bucked the market's downward trend and closed up 2 percent at $95, rising for the first time in more than a week, one day after CEO Tim Cook sought to assuage investors' fears about the company after billionaire activist investor Carl Icahn's decision last week to sell his entire stake in Apple, citing the risk of China's influence on the stock.
Cook told CNBC Monday that the next generation of iPhones will persuade current iPhone users to upgrade when the device is released. Apple' stock price is down 9 percent so far this year.
Earlier, Australia's central bank also sprang a surprise by cutting interest rates to a record low of 1.75 percent. The majority of economists surveyed by Reuters had expected no change.
Recovering oil prices and an accommodative Federal Reserve have helped the S&P 500 rise by about 14 percent since mid-February. However, the index faltered last week, weighed down by lackluster earnings and mixed economic data.
While first-quarter earnings from S&P 500 companies have mostly beaten analysts' expectations, they are still expected to fall 5.7 percent from a year ago, according to Thomson Reuters data.
China Overview | FindTheData
The Fed held monetary policy steady last week after raising interest rates in December for the first time in nearly a decade. While the central bank kept the door open to a hike in June, it gave no signal that it was in a hurry to tighten further.
Investors will be keeping an eye on U.S. unemployment numbers at the end of the week for signs confirming that the labor market continues to gain in strength.
Shares of drugmaker Pfizer were up 3 percent at $34 after the company reported a rise in quarterly revenue.
American International Group fell 1 percent to $56 after reporting a lower-than-expected profit for the third straight quarter.
Drugmaker Mylan was up 2 percent at $44, after posting a 17 percent rise in quarterly revenue, helped by higher generic drug sales.
Data from Reuters were used to report this story.
© Copyright IBTimes 2023. All rights reserved.