China, India Jointly Push For New Initiative To Resolve Border Dispute; Sign Eight Agreements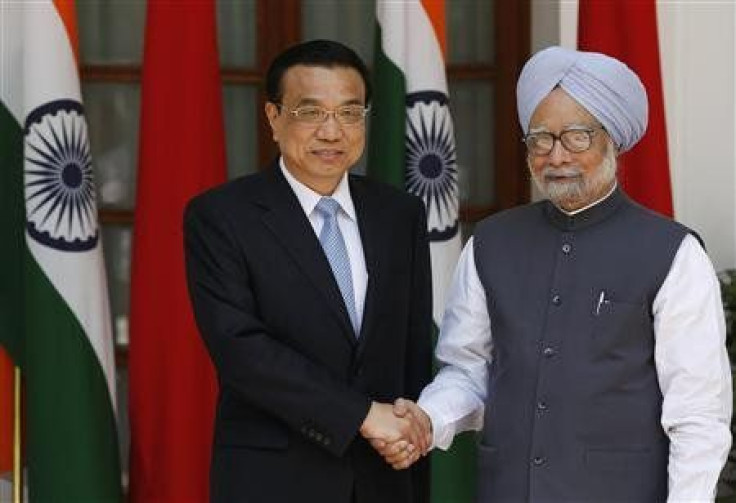 China and India on Monday decided to accelerate talks and evolve a framework to end their border disputes, while signing eight agreements to strengthen ties during Chinese Premier Li Keqiang's visit to New Delhi, his maiden foreign trip since taking office.
Addressing a joint press conference in New Delhi, Indian Prime Minister Manmohan Singh said both the nations have learnt lessons from the recent flare-up in border tensions, adding that discussions between the two sides had achieved "multiple and significant outcomes."
Singh said special representatives have been tasked "to consider further measures that may be needed to maintain peace and tranquility along the border," Singh was quoted as saying by the Press Trust of India (PTI).
The special representatives will meet soon to continue discussions, seeking "early agreement on a framework for a fair, reasonable and mutually acceptable boundary settlement," Singh said.
Li said the purpose of his visit was "to increase mutual trust, to intensify cooperation and to face the future," adding that he and Singh had "a most productive session of talks" on Sunday.
Li said although there were "some problems" between the two countries, "both sides believe that, with regard to the boundary question, one that is leftover by history, the two sides have over time established the principles on this question."
"In the meantime, we have worked together to maintain tranquility and peace on the border," he said, adding: "We need to confront various issues with a board mind and conduct dialogue on those issues in a mature and sensible way. We need to appropriately handle our cooperation by maintaining peace and tranquility in the border areas and on the trans-border river issues."
Officials from both sides signed eight agreements, on a multitude of areas including fisheries, sewage treatment, water resources and cooperation between the Indian and Chinese cities.
The Chinese premier's visit came weeks after a decades-long border dispute heated up when New Delhi accused Chinese forces of a deep incursion into the Indian territory in eastern Ladakh in Jammu and Kashmir.
Delhi and Beijing have not been able to reach a resolution on much of their frontier, although it has been more than half a century since the two Asian giants fought a brief border war.
Despite the lingering bitterness and mistrust from the 1962 war, China is India's biggest trading partner with bilateral trade of over $60 billion, which is expected to touch $100 billion by 2015. However, the booming bilateral trade is sharply tilted in favor of China.
The rivalry has persisted between the world's two most populous nations, which have 37 percent of world's population residing within their boundaries, despite regular Chinese-Indian talks since 1981.
Among the irritants that contribute to the tensions is India's political standing favoring Tibet, which has been under Chinese rule.
On Monday, Tibetan student activists were reported protesting outside the Taj Hotel in Central Delhi and outside the Parliament Street Police Station, against the visit of the Chinese Premier. Three activists were detained, IBN-Live reported.
FOLLOW MORE IBT NEWS ON THE BELOW CHANNELS