China Jails 4 Officials For Up To 9 Years For A 2013 Poultry Plant Fire That Killed 121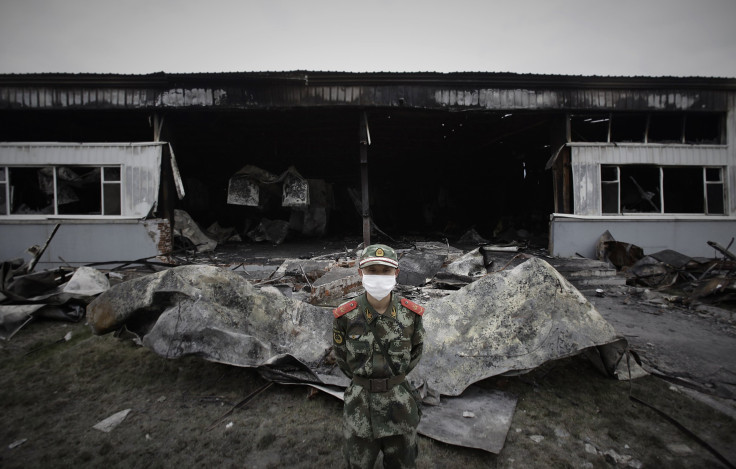 Four people were sentenced to prison terms by Chinese courts, which found them guilty in relation to a fire at a plant in northeastern China last year, which killed 121 people and injured 76 others. The accident, which occurred in June 2013 in Jilin province, about 670 miles north of capital Beijing, highlighted violations of safety regulations in the country.
Two district courts in Changchun city in the northeastern province of Jilin sentenced two senior officials of the Jilin Baoyuanfeng Poultry Co. and two fire officials to jail time of up to nine years, The Associated Press (AP) reported, citing Xinhua, the country's official news agency. People at the poultry plant had to struggle through the smoke and flames at the plant, where the doors had blocked after an electrical short set fire to the flammable goods.
Jia Yushan, the plant's chairman, was reportedly sentenced to nine years of jail along with a fine of 1 million yuan ($160,000). The court found him guilty of not ensuring enough safety measures, AP reported. Zhang Yushen, the former general manager of the plant, was sentenced to four years in jail for installing substandard equipment.
The court also found Lyu Yandong, the former chief of the local fire department, and his deputy, Liu Guicai, guilty of abusing their powers and ordered upto five and a half years in jail for both of them. Prosecutors had claimed that the two did not conduct inspections at the plant and gave false information after the accident to cover up their fault, AP reported.
More than 300 workers were said to be inside the plant at the time of the accident, while about 100 people had managed to escape. Following the incident, people protested against the company and called for the resignation of the factory owner.
© Copyright IBTimes 2023. All rights reserved.