China Labor Rights: Factory Workers Protest In Hong Kong, Amid Restrictions On Mainland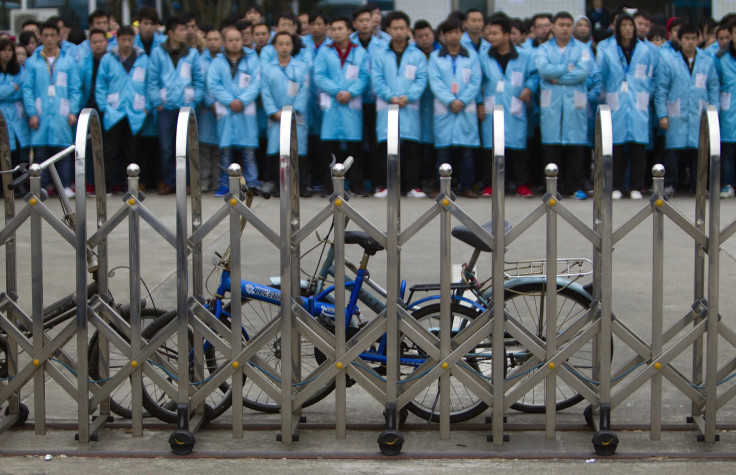 When workers from a now-shuttered Chinese factory that manufactured dolls for Disneyland Japan wanted to take grievances with their employer public, they did not erect picket lines in their native Guangdong, or in Tokyo, where their ultimate customer was based. Instead, they protested in Hong Kong.
While the proximity of Disneyland Hong Kong was doubtless one reason they chose to protest there, there was also another: as a special administrative region of China, Hong Kong has more liberal labor laws, which allow protesting workers a greater degree of freedom to air their grievances than they would have in mainland China.
"When it comes to injustices committed in the mainland, many come to Hong Kong. Not just factory worker disputes, but business [and] trade disputes also are often brought down to Hong Kong -- not because they are seeking a legal resolution here, but because it is a free place to express grievances," Hong Kong lawmaker and lawyer Lawmaker and lawyer James To Kun-sun told the South China Morning Post.
"This is actually Hong Kong's advantage and edge. We have a relatively free flow of information," he said, adding that it was in contrast to mainland China where "no word can get out [about such disputes]."
While state media in China shies away from covering stories about labor unrest in the country, the Hong Kong-based China Labour Bulletin, a nongovernmental organization, publishes a log of worker strife, which shows that this month, for instance, protests shook garment and electronics factories in the coastal province of Guangdong.
Chinese authorities have a history of censoring content and reports of activity that could embarrass the ruling Communist Party. When explosions rocked the port city of Tianjin, last month, Chinese censors sprung into action, removing swathes of social media content that criticized the ruling party's response to the crisis.
As China's economy slows, after decades of unprecedented growth, the issue of labor unrest is likely to come to the fore of public discourse, as more and more businesses struggle or are unable to offer wage increases or better conditions to workers.
"Companies are suffering acutely from shrinking revenues and profits. This is a first, arguably since reform began," Peter Fuhrman, chairman of China First Capital, a mainland China-based investment bank, told the Globe and Mail.
In a further concern for Chinese workers, increased levels of industrial mechanization are putting workers out of jobs, according to the New York Times, setting the stage for further labor unrest in the country.
While workers struggle to air their grievances, Chinese policymakers are increasingly concerned about the effects of labor unrest in the country, as increasingly unfavorable economic circumstances affect the country.
"[Now] the blunt tools policy-makers once deployed are no longer an option," business writer Jason Kirby wrote in Macleans earlier this year. "The stimulus may have kept factories open, but wasteful investment spending spawned massive oversupply of capacity in many industrial sectors, created credit and housing bubbles that make even 2005-era America look thrifty and left China at risk of a Japanese-style lost decade of deflation," he added.
© Copyright IBTimes 2023. All rights reserved.