China Launches Space Capsule, To Make Its Space Station Fully Operational By 2022
KEY POINTS
China's Space Station will be complete by 2022
The plan includes four crewed missions
China strives to rival the U.S., Europe and Russia in space
Chinese officials announced plans to complete work on the country's space station by 2022. The announcement was made after the launch of a new unmanned spacecraft Tuesday (May 5).
The newly designed space capsule was launched from the Wenchang launch center by the lastest heavy-lift Chinese rocket, the Long March 5B, which is designed to bring into orbit the modules of the future Chinese space station. The launch was successful as the experimental capsule and spacecraft entered orbit after separating from the rocket.
According to Euronews, the capsule is an improved version of the Shenzhou capsule based on the Soyuz model of the former Soviet Union. Rather than the current three astronauts, the newly developed space capsule will be able to carry six. In order to perform work on its planned permanent space station, China will send four cargo craft and the same number of crewed space missions.
According to Gadgets369, the announcement made by China's crewed space program shows the country's aspirations to rival Russia, Europe and the U.S. in outer space exploration. Since its first manned mission in 2003, China's space program has advanced rapidly, including a successful landing on the dark side of the moon performed last year. China plans to build a larger facility with multiple modules, after the country lost its experimental space station, which crashed into the Pacific Ocean in 2018.
The new Chinese space station will rival the International Space Station's scale. China's space program also plans to launch a rover and a lander on Mars. In order to take advantage of the best possible line-up between Mars and Earth, spacecraft can be launched to Mars only every two years.
China's launch to Mars is scheduled for this summer. Other Mars missions planned for this summer are the United Arab Emirates' orbiter and the United States' lander.
China's space program has sought cooperation with other space agencies. However, out of national security concerns, the U.S. has banned space cooperation with China. This measure has kept China from participating in missions on the International Space Station. Instead, the Asian country developed its own space station project.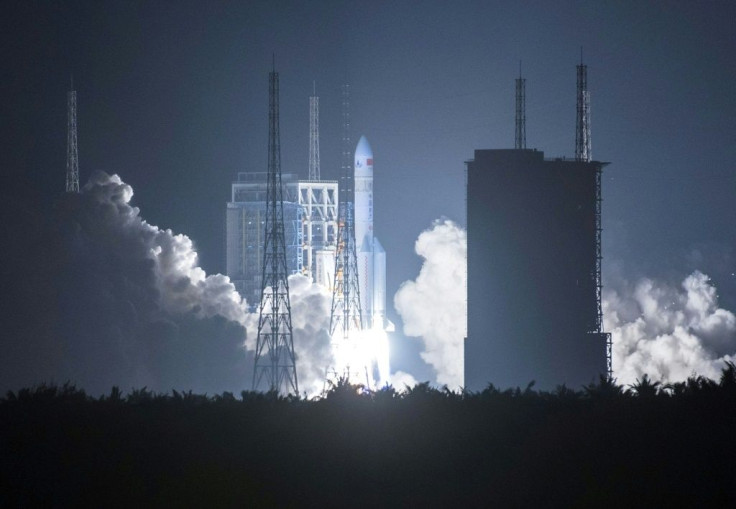 © Copyright IBTimes 2022. All rights reserved.
FOLLOW MORE IBT NEWS ON THE BELOW CHANNELS