China Long March 5 Rocket Makes Maiden Launch, Bringing Space Station Dreams Closer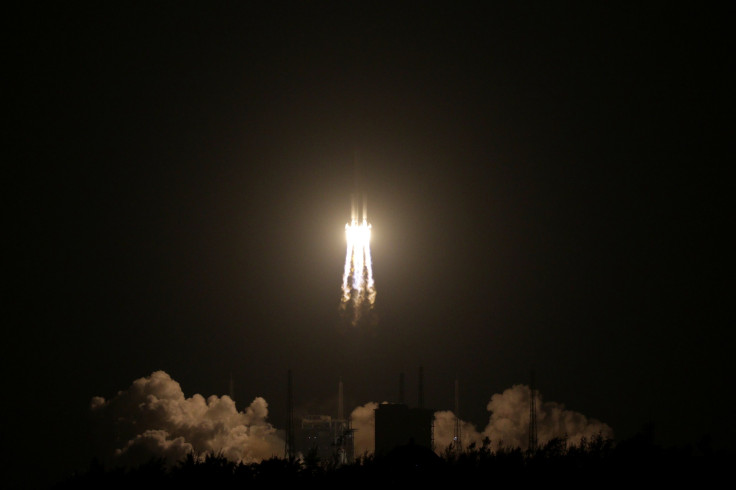 In another step toward realizing its ambitious plan to establish a space station, China launched its heavy-lift Long March 5 rocket from the Wenchang launch center in the Hainan province Thursday. The 187-foot, two-stage rocket, which was carrying an experimental satellite named Shijian-17, is capable of lifting 25 tons of payload to low-Earth orbit — as compared to 13.5 tons for the Long March 7 rocket that was launch-tested earlier this year.
Long March 5's payload capacity is only slightly less than the Delta IV Heavy, which is currently the world's most powerful rocket and can carry over 28 tons of payload to low-Earth orbit.
"Its successful launch has propelled China to the forefront of the world in terms of rocket carrying capacity, and marks a milestone in China's transition from a major player in space to a major power in space," China's state-run Xinhua News Agency reported, quoting from a statement by the Communist Party's Central Committee.
Since it sent its first satellite into orbit in 1970, China has been pumping large amounts of cash into its space program. It sent its first astronaut to space in 2003, and in 2011, it launched Tiangong-1 — the first operational component of the Tiangong program, which seeks to put a permanently manned space station into service by 2022.
The second component, Tiangong-2, was launched in September, and then, last month, two astronauts were sent aboard a Shenzhou-11 spacecraft to dock with the space lab.
The country's space ambitions extend far beyond sending astronauts to low-Earth orbits. In 2013, as part of its lunar exploration program, China launched the Jade Rabbit — its first lunar probe. By 2018, China aims to land its Chang'e-4 probe on the far side of the moon, and by 2020, it plans to send an unmanned rover to Mars.
In addition to helping China establish a permanent presence in space, the Long March 5 rocket would also play a crucial role in future missions to the moon and Mars.
According to Chinese researchers cited by the South China Morning Post, the country is also working on an even bigger rocket, which, when completed, would be bigger than Saturn-V — the rockets used by NASA during its Apollo-era space program.
© Copyright IBTimes 2023. All rights reserved.