China Military Strategy White Paper Pledges 'Active Defense', More Proactive Navy Amid Tensions In South China Sea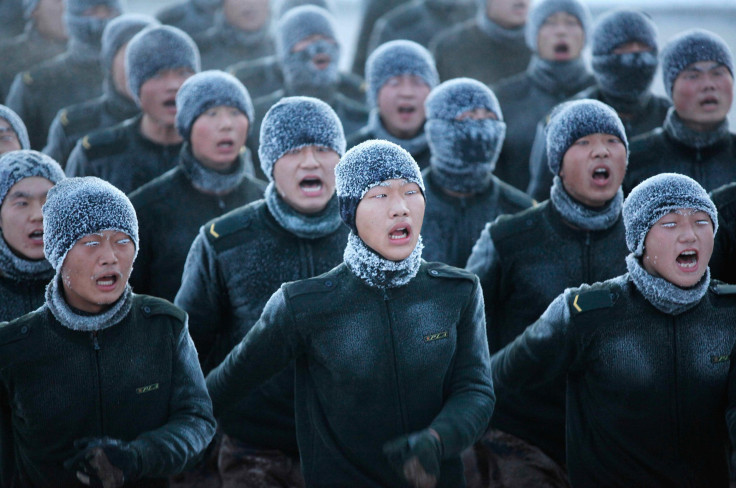 SHANGHAI -- China's latest military white paper -- its first to focus on military strategy -- emphasized what it called active defense, which it described as "the essence" of the Communist Party's "military strategic thought." It also emphasized a growing role for China's navy at a time of tensions between China and the U.S., and various Southeast Asian nations, over disputed islands in the South China Sea.
"We will not attack unless we are attacked, but we will surely counterattack if attacked," the document said, elaborating on the military's strategic thought.
The white paper, announced at a news conference in Beijing, emphasized that the goal of China's military was to help "maintain regional and world peace," and suggested that, "In the foreseeable future, a world war is unlikely, and the international situation is expected to remain generally peaceful." However, stressing that the armed forces were also committed to protecting "the country's territorial sovereignty, integrity and security," it noted that the U.S. was enhancing "its military presences and its military alliances" in Asia, and referred to Japan's recent attempts to redefine the role of its 'Self-Defense Forces,' saying Tokyo was "sparing no effort to dodge the post-war mechanism," and that this had "caused grave concerns among other countries in the region."
The document also accused some "offshore neighbors" of "provocative actions" and illegal occupation of Chinese islands in the South China Sea -- a reference to Vietnam and the Philippines, according to the official China Daily newspaper -- and said that "meddling" by "external countries" -- a clear reference to the U.S. -- meant China had to "safeguard its maritime rights and interests." It added that China's growing economic interests overseas meant that security of its assets and personnel abroad were increasingly important, as were "strategic sea lines of communication."
Consequently, it said, China's navy would "gradually shift its focus from 'offshore waters defense'" alone, to combining this with "open seas protection." Saying that China would seek to build itself into a "maritime power," it added: "The traditional mentality that land outweighs sea must be abandoned, and great importance has to be attached to managing the seas and oceans and protecting maritime rights and interests."
It said the navy, which recently conducted a joint exercise in the Mediterranean with the Russian navy, would "maintain a military presence in relevant sea areas," and would "enhance its capabilities for strategic deterrence and counterattack." It added that as well as their previous focus on "informationized local wars," China's military preparations would now be "highlighting maritime military struggle." And it also said that China's air force would "endeavor to shift its focus from territorial air defense to both defense and offense."
The report also emphasized that China was "one of the major victims of hacker attacks," and would therefore "expedite the development of a cyber force," in order to "ensure national network and information security, and maintain national security and social stability." It said threats from outer space would also be dealt with -- in part via greater international security cooperation.
A specialist on China-U.S. relations at the People's Liberation Army Academy of Military Science told the China Daily that while the white paper named the U.S. and Japan as countries "which pose security challenges, it is not written to counter them." Zhao Weibin said the paper was simply an objective assessment of the current situation. And Wen Bing, a researcher at the academy, told state TV that the publication of the report was designed to show a new openness about the world regarding China's military affairs.
The report also reiterated that China would keep its nuclear weapons at the "minimum level" and would not attack non-nuclear weapon states, and stressed that it would strengthen exchanges with the U.S. military in order to increase mutual trust, and avoid risks.
However, the white paper also warned that "anti-China forces" -- a term generally seen to refer to the U.S. and its allies -- "have never given up their attempt to instigate a 'color revolution' in this country," which it said had added to China's "challenges in terms of national security and social stability." And observers noted that the section on military cooperation placed China's links with the Russian military first, before referring to the U.S.
There seems little doubt that the white paper is in line with a more assertive mood fostered by China's current leadership under President Xi Jinping. The paper noted Xi's slogan, "The Chinese Dream... of achieving the great rejuvenation of the Chinese nation," and said that the armed forces were seeking to become stronger in order to make this a reality. "Without a strong military, a country can be neither safe nor strong," it said.
And it stressed that the military, which has recently seen a number of its top leaders put under investigation for corruption and disciplinary violations, would emphasize the Communist Party's "absolute leadership over the military," in a reminder of Xi's attempts to consolidate his control over the country's armed forces.
© Copyright IBTimes 2023. All rights reserved.