Chinese Media Say Military Confrontation Over South China Sea 'Inevitable' If US Tries To Stop Island Reclamations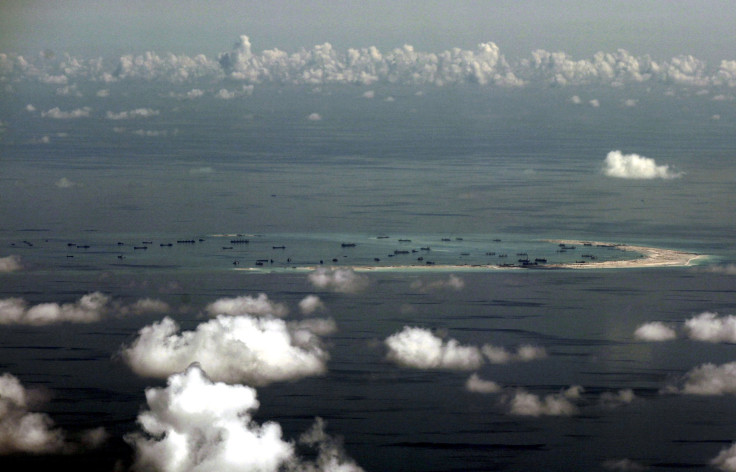 SHANGHAI -- Chinese state media have sent another sharply worded message to the United States, amid continuing tensions over China's reclamation of land around islands it says are part of its territory in disputed waters in the South China Sea -- as China's foreign ministry said it had lodged a formal complaint with Washington over U.S. surveillance flights over the islands.
Last week China's military issued warnings to a U.S. surveillance plane to leave the area, and following reports of continuing U.S. ship, air and submarine patrols in the area, the official Global Times newspaper said on Monday that one of China's "bottom lines" was that "the reclamation of these islands must be finished 'no matter what.'"
In a commentary published in its Chinese-language edition, the paper said that if the U.S. set its own bottom line on stopping the reclamation, then "a battle between China and the US in the South China Sea is inevitable – and the intensity of the clashes will be higher than what people normally understand by 'friction.'"
Also on Monday, China's foreign ministry spokesperson Hua Chunying said Beijing had now issued a formal complaint to the U.S. about flights over the islands, adding, "We urge the U.S. to correct its error, remain rational and stop all irresponsible words and deeds," according to Reuters.
The English edition of the Global Times also quoted an expert from China's People's Liberation Army Academy of Military Science as saying that "China will very likely strike back if the US comes within 12 miles of the islands." Peng Guangqian told the paper that the U.S. was forcing China to defend its "territorial sovereignty and maritime interests" by travelling "thousands of miles to China's doorstep."
Another academic analyst told the Global Times that if both sides were flying air missions in the area, clashes were quite likely: "Once China dispatches aircraft to drive away the US fighters, both sides are likely to exchange fire due to high flight speed," Zhu Feng of Nanjing University said.
These comments do not necessarily add up to statements of official policy, observers noted. The Global Times, published by the official People's Daily, is known for its hawkish commentary on foreign policy issues. However its views often represent those of at least part of the Chinese establishment. And there is no question that tensions between Beijing and Washington have heightened sharply in the past two weeks, since the U.S. said it was planning to send vessels to the region, to ensure that international shipping lanes are kept open.
During a visit to Beijing in mid-May, U.S. Secretary of State John Kerry asked Beijing "to take actions … to reduce tensions and increase the prospect of a diplomatic solution." However, China's Foreign Minister Wang Yi said at the time that Beijing's determination to protect what it says are its economic and territorial interests in the area was as "hard as a rock."
The latest comments follows reports in the U.S. that China electronically jammed U.S. drones flying over the area last week. In an apparent reference to the incident, the Global Times quoted Tao Wenzhao, a U.S. expert at the Chinese Academy of Social Sciences, as saying "China's response were justified acts of self-defense when the US flights approached China's territory and were in accordance with international practice."
The paper quoted Chinese academics as saying the U.S. should accept China was now becoming a maritime power. Its commentary suggested the U.S. was "still vague about its real purpose in the South China Sea": it said if the U.S.'s main interest was freedom of navigation, then the two sides "still have leeway to maneuver" – adding that if the U.S. was simply "saber rattling" then China would generally "exercise self-restraint." However, it said, if the U.S. seeks to "teach China a lesson by provoking and humiliating… China will have no choice but to engage."
Some observers noted that during Kerry's recent visit to Beijing, President Xi Jinping said relations between the two countries had "remained stable," and officials reiterated there were many areas where the two countries could work together. The Global Times also added that if the U.S. gave "enough space to China's peaceful rise, and China "share[d] US concerns about the rise" then risks would remain "under control."
However the paper's commentary is clearly designed to reiterate the message that China is serious about going ahead with the island projects -- and fits in with what some analysts see as an increasingly assertive mood among the leadership in Beijing.
U.S. Assistant Secretary of State Daniel Russel said last week that the U.S. navy and air force would "continue to fully exercise" the right to operate in international waters and airspace, in order to preserve freedom of access for all countries. He added, "Nobody in their right mind is going to try to stop the U.S. Navy from operating - that would not be a good bet," according to Reuters.
© Copyright IBTimes 2023. All rights reserved.
FOLLOW MORE IBT NEWS ON THE BELOW CHANNELS