China To Mobilize 1 Million Security Volunteers, Crack Down On Religious Cults For September G20 Summit In Hangzhou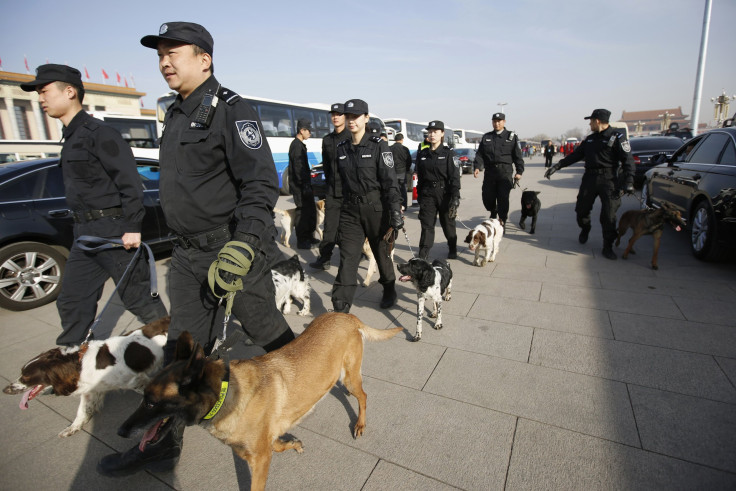 SHANGHAI — China is to mobilize one million volunteers in eastern Zhejiang province to ensure security at the G-20 summit of world leaders, government officials and central bank governors in the province's capital, Hangzhou, on Sept. 4 to 5, Chinese media reported Friday.
Hangzhou's deputy Communist Party chief Yang Shubiao said the city would put an emphasis not only on "maintaining social stability," but also on "cracking down on cult activities," which he described as an "important part of securing the G-20 summit," according to the official Global Times. The paper also said rental homes in Hangzhou would be checked before the summit, and quoted one Hangzhou official as saying that the authorities were "looking into unregistered residents [and] those with a criminal record or history of drug abuse."
The report made it clear that China's mass mobilization approach to dealing with major events is being refined and intensified for the G-20 summit, which will host some 100 top international officials and 10,000 other participants, according to Chinese media. When Shanghai hosted the World Expo in 2010, 140,000 volunteers were reportedly recruited in the neighboring city of Jiaxing to guard every road into Shanghai for the duration of the six-month event. And strict security checks were introduced on all roads into the capital Beijing, before and during the 2008 Olympics.
Dissidents and unregistered religious organizations, as well as those associated with groups such as the Falungong spiritual movement, which China labeled a cult and banned in 1999, are also routinely put under surveillance on such occasions.
And the Global Times quoted the local government in another city in Zhejiang province as saying it would "focus on preventing cults from inciting the public and harassing summit personnel during the summit," while an official in the town of Aojiang, 230 miles from Hangzhou, said authorities there were carrying out investigations and submitting monthly updates on the situation to the government.
The Aojiang official told the Global Times that the focus was on threats, including "mass disturbance, ethnic and religious conflicts and other sensitive issues related to foreign forces," with "suspected individuals and groups" being placed under surveillance to prevent "major disturbances, disorderly group petitions or violence during the summit."
He said one target was a group called the "Shouter sect," an unregistered Christian group that has been active in Zhejiang for some decades.
The reports are the latest sign that the authorities in Hangzhou are intending to leave little to chance ahead of the September summit. Late last year, the city's SWAT team was pictured taking an oath in which members pledged to guarantee security for the summit. And as well as being given extra kung fu training, according to state broadcaster CCTV, they have been issued with equipment, including drones and bomb disposal robots, as well as underwater robots, and Segway-like mobility vehicles equipped with riot shields.
China is always anxious about security threats to major events, fearing the spillover of a terrorism problem in its northwestern region of Xinjiang, which has also seen attacks in Beijing's Tiananmen Square in 2013, and in Kunming in southwestern Yunnan province in 2014. And at least one attack in Xinjiang in 2008 appeared to be timed to coincide with the start of the Beijing Olympics.
And with global concerns about terror attacks heightened this year, Beijing has asked countries taking part in the summit to give it risk assessments and lists of terror suspects who could target the event, according to Chinese media.
Some 2,000 students from the People's Public Security University of China are also reported to have been chosen to boost security work in Hangzhou, the Global Times added.
It's not clear whether the total one million volunteer figure includes the 100,000 Hangzhou residents previously reported to have offered their services to help with the summit: these included 26,000 university staff and students, the China Daily said last month – though it noted that the latter group would be whittled down to 3,000 people with foreign language skills to work at the summit venue.
The importance of the G-20 meeting to Hangzhou has been highlighted by its construction of a giant 840,000 square meter convention center, the Hangzhou International Expo Center, which is reported to have 61 conference rooms. It is part of plans to put the city, home to internet giant Alibaba and other hi-tech companies, on the global map for conventions and hospitality.
And the mobilization is spilling over into Shanghai, some 108 miles away. Officials in Shanghai said earlier this week that they would take "aggressive" measures to improve air quality before the summit, with chemical plants in the city's Jinshan district, which borders Zhejiang, ordered to suspend operations in the two weeks before the summit, and others cutting output. Trucks from Shanghai will be forbidden from entering Hangzhou during the same period, the Shanghai Daily reported, with further restrictions to be implemented if air quality in Hangzhou slips. Hangzhou officials are also reported to have detained seven people whose companies had failed to prevent pollution earlier this year.
It's another area in which China is becoming increasingly experienced: Beijing closed factories on a massive scale both for the 2008 Olympics, and also when it hosted an APEC summit in late 2014, leading to the coining of the phrase "APEC blue" to describe the unusually clear skies the city enjoyed during the period.
FOR FREE to continue reading
✔️ Unlock the full content of International Business Times UK for free
offer available for a limited time only
✔️ Easily manage your Newsletters subscriptions and save your favourite articles
✔️ No payment method required
Already have an account?
Log in
© Copyright IBTimes 2023. All rights reserved.