China President Xi Jinping UN Speech: Global Economics, International Partnerships Highlighted During General Assembly Address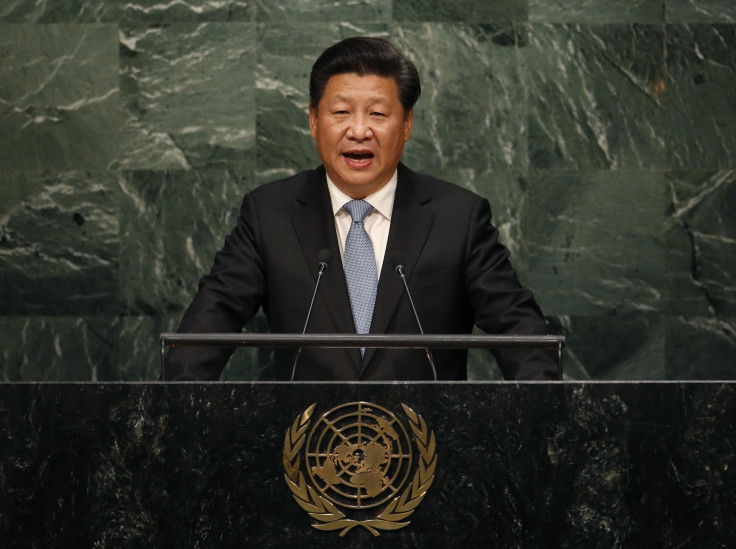 Chinese President Xi Jinping urged deeper focus and a discussion on building long-lasting international unity and solving global economic issues in his address Monday to the United Nations General Assembly in New York City. He said China was committed to making the world a more secure place and would be a powerful partner inside the U.N., while stressing an overall message of building international partnerships to solve the world's problems.
"Economic globalization at the advent of an information age have vastly unleashed and boosted social productive forces; they have both created unprecedented economic and given rise to new threats and challenges which we must face squarely," said Xi. "Peace development, equity, justice, democracy and freedom are the common values of mankind and the lofty goals of the United Nations, yet these goals are far from being achieved and we must endeavor to meet them."

Xi also said China was dedicated to finding a solution to the planet's environmental problems and was committed to a more prosperous Africa. Noticeably absent from the speech was any discussion of cyberattacks or China's sovereignty over the South China Sea, two of the subjects discussed last week during Xi's meeting with U.S. President Barack Obama in the White House.
The Chinese leader announced a new $100 million military aid fund for the African Union over the next five years and $1 billion to aid U.N. development projects around the world. A permanent peacekeeping force of 8,000 troops will also be established by China, said Xi, though it was not immediately clear where they would be stationed. But the overriding message from the president was about creating strong international partnerships free from past grievances.
"We should renew our commitment to the progresses and principles of the U.N. Charter, build a new type of international relations featuring win-win cooperation and create a community of shared future for mankind," he said. "To achieve this, we should build partnerships in which countries treat each other as equals, engage in mutual consultation and show mutual understanding."
Xi's speech to the General Assembly came just one day after he promised China would "reaffirm our commitment to gender equality and women's development" as part of a speech at a U.N. session devoted to development goals. The Chinese president was the co-host of that session and had been heavily criticized for in his country. Shortly after his session, Democratic presidential candidate Hillary Clinton tweeted it was "shameless" that Xi was being allowed to lead the meeting given China's poor record on women's rights.
The trip to the U.S. for Xi, who is looking to consolidate his grip on leadership ahead of the Communist Party congress in 2017, was scheduled during a torrid time for the Chinese president, who is currently dealing with instability in the country's struggling economy and its uncertain stock market.
China's relationship with the U.N. has traditionally been distant, despite its position as a permanent member of the U.N. Security Council since 1971. During that time it has used its ability to veto on only nine occasions, compared with 24 by the U.K. and 78 by the U.S. in the same period. However, six of those vetoes by China have come since 2000, suggesting the country is growing in confidence as a member on the Council.
In the past 20 years Beijing has voted for peacekeeping operations and contributed personnel to operations in Africa and the Middle East. The U.N. veto system is a significantly important mechanism because it allows fellow countries on the Council to block resolutions and defeat decisions made by a majority.
Last week, China's foreign ministry published a list of amendments that it wants to see the U.N. make in the future, which gave clear indications about some of the topics Xi was expected to cover during his speech Monday. The list of 12 priorities included the prevention of war, gender equality, terrorism and cybersecurity, among others. However, the list's subtext was about how China wants to remold the organization to address Beijing's concerns and acknowledge China's role as a rising global power.
© Copyright IBTimes 2023. All rights reserved.