China protest call smothered in police blanket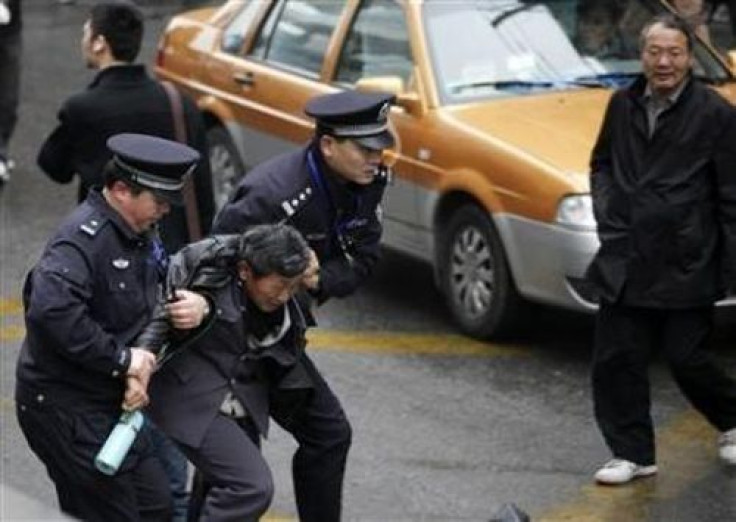 An online call for anti-government protests across China on Sunday instead brought an emphatic show of force by police determined to deter any buds of the kind of unrest that has shaken the Middle East.
Lines of police checked passers-by and warned away foreign photo journalists in downtown Beijing and Shanghai after a U.S.-based Chinese website spread calls for Chinese people to emulate the Jasmine Revolution sweeping the Middle East and stage gatherings in support of democratic change.
Officials from China's ruling Communist Party have dismissed the idea that they could be hit by protests like those that have rippled across the Middle East.
But a rash of detentions and censorship of online discussion of the Middle East have shown that Beijing is deeply nervous about any signs of opposition to its one-party rule.
What started as a call for protest has instead become an opportunity for the Chinese government to brandish the big and sophisticated security forces funded by rapid economic growth.
In Shanghai, police bundled away at least seven men, one of whom had been taking photos. Reuters TV filmed several policemen forcing a man in a brown jacket into a Public Security Bureau van, while other police held up an umbrella to block the view.
In Beijing, uniformed police were joined by plainclothes officers who kept shoppers and journalists moving. Men in sanitation uniforms with armbands that said Public Security Volunteer used brooms to sweep pedestrians along.
An American news videographer was kicked and beaten repeatedly in the face with brooms and taken into police custody, witnesses said. Other reporters were detained by police and some were roughed up, including one from Taiwan whose hand was injured, they said.
A U.S. embassy spokesman said he was disturbed by reports of foreign journalists being physically harassed.
We call on the Chinese government to respect the rights of foreign journalists to report in China and urge public security authorities to protect the safety and well being of anyone who is subject to illegal harassment or intimidation, embassy spokesman Richard Buangan said.
MCDONALD'S CLOSED BRIEFLY
It was impossible to tell who were simply shoppers and who had shown up to support silently the call to demonstrate.
Security was evident throughout Beijing's Wangfujing shopping street, one of the venues singled out as a protest site by the website, Boxun.com. Shoppers strolled along, but there were at least 40 public security vehicles at the south end of the pedestrian-only street.
Passage was partly blocked by construction fences that went up late in the week outside a McDonald's restaurant, which the Boxun message designated as a place for the gathering. The McDonald's was shut down on Sunday afternoon for about an hour.
A few days ago some people were creating a stir over by the McDonald's, so they have stepped up security, said an employee at a nearby store. She said she did not want her name reported.
At least one news photographer was ordered into a police vehicle and forced to delete photos from her camera.
A similar call for protest a week ago brought out few people, and dozens of dissidents and human rights activists have been detained or warned to avoid such activities.
It is not clear who is behind the appeals for protests. The government has blocked text messages and web postings in China that contain references to jasmine.
The term jasmine gatherings comes from the protests in Tunisia that ousted long-time President Zine al-Abidine Ben Ali in January in what supporters there called a Jasmine Revolution.
© Copyright Thomson Reuters 2023. All rights reserved.