China Protests US Condemnation Of Uighur Deportations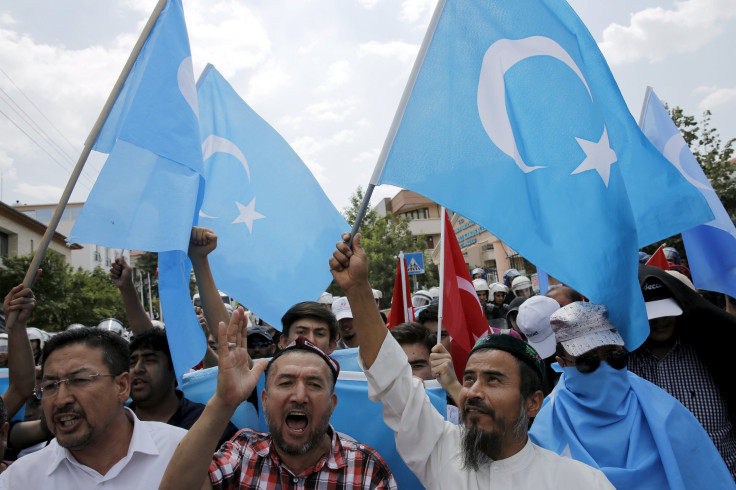 BEIJING (Reuters) - China's Foreign Ministry has lodged a protest with the United States for its condemnation of the deportation of a group of Uighurs from Thailand last week, as state television showed pictures of some being returned with hoods on their heads.
Hundreds, possibly thousands, of Uighurs keen to escape unrest in China's western Xinjiang region, have traveled clandestinely via Southeast Asia to Turkey.
China is home to about 20 million Muslims spread across its vast territory, only a portion of whom are Uighurs, who speak a Turkic language.
The deportation of 109 Uighurs from Thailand this week has sparked anger in Turkey, home to a large Uighur diaspora, and deep concern among rights groups and the United States, due to fears they could be mistreated upon their return.
China's Foreign Ministry, in a statement late on Saturday, said the U.S. statement distorted the facts, was prejudiced and would only encourage further illegal immigration.
"China is extremely dissatisfied and resolutely opposed to this, and has already made serious representations with the U.S. side," the ministry said.
"We urge the U.S. side to properly view China's efforts to fight illegal immigration and stop making wrong statements."
A senior Chinese police officer said on Saturday that some of the Uighurs who have ultimately ended up in Turkey are being sold to fight for groups like Islamic State as "cannon fodder".
Chinese state television, also in a report late on Saturday, said 13 of the 109 were terror suspects, and showed images of some of them sitting in an aircraft with black hoods over their heads and Chinese police, wearing facemasks, beside them.
Beijing denies accusations by human rights groups that it restricts the Uighurs' religious freedoms. It blames Islamist militants for a rise in violent attacks in Xinjiang in the past three years in which hundreds have died.
China has also denied allegations of mistreatment or torture.
Dilxat Raxit, spokesman for the exiled group, the World Uyghur Congress, said the pictures of Uighurs in hoods gave him great cause for concern.
"They've been stripped of their dignity," he said in an emailed statement.
© Copyright Thomson Reuters 2023. All rights reserved.