China Says Aircraft Carrier-Led Drill Near Taiwan To Be 'Regular Feature'
KEY POINTS
Chinese carrier group is holding naval drills near Taiwan
​Taiwan President inspects military revamp
China has never denied the use of force to bring Taiwan under its control
Chinese navy dismissed Taiwan's protest over an intimidating drill near its waters and said it would be a regular feature to "safeguard national sovereignty," but state-run media projected the presence of a carrier group in the South China Sea as a warning to the United States.
USS Theodore Roosevelt led a strike group into the contested waters during the weekend in a sign of the U.S. resolve to protect its allies against Chinese aggression. Guided-missile destroyer USS Mustin was operating in the East China Sea and had edged close to China's Yangtze River on Saturday, South China Morning Post reported.
The Chinese People's Liberation Army (PLA) Navy sent aircraft carrier Liaoning and five escort ships through the Miyako Strait into the Pacific Ocean on Saturday, triggering protests from Taiwan. Taiwan's defense ministry also reported air incursions by China Monday.
The PLA Navy issued a statement late Monday to claim that the exercises were routine and assigned under an annual schedule.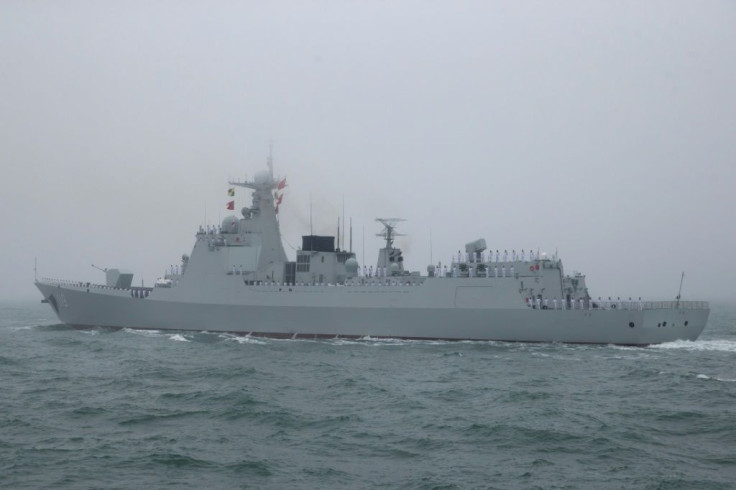 The statement was silent on when the exercises commenced or how long they would last, but it said that more such drills will take place in the future.
The PLA Navy said the drills were targeted at "assisting in improving the ability to safeguard national sovereignty, security and development interests," terms often directed at Taiwan's democratically elected government, which has refused to give in to Beijing's demands that it recognize the island as part of Chinese territory.
The PLA's aircraft carrier exercise is routine and aimed at comprehensively boosting its combat capability and against Taiwan secessionists rather than any specific country, but the U.S. should understand that its warship activities on China's doorstep will not win it any advantage with the PLA on guard, wrote the Chinese Communist Party-controlled Global Times, quoting Chinese analysts.
The U.S. has agreed to recent sales of upgraded warplanes, projectiles and other protective equipment to Taiwan. The island is also strengthening its own defense industries, including the commencement of a submarine development program.
On Sunday, Japanese Prime Minister Yoshihide Suga said that Japan will cooperate with the U.S. to calm the rising tensions between China and Taiwan, adding Taiwan's peace and stability are key to the region.
Taiwan is China's most sensitive territorial issue and a potential military flashpoint. China has never denied the use of force to bring the island under its control.
Taiwan President Tsai Ing-wen is inspecting a rehabilitation of the island's military, deploying new equipment such as "carrier killer" stealth corvettes, Reuters reported.
© Copyright IBTimes 2023. All rights reserved.