China Says Drug Use Costs Country $80 Billion A Year, 90% Smuggled From Golden Triangle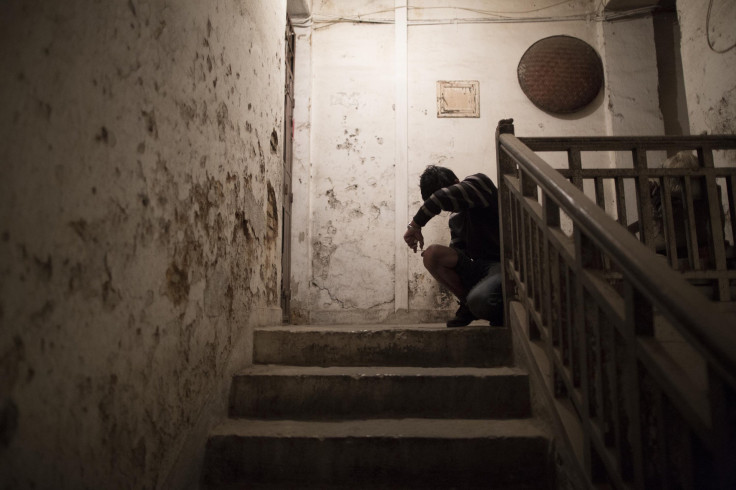 SHANGHAI -- The Chinese government's first detailed report on the country's drug use says that it costs the country some $80 billion a year in "direct economic losses," with officials saying at least 90 percent of drugs seized in China come from the Golden Triangle region of Southeast Asia. The report, issued by China's cabinet, the State Council, also said that by the end of last year, 49,000 of China's registered drug users had died.
Precise details of the cause of death and how the figure for economic losses was arrived at were not given, though the report noted that 3.5 percent of heroin users and 1.4 percent of synthetic drug users were infected with HIV. But its release follows several recent moves that experts say suggest the Chinese government is beginning to face up to the scale and rapid expansion of the nation's drug problem. Last month, the authorities announced that while China had 2.95 million registered drug addicts at the end of 2014 (an increase of almost 30 percent on mid-2013), the total number of people who have used narcotics is believed to exceed 14 million. (Addicts can register voluntarily and get treatment or be added to the list anyway if they are found in possession of drugs and tested or arrested.)
At a news conference in Beijing on Wednesday, top police ministry official and deputy head of the China National Narcotics Control Commission (CNNCC) Liu Yuejin said the expanding numbers were linked to a dramatic surge in the availability of synthetic drugs in China, the China Daily reported. Of some 463,000 newly registered drug users last year, Liu said that 80 percent used synthetic drugs, including methamphetamine. He added that the total number of registered synthetic drug addicts reached 1.46 million by the end of 2014, six times the figure in 2008 and the first time it has exceeded the number of registered heroin addicts, which now stands at 1.45 million.
Liu said growing use of synthetic drugs had also led to more crime: In the first nine months of last year, police had reported "more than 100 violent crimes caused by meth abuse," more than the total for the preceding five years, the China Daily said. With methamphetamine more likely to cause mental problems than traditional drugs like heroin and opium, Liu said addicts were thus more "prone to extreme and violent acts, including murder, kidnapping and injuring others."
In one "typical example" reported by China's Supreme People's Court to accompany the government report, a man from Fujian was reported to have murdered his adoptive grandparents after taking drugs. China's highest court also said that being under the influence of drugs was no justification for reduced punishment and stressed that it would continue to enforce the death penalty when appropriate in serious cases involving drug addicts.
The court said that more than 109,000 people were sentenced for drug-related crimes last year -- more than double the figure in 2007. In total, 169,000 people suspected of being involved in the drug trade are reported to have been arrested last year.
Liu said there was "strong domestic market demand" for drugs, with a growing proportion of younger users: Three-quarters of newly identified users in 2014 were under the age of 35. And he said drug use also had shifted into more wealthy sectors of society -- with "significant numbers of employees of public institutions, freelancers and entertainers" taking drugs.
Chinese media recently reported that a growing number of civil servants and local government officials were taking drugs to cope with the pressure of their jobs, with some even demanding them as bribes instead of more traditional choices like money and property. And the authorities have also cracked down on a number of celebrity drug users, including Jaycee Chan, son of kung fu actor Jackie Chan, who was released earlier this year after spending six months in detention on drug charges. Last week, a well-known Chinese TV host, Bian Ce, was found dead after apparently jumping from his balcony ahead of a police drug squad raid on his apartment. Chinese media said tests showed that his blood contained traces of methamphetamine.
A report by the official ​news agency Xinhua, also published on Wednesday, said that the use of drugs such as ice and ketamine was becoming increasingly common in the southern region of Guangdong, close to Hong Kong. It said some people openly talked about giving and receiving gifts of drugs on social media, and it added that a few "grass-roots" Communist Party officials and civil servants had been found to be involved.
Xinhua said this was having "a negative effect on the local political environment and social atmosphere." It quoted one official who said he had taken drugs and addressed a meeting of his staff, without knowing what he was talking about. It also noted the case of a local village chief who had stabbed his wife, after taking drugs and imagining that she was having an affair.
The China Daily quoted an unnamed police official as saying that "flaws in social management and the education system have contributed to the sharp increase in synthetic drug abuse by the young."
The CNNCC's Liu said that "rampant drug smuggling" from the Golden Triangle region -- parts of Myanmar, Laos and Thailand -- into southwest China was now the source of more than 90 percent of the drugs seized by law enforcement agencies, which last year included 9.3 metric tons (10.25 tons) of heroin and 11.4 metric tons (12.57 tons) of methamphetamine.
China is reported to have stepped up cooperation with neighbors Myanmar and Vietnam in the fight against drug-related crimes -- the China Daily said recently that China and Vietnam had cracked more than 3,000 cases on their shared border last year. But Liu said smugglers were becoming ever more "organized and professional" and were "constantly changing" their method of delivery, with online trafficking, postal delivery and use of "logistics systems" all increasingly common.
China's domestic drug production is also reported to be on the increase, with significant seizures of methamphetamine from underground factories in Guangdong in the past two years.
Liu described the fight against synthetic drugs as a "grim task," and official statistics back this up -- the Global Times newspaper said recently that nine Chinese police were killed and 657 injured during a six-month anti-drug campaign that ended in March.
Out of 880,000 drug users arrested last year, more than a quarter of a million are reported to have been put into compulsory detoxification programs, while almost 200,000 received community drug rehabilitation orders. However, China also has faced criticism for sending many drug users to compulsory drug detention centers, for a minimum of two years. U.S.-based group Human Rights Watch has said that such centers regularly deny addicts "access to treatment for drug dependency, and put them at risk of physical abuse and unpaid forced labor."
© Copyright IBTimes 2023. All rights reserved.