China Seeks To Stabilize Yuan; Stocks Still Fragile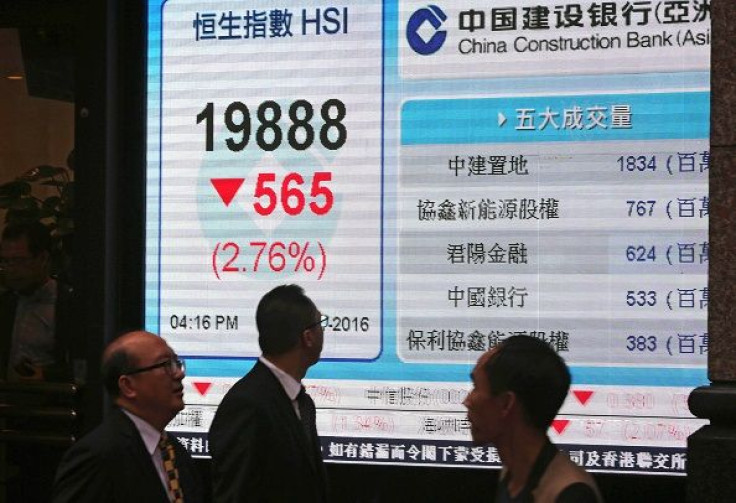 China set another firm fix for its currency on Tuesday and stepped up a verbal campaign to convince skeptical investors, and the world, that they were in control of events.
Investors appear to have not bought Beijing's line, however, with the yuan slipping slightly in early trade despite what dealers called aggressive intervention to support the currency
Equity markets made early modest gains before giving these up in later morning trade with the Shanghai Composite Index falling 1.2 percent and the CSI300 index shedding 0.4 percent.
Early session moves are no indication of daily direction if recent intraday volatility is anything to go by: both indexes started firmer on Monday only to crumble as the day progressed and end with losses of around 5 percent each.
Signaling a desire for stabilization, the People's Bank of China set the mid-point for the yuan at 6.5628, barely changed from the previous strong fix and higher than its late levels on Monday.
Perceived missteps by China's authorities have stoked concerns in global markets that Beijing might be losing its grip on economic policy, just as the country looks set to post its slowest growth in 25 years.
Perhaps recognition those doubts, sources suggested there were moves afoot for China's cabinet to take a bigger role in overseeing financial markets.
The State Council has set up a working group to prepare for upgrading the cabinet's financial department to bureau level, said a source close to the country's leadership.
Officials were doing their best to talk up the currency.
The PBOC plans to keep the yuan basically stable against a basket of currencies, and fluctuations against the U.S. dollar will increase, the central bank's chief economist Ma Jun said on Monday.
Han Jun, deputy director of the office of the Chinese Communist Party's Leading Group on Financial and Economic Affairs, said a more substantial decline in the yuan was "ridiculous" and "impossible."
He was speaking at a briefing held at the Chinese consulate in New York, suggesting the authorities were broadening their verbal campaign to deter yuan sellers.
Not all are convinced, however. Goldman Sachs on Monday sharply cut its forecast for the yuan for this year and next.
"With export growth deeply in negative territory, and exports likely to remain weak in coming months, it is likely easier to reach a policy consensus to allow some depreciation," Goldman analysts wrote in a note.
Figures for China's December trade accounts are due on Wednesday and are expected to show further falls in both exports and imports.
(Writing by Wayne Cole; Editing by Sam Holmes)
© Copyright Thomson Reuters 2023. All rights reserved.