China Spaceflight Company OneSpace Launches Second Suborbital Rocket Successfully
On Sept. 7, OneSpace, a China-based spaceflight company, successfully launched a suborbital rocket into space.
The rocket, named Chongqing Liangjiang Star or just OS-X1, took off from Jiuquan Satellite Launch Centre in northwest China at 12:10 a.m. EDT and delivered an undisclosed payload into suborbital space, according to a post on Chinese microblogging platform Weibo. The flight lasted for a little over three minutes, with the vehicle reaching a maximum altitude of 115,000-feet.
While specific details of the payload remain unclear, the launch does indicate that China's commercial spaceflight program is progressing. This was the second successful space launch from the Beijing-based private start-up and also the second private launch to be conducted from the national Jiuquan center — a site owned by China National Space Administration (CNSA).
The first OneSpace launch occurred in the month of May when OS-X, a precursor of the newly launched vehicle, took to the skies. That event marked China's entry into the commercial space race and now, the latest lift-off is building on that effort.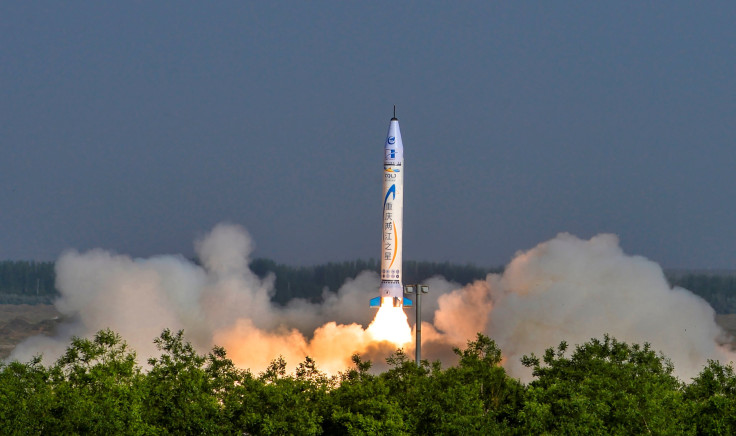 It is worth noting that the vehicle used in this launch is slightly taller and heavier than its sibling. It produces a thrust of 70,000 pounds at lift-off and can achieve speeds of around Mach 4.5 while taking a payload into orbit.
But that's not it. The company is also working on another rocket series named OS-M. These vehicles, when ready, would be used for orbital launches. According to OneSpace's website, the OS-X series of space vehicles are being designed to provide customized solutions for near space experiments and verification of various technologies.
Meanwhile, the elder sibling (OS-M) has been manufactured as an affordable and highly-efficient vehicle for carrying small and microsatellites into orbit. The team behind this particular rocket hopes to provide adaptable solutions, keeping the payload safe and in good condition until it's delivered at the targeted orbit. It is due to make its first flight in coming months.
"Our focus is on the small-satellite market," OneSpace founder and CEO Shu Chang told Chinese news agency Xinhua after OS-X's first flight. "Commercial rockets are relatively more efficient and cheaper. We see great potential."
The Chinese space program has largely been dominated by the government, which has seen the launch of astronauts into space and delivered space probes and rovers to the Moon. Between 2012 and 2016, it even launched manned missions to two different space stations.
However, in the year 2014, guidelines were released in a bid to bolster the commercial spaceflight segment – a development that led to the birth of companies OneSpace, iSpace, and LandSpace.
That said, it is worth noting that these aren't the only companies targeting small satellite launches. According to Space.com, company's Virgin Orbit, Rocket Lab, and Vector Space Systems in the U.S. are also engaged in developing boosters for delivering space small payloads into orbit at low-cost.
© Copyright IBTimes 2022. All rights reserved.
FOLLOW MORE IBT NEWS ON THE BELOW CHANNELS