China Unveils First Major Homegrown Passenger Jet, Seen As Potential Competitor For Boeing And Airbus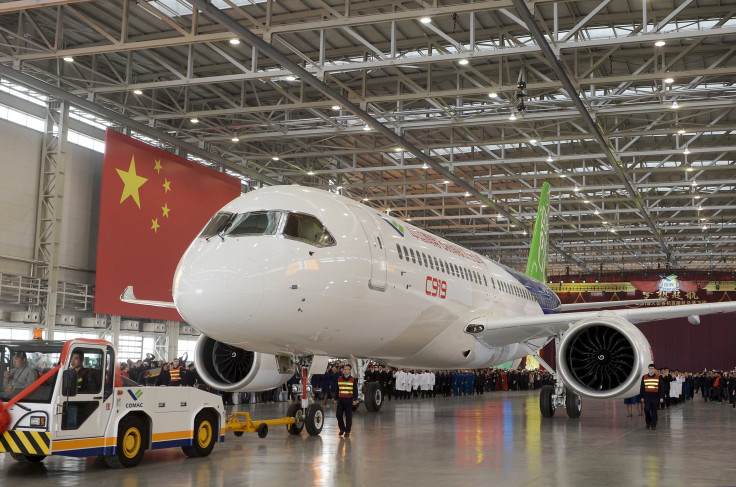 SHANGHAI -- China has announced the completion of the country's first large passenger jet aircraft, a key part of the country's plan to become a major aircraft manufacturer. The first C919 was unveiled at a ceremony in Shanghai on Monday, which was attended by 4,000 invited guests, including Chinese Deputy Premier Ma Kai.
The medium-range, single-aisle jet, produced by state-owned Commercial Aircraft Corporation of China (COMAC) can seat between 158 and 174 passengers. With a range of around 3,500 miles, it is seen as a potential competitor for the Airbus A320 and Boeing 737. Its manufacturer said in a statement Monday that the plane would be "safer, more economical, more comfortable, and more environmentally friendly," and its seating space would be bigger than that of its counterparts. State media said the new aircraft would now undergo ground tests, before making its maiden flight next year.
COMAC Chairman Jin Zhuanglong said at the ceremony that the unveiling of the plane was a "significant milestone." The C919 has been in development since 2008, in a state-backed push to establish China as a player in the global aviation market. Chinese airlines have expanded rapidly, and are expected to buy some 5,500 aircraft in the next two decades, according to Boeing. However the Chinese government sees creating its own industry as an important part of attempts to move the country's industry further up the value chain, as it seeks to move away from low-value added manufacturing, amid a slowdown in export demand.
The new aircraft is expected to enter service in 2018 or 2019. COMAC said it had received orders for 517 of the aircraft -- most from Chinese domestic airlines and leasing companies, though Thailand's City Airways has signed a leasing deal to take 10 of the aircraft.
However the project has undergone delays -- the plane was originally expected to make its maiden flight last year -- but analysts say the delay is due to caution over safety.
China is also separately developing a small private jet, the ARJ21 -- the first few models were delivered to Chinese customers this year, though the project is also behind schedule, and the aircraft is still awaiting U.S. safety certificates.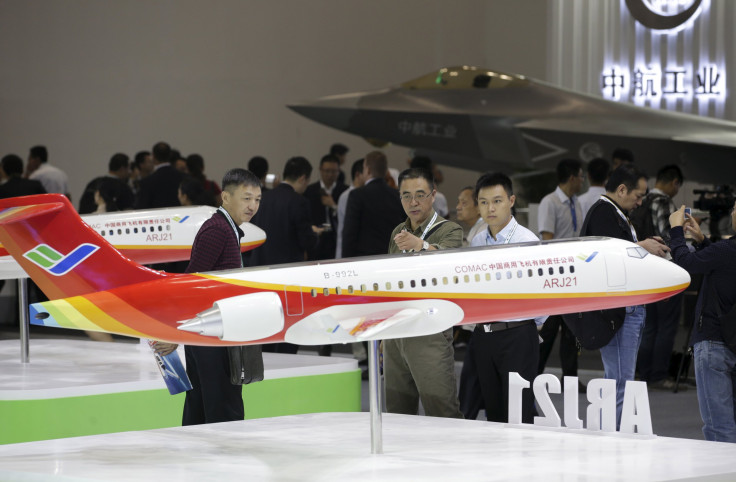 And COMAC has also been in talks with Russian aircraft manufacturer UAC to jointly develop a widebody jet to further challenge Boeing and Airbus.
Yet while the government is seeking to promote its own technology, experts say most of the C919's core technology is currently foreign made, including engines from CFM International, a joint venture between GE Aviation and France's Safran.
And China has continued to place significant orders with the major Western manufacturers: during his recent state visit to the U.S., Chinese President Xi Jinping placed an order for 300 aircraft, worth some $38 billion, from Boeing, while an order for 100 aircraft from Airbus, worth some $9.7 billion, was signed during German Chancellor Angela Merkel's visit to China last week.
Nevertheless, experts say China, which already produces its own fighter planes, is determined to develop its own commercial aircraft industry -- something that has been a dream of the country's leaders from the 1920s when former President Sun Yat-sen named the country's first domestically-produced aircraft after his wife, to the 1970s, when Chairman Mao's wife Jiang Qing oversaw the production of an aircraft known as the Y-10, though only three were ever made.
Now however, the government is able to call on foreign manufacturers to enter into joint ventures with Chinese companies, if they wish to participate in the C919 project -- something analysts say will ultimately give a major boost to China's aircraft manufacturing capacity.
© Copyright IBTimes 2023. All rights reserved.
FOLLOW MORE IBT NEWS ON THE BELOW CHANNELS