China Wants To Curb 'Parallel Trading' By Limiting Visits To Hong Kong From Neighboring Mainland Shoppers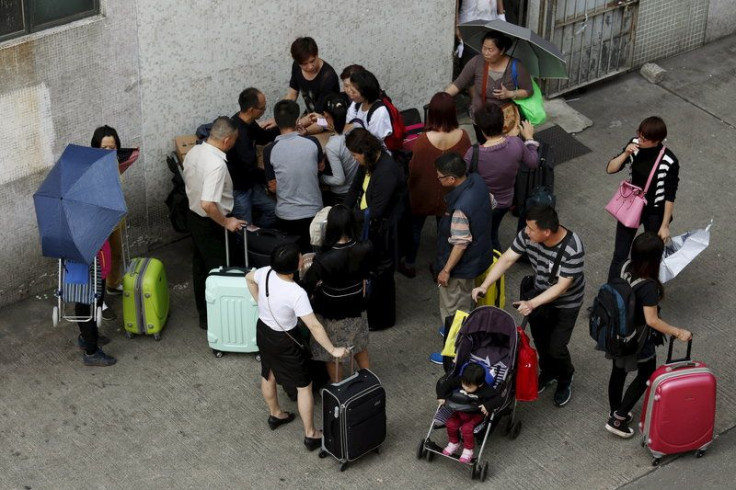 It's a scene that plays out every day in Hong Kong's busier shopping districts. Tens of thousands of mainland Chinese visitors crowd the streets and hotels of the city of 7 million people. Many of them come to wipe store shelves clean as they fill up their luggage with bulk purchases of diapers, infant formula, cosmetics, jewelry and other consumer goods to take back home. Some travelers stock up for family members, but others buy goods to sell at tariff-avoiding discounts.
This so-called "parallel trading" has riled residents of Hong Kong, a semiautonomous Chinese territory, and they've taken to the streets in recent months to protest the presence of the mainland shoppers. Now Chinese authorities are reacting by limiting visits to Hong Kong to one per week from Shenzhen, the mainland city located just one subway stop from Hong Kong's northern old town of Sheung Shui.
Leung Chun-yin, Hong Kong's chief executive, said Monday that Beijing has agreed with his administration's recommendation in order to quell unrest. "Anything that increases tensions between Hong Kong and mainland society is not tolerated," Leung told the official Xinhua News Agency.
With Beijing's blessing, Hong Kong loosened travel restrictions on Chinese tourists in 2003, which allows them to arrive individually instead of part of pricier organized tours. Under the "one country, two systems" policy implemented when Hong Kong returned to Chinese rule from British control in 1997, mainland Chinese must obtain travel permits. Until the change announced Monday, these permit visits weren't capped, which has emboldened parallel traders to come and go as many times as they can to acquire more inventory from Hong Kong shops.
Authorities hope the one-trip-per-week rule will curtail traffic to and from Shenzhen, a city of more than 10 million people. Leung said nearly 10 percent of the 47 million mainland Chinese travelers came to Hong Kong more than once a week last year. Almost a third were Shenzhen residents carrying multiple-entry permits. On average, about 130,000 Chinese mainlanders come to Hong Kong every day. Mainland Chinese tourism has dropped following pro-democracy protests that began late last year, Reuters reported. But overall traffic is expected to continue to grow, increasing crowds at immigration bottlenecks between the mainland and Hong Kong.
© Copyright IBTimes 2023. All rights reserved.