Hong Kong's Clashes Over Mainland Shoppers Show Rising Cultural Tensions With China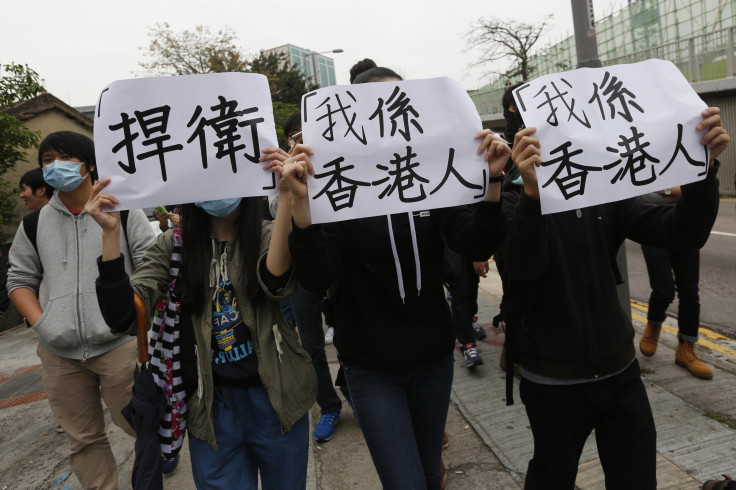 HONG KONG -- On a weekday afternoon, the narrow streets of the old town of Sheung Shui, in the north of Hong Kong's New Territories, teem with people. On the sidewalk of the main street, two men weave through the crowds, each carrying five big packs of infant diapers. It's not hard to see where they might have bought them: The windows of the nearby shops are packed with diapers, cans of infant formula milk powder, and multipacks of toothpaste, shampoo and cosmetics. These are stores geared for bulk buying, and many of the customers are from mainland China.
In one pharmacy, a sales assistant chats to a customer -- not in Cantonese, Hong Kong's local dialect, but Mandarin, the official language of the mainland. The customer, Mrs Zhang, lives just across the border, one stop away by subway, in the Chinese city of Shenzhen. She's here with her 20-something daughter – and baby grandchild – to stock up on everyday necessities: medicines, traditional Chinese tonics, diapers.
"These are mostly things our relatives asked us to buy," says Zhang, as she pays for her purchases. "They're cheaper here than in Shenzhen; there's more choice here too, more new products. And the quality's better as well."
Business in Sheung Shui is brisk. Hong Kong's lower taxes, the strengthening of the Chinese yuan against the Hong Kong dollar, and concerns about product safety in China all attract Chinese shoppers. Gold and jewelry are popular purchases, too.
But not everybody is happy about it. On a nearby side street, a handwritten poster plastered across a billboard reads, "Fight hard against parallel traded goods, don't give an inch."
Over the past two months, Sheung Shui and other nearby towns have seen a wave of protests against mainland shoppers, not just those like Zhang who come to buy things for friends and relatives, but the professional "parallel traders" -- people who cross the border every day, in some cases several times a day, to buy popular Hong Kong products for resale at a markup by wholesalers in the mainland.
The trade has been going on for some years, but has grown exponentially since 2009, when the Hong Kong government relaxed restrictions on Shenzhen citizens visiting the city, in an attempt to boost the economy. But there have been complaints that mainland shoppers are clogging up Hong Kong's transport infrastructure, malls and sidewalks, and that the proliferation of shops catering to them is pushing up rents for the locals.
The backlash against the mainlanders has grown in the aftermath of the Umbrella Movement political protests last autumn, when hundreds of thousands demonstrated against China's plans to limit choice in the city's next leadership election. Beijing's failure to grant any concessions angered many young demonstrators, who were already alarmed at China's attempts to influence Hong Kong's education system, and at the growing influence of Mandarin in the city, which some see as a symbol of Beijing's attempts to exert its control.
Buoyed by a growing sense of indigenous Hong Kong identity born in part from the Umbrella Movement, groups of angry young Hong Kong citizens began staging protests targeting mainland shoppers and tourists. On several occasions there have been violent clashes, with police using batons and pepper spray, after mainlanders were surrounded by protesters.
There's no doubt that the protests are partly "a reaction to practical issues," says Jean-Pierre Cabestan, head of the department of Government and International Relations at Hong Kong's Baptist University. "It's hard to take the MTR [subway] because it's too full; house prices are high, food prices too; and it can be difficult to find a cheap noodle shop in your neighborhood," he adds, "because they've been replaced by branded-goods outlets. It doesn't affect the rich in their sedans, but other people are fed up."
But like the Umbrella Movement protesters, the anti-mainland shopping demonstrators -- though generally "less privileged," according to Cabestan --"share a very strong sense of Hong Kong identity ... strengthened by the perceived mainland threat."
One of the organizers of the protests in Sheung Shui is a softly spoken, bespectacled interior designer in his late 20s named Ray Wong. He also took part in the Umbrella Movement, but felt it was not assertive enough.
After the movement faded away late last year, Wong and his friends set up a group they call Hong Kong Indigenous, with the aim of defending the city's Cantonese culture and cosmopolitan values, such as rule of law and freedom of expression, from what they see as China's attempts to muzzle civil liberties and turn Hong Kong into "just another Chinese city," dominated by the Communist Party.
Wong may speak fluent Mandarin, which he learned at school, but he says that's actually part of the problem: "Now in Hong Kong schools we're getting more and more education in Mandarin," he says. "Hong Kong's tourism chief has even said that all education here should be in Mandarin, and they want to bring in more mainland teachers." It's part of what he sees as "the policy of the Communist Party to damage Hong Kong culture. … They want to brainwash us, to dye our next generation red. Once students are used to using Mandarin, they'll be willing to accept getting their news from mainland news media, too."
To Wong, the influx of mainland shoppers, along with the immigration of more and more mainlanders into Hong Kong since it returned to Chinese sovereignty in 1997, is part of a concerted attempt to dilute Hong Kong's uniqueness: "Since 1997 a million people have moved to Hong Kong, many have had children here," he says. "And the numbers of people coming over from Shenzhen have gone up so fast -- in 2013 they made 8 million visits, last year it was over 14 million. The government's not controlling it. Why don't they intervene?"
Wong says he doesn't condone violent protests, but adds that the withering of the Umbrella Movement was a reminder that sometimes "a gentle approach" doesn't always achieve results. "Sometimes you need to have some kind of clash," he says, recalling earlier demonstrations in 2012, when mainland citizens worried about the safety of China's dairy industry stripped Hong Kong's shops of infant formula milk powder. After the protests the city's government responded by banning people from taking more than two cans of formula with them when they left Hong Kong.
But some say both the tactics, and the message, are wrong. "This trade is helping small businesses, helping people support their families. People come here to buy jewelry or food; some take some wine or cigarettes across the border. We're much wealthier here now," says Hau Chi-keung, chairman of the Rural Committee, the local council, in Sheung Shui. " Yes, you might have to wait longer for a taxi here now, and the prices have gone up a little, but if there's money to be earned, it's a good thing."
Hau agrees that the trade needs better management; he suggests building shopping malls near border crossings to cater for the mainlanders, with special border entrance channels which can be closed if the numbers coming in are too high. But he says it would be ridiculous to reimpose limits on visits by Chinese citizens.
"When the British were running Hong Kong, couldn't British people come over any time?" he asks. "We're part of the same country now. A son can't tell his father not to come visit!"
Yet while many in Hong Kong were horrified at the violence during some of the recent protests, there is no doubt that concern has reached deep into Hong Kong society. The chief executive of Giordano, one of Hong Kong's biggest high-end fashion chains, said recently that it would be no bad thing if the number of mainland visitors dropped, because it would make rents more reasonable.
In recent weeks, the authorities in both the mainland and Hong Kong have made some acknowledgment that there is a problem. The Hong Kong government has pledged to build a mall aimed at mainlanders near the border. In late March two of the city's largest real estate developers, Sun Hung Kai and Henderson Land, offered land rent-free for two years for the scheme. The Chinese official in charge of Hong Kong affairs has also gone on record as acknowledging that "the tourist capacity of Hong Kong … has by and large reached saturation," and promised to revise the rules "to better suit Hong Kong's situation." No details have been announced, but one suggestion is that Shenzhen residents would be limited to one trip per day.
Yet Hong Kong Chief Executive CY Leung also said this week that the protests against mainland shoppers have "seriously hit" the territory's tourist economy, and has pledged to hold promotional events in the mainland aimed at encouraging tourists to keep coming.
Hong Kong Indigenous spokesman Wong remains skeptical. He says shopping malls for mainlanders should be between the Hong Kong and Chinese frontier lines, and Chinese visitors should have to get a separate permit for each visit to Hong Kong. "If we limit people to one trip a day I think they'll just organize different people to come over," he argues. "It's an organized trade. We don't feel that the Chinese customs have really tried very hard to stop it."
At least one pro-establishment Hong Kong politician has some sympathy with some of the frustrations of local people. "Hong Kong people do sense the increasing competition. This sense of social injustice has material foundations," says legislator Regina Ip, who was Hong Kong's Secretary for Security from 1998 to 2003, and is considered by some to be a candidate who might be acceptable to Beijing as a future chief executive of the city. She believes Hong Kong's then chief executive made a mistake in betting on mainland Chinese visitors to boost the city's economy during its slump six years ago.
"I think Donald Tsang was simply too lazy," she says. "In April 2009, after the global financial crisis, he picked Shenzhen, and multiple entry visits, as the easy way to give us a market. But of course people now feel our city is overcrowded, and it hasn't helped our economy to move upmarket."
But Ip also says some of the protests are part of a concerted attempt to create anti-China feeling, possibly supported by foreign governments eager to sow discord between Hong Kong and Beijng. "I think there are people stirring things up," she says. "They are stirring up hatred of mainland Chinese, painting them as a despicable breed, and rejecting the Chinese identity."
Wong admits that, as a result of his work with Hong Kong Indigenous, he has been criticized, even by his own family, for being unpatriotic. His parents have threatened to throw him out of the family apartment, and his cousins, who come from across the border in Guangdong, "say I've been paid by the West."
But he says such views are an example of Chinese-style "brainwashing," and only make him more determined to stick to his guns.
"The number of mainlanders is growing all the time, they're everywhere," he says. "We need to do something quickly to protect our culture. We have to be quick."
Many in Hong Kong reject the methods, and often the message, of the anti-parallel-trading protesters. But it's clear that, in recent years, an emphasis on local culture has been growing among many of the city's young. There are more books on Hong Kong history in the shops, and, particularly since the Umbrella Movement, the city has seen campaigns to support small local businesses, in an attempt to reinforce its uniqueness. It may require a more nuanced and locally sensitive response from Beijing to reverse the trend.
© Copyright IBTimes 2023. All rights reserved.