China Will Target Trump's Electoral Base With Tariffs, Ex-Minister Warns
"China will not only act as a kung fu master in response to U.S. tricks, but also as an experienced boxer and can deliver a deadly punch at the end," Wei Jianguo, a former vice-minister at the Chinese Ministry of Commerce responsible for foreign trade, told the South China Morning Post on Monday about his country's response to President Donald Trump's tariffs.
Many news reports have focused on the timing of the Chinese annoucement, which came on the heels of taunting tweets from Trump, warning China against retaliating to his tariffs. But the really interesting part lay in what Wei said -- rather bluntly -- in that interview.
Wei said the U.S. agriculture products would be a primary target for Chinese retaliation, especially wheat, corn and pork. Because tariffs on these goods will directly target a key part of President Donald Trump's electoral base in the run-up to the 2020 presidential election. In other words, Wei's interview was probably a warning shot across the bow of Trump's election boat. China, he was implying, can meddle with Trump's election prospects in 2020 -- and may already be doing it.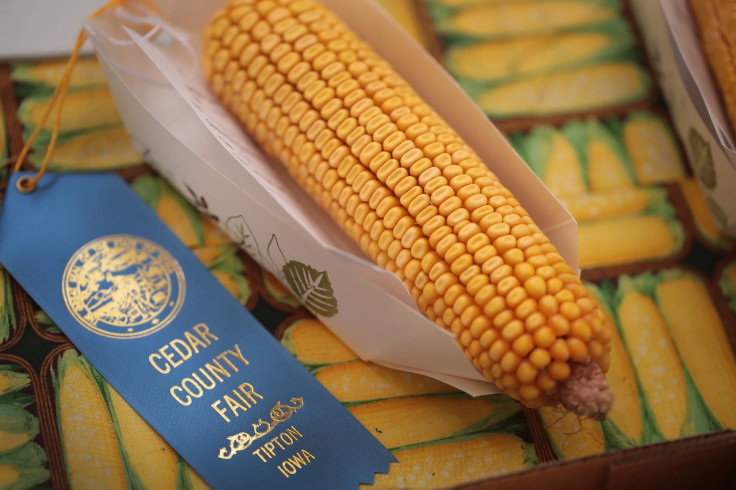 The Chinese tariffs will be levied from June 1 on $60 billion of American goods, a far smaller quantum than the $200 billion of Chinese goods that Trump has targeted. That may be because China's imports from the U.S. are much lower than what the U.S. imports from China, reducing the pool of goods Beijing can levy tariffs on. But Chinese trade war planners can use smart targeting to inflict selective pain through those tariffs. They already are, probably.
Fortune reported that the Chinese tariffs will continue to hurt those in states and industries that have elevated Trump to power in the last elections. It said specifically that oil and gas workers in Texas, Oklahoma, and Louisiana, as well as farmers across the country will feel the sting from the Chinese tariffs.
Among the items that will see a rise in tariffs from 10 percent to 25 percent are beef, frozen fruits, vegetables and seasonings, textiles, microwaves, printers, and liquefied natural gas imports. Alcoholic drinks too are included, perhaps to mute any celebrations in the Trump camp!
Among the items that will see tariffs increase from 10 percent to 20 percent are food items, construction equipment, gold clubs, bowling pins and roller skates.
Other items, such as tires, light bulbs and paper products, will see tariffs rise from 5 percent to 10 percent. Perhaps in a sign that the Chinese are calibrating their response carefully, auto parts are still exempt from tariffs.
A prolonged trade war will hurt Trump's voters in key states with major farm industries, such as Minnesota, Wisconsin and Iowa, CNBC reported. It is perhaps to contain the uncertainity for his base that Trump has now said it will be known in three to four weeks whether the trade talks will be successful -- although the last round in Washington did not see any progress and both countries are still preparing more punitive steps against each other.
Trump has talked about using the tariffs proceeds to buy more agricultural products from farmers, which would actually work differently on the ground U.S. companies opt to pass on the extra cost burden to consumers in America. That would bring with it a whole host of problems, from inflation to inserting the government into more areas of the economy.
But the Chinese can inflict still more pain -- CNBC quoted exports to say the S&P, in a worse-case outcome, could decline 10 percent, as companies like Boeing, Apple and Caterpillar take the hit. The pain would then ripple across sectors like metals, mining and automobiles.
Beijing can sure deliver a nasty punch if this trade war drags on.
© Copyright IBTimes 2023. All rights reserved.