China's 7% Economic Growth Floor: Li Keqiang's Phillips Curve [CHART]
China's economic growth must not slip below the "bottom line" of 7 percent, Premier Li Keqiang was quoted as saying by Chinese news organizations, suggesting that the world's second-largest economy will act to support expansion if needed.
"The bottom line for economic growth is 7 percent, and this bottom line must not be crossed," Li said at a recent meeting with economists, the Beijing News reported Tuesday. The government has set a full-year growth target of 7.5 percent for 2013.
Though Li's remarks reflect China's readiness to accept slower growth rates in order to rebalance the economy, it also conveys that the government will not let growth ease too much after the economic expansion moderated to 7.5 percent in the second quarter of 2013.
"We reckon that he could introduce a small-scale fiscal expansion by tapping the central government coffer to support social housing, railway, environment-related urban infrastructure such as sewage," Lu Ting, an economist with Bank of America Merrill Lynch, said in a research note on Tuesday.
Lu summarized Li's policy framework in this chart, which shows the Chinese "Phillips Curve" – an economic concept developed by A. W. Phillips stating that inflation and unemployment have a stable and inverse relationship.
Stated simply, Lu said, lower unemployment in an economy is correlated with a higher rate of inflation. Since growth is usually inversely correlated with unemployment, a revised Phillips curve is just the positive relationship between GDP growth and inflation.
For 2013, Li made it very clear that the growth floor is 7.5 percent and inflation cap is 3.5 percent. He will be aiming for the area in the middle.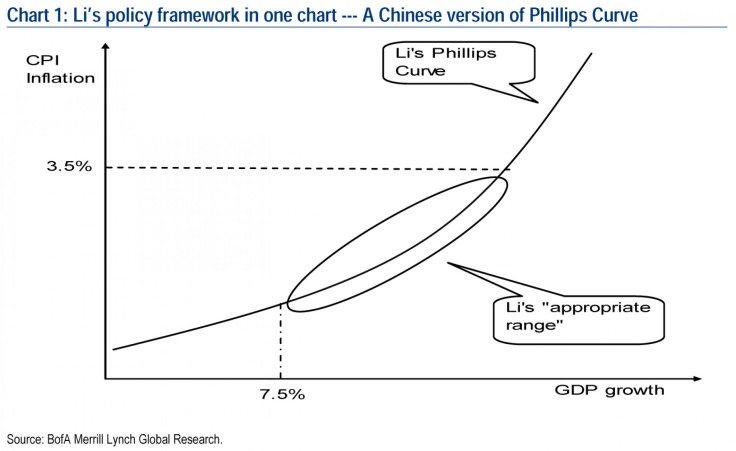 Given the falling trend, Lu thinks that Li might set 7 percent as growth floor (also target) and 4 percent as inflation cap for 2014.
© Copyright IBTimes 2022. All rights reserved.
FOLLOW MORE IBT NEWS ON THE BELOW CHANNELS