China's Economic Blueprint Raises Questions About Ability To Balance Stimulus And Reform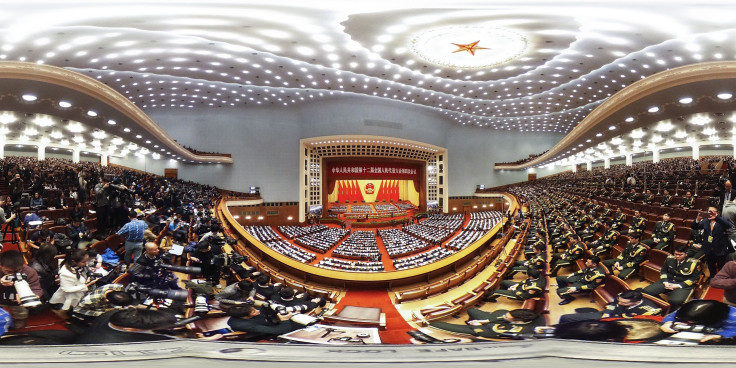 SHANGHAI — The plans for greater stimulus unveiled by Chinese Premier Li Keqiang at the National People's Congress opening in Beijing show the government's awareness of the need for boosting growth in a slowing economy, analysts said. But the plans also highlight the contradictory challenges the leadership faces, including pressures to deepen industry reforms to reduce overcapacity, particularly among its bloated state enterprises.
Li announced that China would increase fiscal stimulus, saying the country's budget deficit would rise to 3 percent of its gross domestic product (GDP) compared to 2.4 percent last year. Yet, the figure disappointed some in China who had hoped for even higher spending, while other experts warned that too much focus on growth could mean structural reforms — the kind called for by Group of 20 leaders in Shanghai last week — could be diluted.
Unusually, Li's package for the coming year does not set a specific growth target, aiming for 6.5 percent to 7 percent. This follows a slump in growth last year to 6.9 percent, its slowest rate in a quarter century, and a further slowdown to 6.8 percent in the final quarter of last year. Bert Hofman, the head of the World Bank in China, praised the decision not to set a single target, saying this would give the leadership "needed flexibility for balancing structural reforms and demand management," the Wall Street Journal reported.
Nevertheless, the rate implies a higher goal than the figure of "at least 6.5 percent" Li said would be the minimum over the next five years, in a plan also unveiled Saturday -- even though at least one government adviser recently said the 6.5 percent target could be hard to achieve this year. And observers noted Li, who admitted maintaining development would be "a tough battle," referred more to "growth" and "development" in his report than he did last year.
The Chinese government has put the focus increasingly on boosting its domestic economy after a slump in exports and imports last year. Strikingly, Li did not set a trade target for the first time in many years. And with falling producer prices and a slowdown in the real estate sector at home, it was no surprise he announced China's fiscal deficit would rise by some $72 billion this year to 3 percent of the GDP.
A significant proportion of this is likely to go to infrastructure spending: China's top planning body, the National Development and Reform Commission said Saturday it expected fixed-asset investment to rise about 10.5 percent this year. And Li confirmed China would continue with its massive investments in railway construction and roads.
But the budget deficit announced was less than the 4 percent predicted by some Chinese officials and media. And the debt issue remains a sensitive one: Some economists have warned China's deficit is already too large while credit ratings agency Moody's this week downgraded China's credit outlook from "stable" to "negative," partly due to concerns about bad loans, many linked to excessive stimulus measures dating back to the aftermath of the 2008 financial crisis.
Central Bank Gov. Zhou Xiaochuan last week defended China's spending, arguing different countries could live with different levels of debt. However, Finance Minister Lou Jiwei, seen as an advocate of deeper market-based reforms, has argued it is no longer possible for the country simply to spend its way out of recession — China is still grappling with overcapacity in many industries resulting from the post-2008 stimulus package, and, analysts say, with the corruption that boomed as a result.
Li, who said China would create 10 million jobs this year, acknowledged there were conflicting pressures between boosting growth and dealing with overcapacity. He said in his report China must "focus on current realities and take targeted steps to withstand downward pressure on the economy," but must also "have our long-term development goals in mind." And he acknowledged problems and risks "that have been building up over the years are becoming more evident," Bloomberg reported.
Li pledged China would deal with the so-called zombie enterprises — loss-making manufacturing firms, many in the state sector — saying the government would tackle the problem ""proactively yet prudently by using measures such as mergers, reorganizations, debt restructuring and bankruptcy liquidations." And China has announced plans to cut several million jobs, in sectors such as coal-mining and steel. Li announced targets for cutting coal capacity by 10 percent in three years to five years.
Yet there are also worries that in juggling growth and reform, neither will be fully achieved. The Communist Party's top leadership under party chief Xi Jinping is seen by many observers to be focused on political concerns and worries. In one indication of concern about the social impact of the slowing economy, while China's defense budget grew at a slower pace this year, the finance ministry announced China's domestic security spending will increase 5.3 percent, compared with last year's budgeted rise of 4.3 percent, the South China Morning Post reported.
Some observers say this means there could be less political will for tackling the problems of state enterprises, which have traditionally enjoyed easier access to funding than private and small businesses. Joerg Wuttke, head of the European Union Chamber of Commerce in China, which has called for faster reforms, told International Business Times that for the top party leadership, economic success may not be the top priority.
"Foreigners always assume that for the party, its legitimacy depends on the economy functioning well," he said, "[but] I think they're mistaken. I think the priority list is still different. The party is concerned about the party first and foremost, [about] ideology, corruption. If you are busy as a leadership with military reform, party reform, you might actually believe that the economy is not in such dire straits, let's keep muddling through."
Wuttke also said it is hard for local governments to bite the bullet and close loss-making firms that may be the biggest employer in their region, and that "the pressure for real market reform is not there yet."
Li did pledge further market opening, including more access for foreigners to China's capital markets in the next five years, and repeated pledges to make the Chinese yuan fully convertible by 2020. The government has also promised tax breaks for private businesses, with more moves to a VAT-based system.
But HSBC analysts Qu Hongbin and Julia Wang said in a note sent to IBT that a significant proportion of China's fiscal deficit this year "could go toward cushioning the impact of restructuring in over-capacity sectors and as well as being invested in industry funds to promote up-grading."
And while further moves to ease monetary policy, including a pledge to increase the money supply by 13 percent this year, compared to 12 percent in 2015, are seen as providing a short term economic boost, there are also worries this could lead to a bubble in areas such as China's housing sector. Despite an overall slowdown in recent years, house prices rose sharply in China's biggest cities last year, notably climbing by more than 70 percent in the southern city of Shenzhen.
Housing Minister Cheng Zhenggao told reporters in Beijing Saturday the divergence between smaller cities, where there is a vast inventory of unsold housing, and bigger cities was "getting more and more severe." Chen said China would take action to tackle the problem, and a number of policy measures have been rolled out, including restrictions on land supply for new construction in smaller cities. However, with the government also reducing the down payments needed for housing loans in recent weeks, sales are expected to rise this year. That could move prices up further, in what experts say is another reminder of the challenges China faces in balancing the pressure for growth with the need for structural change.
© Copyright IBTimes 2023. All rights reserved.