China's First Indigenous Aircraft Carrier May Be Under Construction, New Satellite Images Show: Report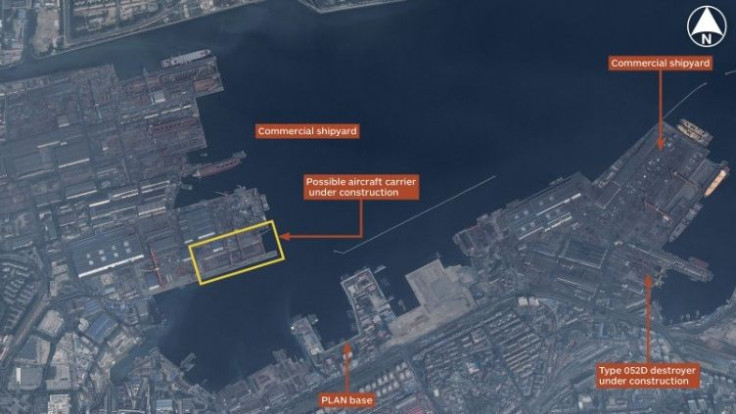 China may be constructing its first indigenous aircraft carrier in the northeastern port of Dalian, IHS Jane's Defense Weekly reported, citing new satellite images. Details about China's aircraft carrier program have not been revealed, but local media have hinted that new vessels are being built.
Images released this week show what appears to be the hull of an aircraft carrier under construction in a dry dock, which is "associated" with the refit and repair of China's existing carrier, the Liaoning -- commissioned in 2012, according to the IHS Jane's report. The Airbus Defence and Space imagery was taken on Sept. 22.
"While a conclusive identification of the hull as an aircraft carrier cannot be made until work is observed on the upper decks and potential flight deck, the slow pace of assembly and outline suggests a military hull under construction," IHS Jane said, in a statement Thursday, according to Reuters.
Rumors of Beijing building a new aircraft carrier first surfaced in February, and the reports were later confirmed in July by internal documents from the China Shipbuilding Industry Corporation.
"The priority missions of building the aircraft carrier and nuclear-submarines have been carried out smoothly and with outstanding results," documents published by Taiwanese media outlets reportedly stated. In a report obtained by Reuters last month, Taiwan's Defense Ministry said China was building two aircraft carriers.
The Pentagon, in a report earlier this year, said Beijing had the capability to build several aircraft carriers over the next 15 years.
"[China's home-based carriers] would be capable of improved endurance and of carrying and launching more varied types of aircraft, including electronic warfare, early warning, and anti-submarine, thus increasing the potential striking power of a PLA Navy 'carrier battle group' in safeguarding China's interest..," Sputnik news reported, citing the Pentagon report.
© Copyright IBTimes 2023. All rights reserved.