China's Food Safety Woes Continue, With Chicken Feet Tainted With Hydrogen Peroxide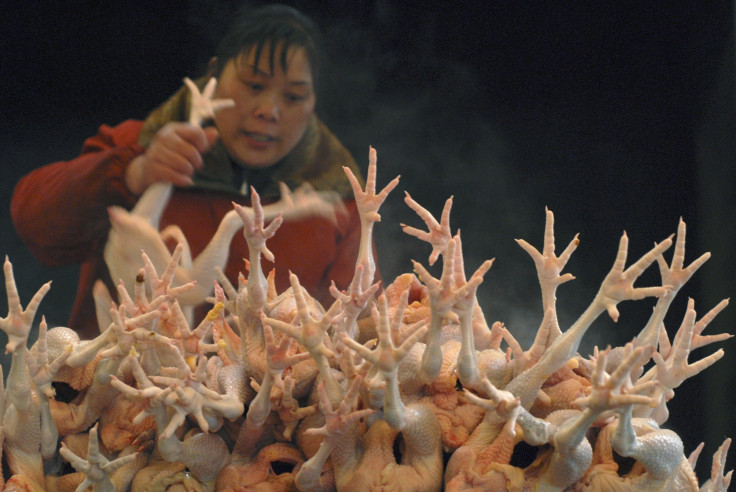 In the latest food scandal to plague Chinese meat producers, approximately 30,000 tons of chicken feet were seized by police after they were found to have been tainted with hydrogen peroxide at processing sites across central and south China.
According to state-run Xinhua News Agency, a total of 38 people have also been arrested for selling the contaminated chicken feet. The tainted chicken was first discovered in eastern China's Zhejiang province last September. Zhejiang is the main hub for many Chinese chicken products, including feet, considered a delicacy. The initial crackdown led authorities to discover a "national sales network" of nine factories located in Jiangsu, Anhui, Henan and Guangdong provinces that were all using hydrogen peroxide, affecting several local brands. The report claimed that the factories used hydrogen peroxide as a disinfectant and to bleach the chicken feet. Police are still on the hunt for 11 more suspects associated with the tainted product.
Online, Chinese netizens are fed up with news of unsafe food-handling practices.
"Are there any Chinese foods left that are safe?" the state-run news channel CCTV asked on popular social media platform Weibo.
"The list of what I can eat seems to be smaller than the list of what I can't eat," one blogger wrote.
"This is sickening; there's no way these suppliers don't know that hydrogen peroxide is poisonous," one blogger wrote. "And going on for at least a year? I'm disgusted."
The news of the poisoned chicken feet comes on the heels of a high-profile food safety scandal last month that affected a number of fast-food outlets in mainland China, including McDonald's and Starbucks. Multiple Chinese outposts of American food suppliers OSI Group LLC were found to be repackaging meat that had already expired and selling it to various fast-food chains around the country. The factory in question was located in Henan province in central China, near where the most recent scandal happened.
© Copyright IBTimes 2023. All rights reserved.