Amid China Food Scandal, OSI Workers Allege Widespread Violations At Company's US Plant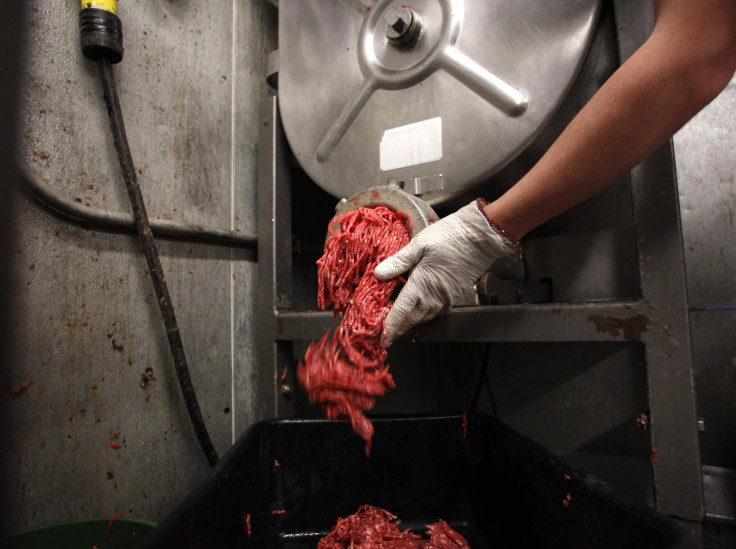 The American meat supplier at the center of a major food safety scandal in Asia engages in widespread food safety and labor violations at its massive processing plant in West Chicago, Illinois, former employees alleged Wednesday in exclusive conversations with International Business Times.
OSI Group LLC, which posted more than $6 billion in sales last year, has been under fire since Sunday, when Chinese regulators shuttered OSI's Shanghai Husi Food Co. Ltd. meat processing facility. Chinese authorities later detained five individuals connected to the company. The moves came in the wake of an investigation by a local TV station that revealed that OSI sold expired meat and meat that had fallen on the floor to several fast-food chains throughout China and Japan.
OSI said Monday that it had launched its own investigation into the practices at the Shanghai Husi plant, and issued a statement saying that "[o]ur company management believes this to be an isolated event."
The Aurora, Illinois, company's West Chicago plant reportedly produces more than five million beef patties per day, making it one of OSI's largest facilities. Sheldon Lavin, CEO and chairman of OSI, has said that the company is the world's largest protein supplier for McDonald's (NYSE:MCD). The West Chicago plant is mostly dedicated to providing meat products for the fast food giant, which the supplier has done without major scandal for four decades.
But OSI's food safety problems may extend beyond Asia. Aurora resident Rosa Maria Ramirez, 47, described practices she allegedly witnessed at the West Chicago plant where she worked for six years.
"The meat would fall on the floor and they would put it back in and pack it," Ramirez told IBTimes through a translator Wednesday evening. "They would spit in the meat, and have sweat dripping off their faces into the meat, and there were times when people's gum would drop out of their mouths into the meat and they would just let it go if they couldn't find it. It's a requirement for every person to wash their hands when they go into the production area but pretty much nobody did it."
OSI did not respond to phone and email requests from IBTimes seeking comment Wednesday evening.
The claims by Ramirez, who worked as a meatpacker at the plant until last week, jibe with those of another former West Chicago plant worker who spoke with IBTimes on condition of anonymity.
The former OSI employee worked at the plant as a grinder operator and production line team leader for a little more than a year, ending in 2011 when he quit for a less demanding, higher paying job. He says that workers engaged in a wide range of food safety and labor violations "pretty much every day" while he was employed there. As a team leader, he says he reported suspected food safety violations, but alleged that he was often rebuffed by supervisors.
"You were supposed to throw out the meat if there was someone picking it up off the floor and throwing it back in, but sometimes I reported it and they just let it go through and I couldn't do anything about it," he said.
"Another big problem was hair. When they kill the cows, a lot of times hair got into the meat. If we saw it on the line, we were supposed to 'kill' the meat -- throw it out. But sometimes, once or twice a month, they would let it go through, have us pick out the hair and then let it go through. People picking up things with their hands and not changing gloves would happen pretty much every day."
Both Ramirez and the unnamed former worker said there was only one United States Department of Agriculture (USDA) inspector posted at the plant when they worked there, and that he almost never actually visited the plant's 10 production lines, which produce about 1,200 patties per minute each, according to Ramirez.
"They had their own quality control people who walked around but they weren't really there watching," Ramirez alleged. "I would see [the USDA inspector] in the production office, which is separated from the production floor, once or twice a week, and most times when I'd walk by he'd be asleep. He never came down to the floor."
The other former worker corroborated Ramirez's allegations: "There was a USDA inspector but I only saw him once downstairs. Most of the time he was in a special office upstairs and he just sat up there most of the time."
Both sources also allege that OSI consistently violated labor regulations in order to ensure that workers were as productive as possible. OSI did pay both workers more than $10 per hour -- more than the Illinois minimum wage of $8.25 per hour -- for the majority of their tenures with the company, but "working conditions were very bad," Ramirez said. "We worked liked mules. There was discrimination every day."
Ramirez said that discrimination allegedly manifested itself in the form of inappropriate touching and sexual harassment by her team leader. But, she claims, her supervisor said she "was lying" when she reported the behavior and fired her days later. She also alleges that she was pressured by OSI to work while injured.
"I've hurt myself there multiple times. I did something to my shoulder a couple of times, but they forced me to come back to work," she said. "[OSI's] doctor said I was fine and if I did not come back to work I would be fired. My doctor said I needed surgery."
The other former OSI employee alleges that the company did not allow workers enough time even for bathroom breaks.
"They had cameras everywhere and if you took more than two minutes past a 15-minute bathroom break, they yelled at you," he said. "Your break starts the second you leave your machine, and it takes five minutes to get to the break room, get all your equipment off, and then it takes five minutes to get the equipment back on and wash your hands. So you really have only a couple minutes to actually be in the bathroom, pretty much."
After Chinese media reported on the food safety violations at the Shanghai Husi Food Co. Ltd. meat plant, McDonald's issued a statement.
"We are committed to the highest standards of food safety and our customers are always our number one priority," the company wrote. "If confirmed, the practices outlined in the report are completely unacceptable to McDonald's. We are no longer serving product from the factory. This matter is being thoroughly investigated and we are cooperating fully with the authorities."
McDonald's spokeswoman Becca Harry did not respond to an IBTimes request for comment on the former West Chicago plant employees' allegations Wednesday evening.
A previous version of this story incorrectly stated that OSI's West Chicago plant employed one USDA inspector. The inspector is in fact a federal employee.
© Copyright IBTimes 2023. All rights reserved.