China's Military To End Commercial Activities In 3 Years As President Xi Pushes For Stronger, More Loyal Armed Forces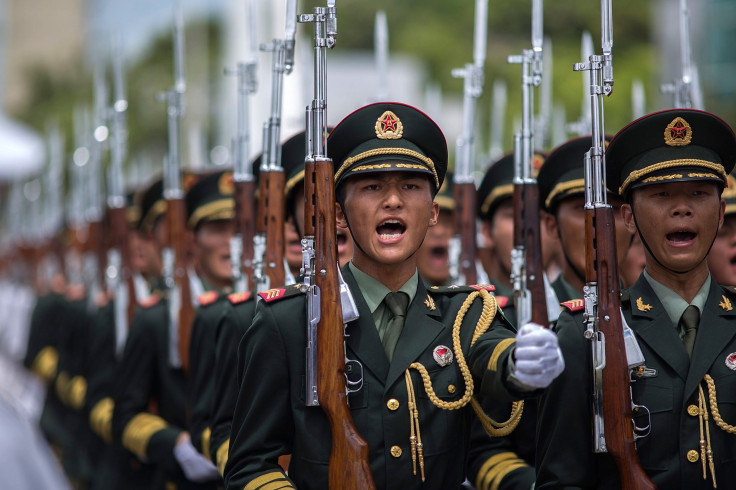 SHANGHAI — China's military has been given a three-year deadline for ending commercial activities, Chinese media reported Monday, in a move experts said was designed to make the armed forces less corrupt and "improve the military's combat capacity." However, some analysts warned the step could risk alienating some military officers.
China's Central Military Commission (CMC) announced that after three years, the People's Liberation Army and the nation's military police force would not be allowed to set up any new commercial projects, including hotels and hospitals providing services to the public, state media reported. Experts said construction projects run by the military would also be banned. Existing contracts would not be renewed when they expired, according to the official Xinhua news agency.
The CMC also issued guidelines on how to terminate existing contracts, in order to avoid problems in the phasing out of such services. Observers said some such functions could be managed by social organizations in future.
The move is the latest stage in the implementation of plans outlined last year by President Xi Jinping, who is also head of the CMC, to make China's armed forces more professional and efficient. Last year, Xi announced that some three hundred thousand military personnel would lose their jobs in the coming years, and officials said the army would focus on upgrading weaponry and place a new emphasis on high-tech areas such as cyber warfare and space technology.
Official media suggested the latest move, with its relatively short deadline, would help ensure loyalty among the military.
"Profits will distract the military from strengthening its combat capabilities," said China's army paper, the People's Liberation Army Daily. And a professor from China's National Defense University added: "Paid services can sometimes encourage corruption, and the military should focus on national defense," according to the Global Times.
The Central Military Commission described the latest move as "an important political task in building the armed forces." However, Xinhua also noted that the CMC "urged units at all levels to fully implement the decision" — a comment analysts said hinted at the frustrations expressed by some military officers last year at the scale of the cuts to the armed forces. And the South China Morning Post quoted one Chinese expert as saying that banning the provision of such services would hurt the interest of many officers, who relied on them as a source of "gray income."
However, the move is seen as a sign of President Xi's determination to shake up the army and ensure its loyalty, as he seeks to engineer a turn away from the brash commercialism that has dominated Chinese society in recent years, and encourage a return to more traditional socialist values.
China's military began engaging in commercial activities — eventually including ventures such as running karaoke bars and nightclubs — in the early days of economic reform under late leader Deng Xiaoping in the 1980s. In 1998, then-president Jiang Zemin called for a crackdown on such activities, but some loopholes remained, allowing the army to continue with some business activities seen as beneficial for training officers.
However Xi, whose father was a prominent communist general, and whose own first job was in the military, has shown himself willing to take on powerful interests in the armed forces. He has overseen the arrests of several top generals as part of his anti-corruption campaign — including China's most senior military officer, Xu Caihou, who died before he could stand trial. He has also reorganized the military's command structure. And last year he called for an army that would put the interests of the Communist Party first.
At the same time, Xi stressed that this would make China's military "stronger." China's defense ministry last year also issued a White Paper calling for a more modern military, with an approach based on "active defense," and greater naval power projection.
And Xi has presided over a more assertive foreign policy, as demonstrated by China's expanding strategy of reclaiming territory on reefs in disputed waters in the South China Sea — though some military figures took the unusual step of publicly expressing disappointment that the country's defense budget for this year grew at its slowest pace for six years.
© Copyright IBTimes 2022. All rights reserved.
FOLLOW MORE IBT NEWS ON THE BELOW CHANNELS