China's New Vertical Map Gives Extra Play To Disputed South China Sea Territories
Don't be surprised to find that China's new official map includes much more than just China, but also a vast portion of the hotly contested South China Sea.
In addition to China's land borders, the newly released map has been extended to emphasize the disputed waters much more prominently than previous maps.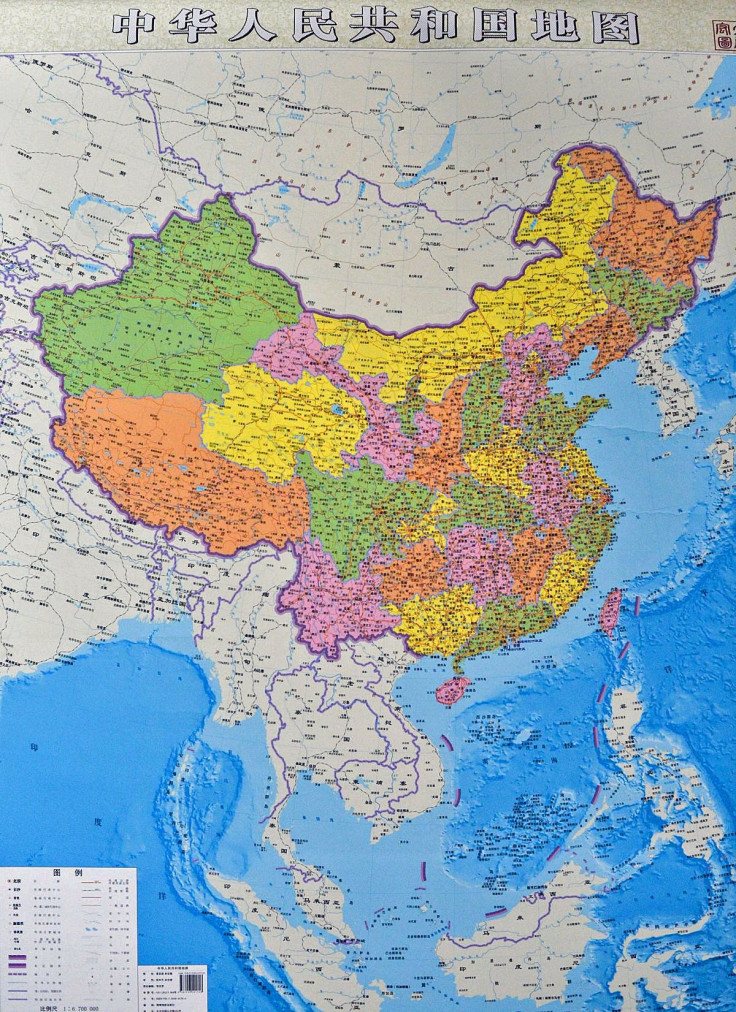 The map, which went on sale starting this week, was designed by the government-approved Hunan Map Press, and was designed to fully illustrate what China has always claimed in previous versions. "The islands of the South China Sea on the traditional map of China are shown in a cutaway box, and readers cannot fully, directly know the full map of China," said the state-run People's Daily, a mouthpiece of the Communist Party.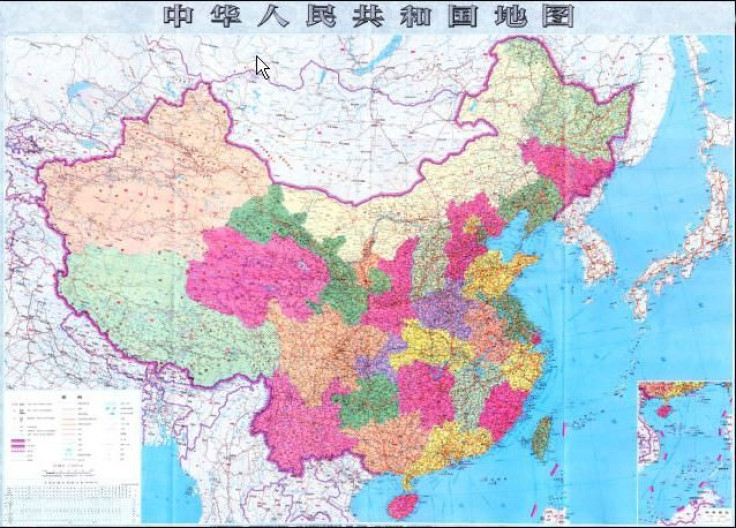 "[This helps] correct misconceptions that territories carry different weights, and fosters a raised territorial awareness and marine consciousness with the public," the Hunan Map Press editor-in-chief, Lei Yixun, told state media Xinhua News, adding that it has "great significance in safeguarding the nation's water sovereignty and territorial integrity."
China claims sovereignty over 90 percent of the area, much to the dismay of nearby governments like the Philippines, Malaysia, Brunei, Vietnam and Taiwan, which also lay claim to parts of the South China Sea. (The map also shows Taiwan as part of China, as the government has always claimed.) In order to include the claims made by China's self-prescribed nine-dash line, a historical demarcation of territories in the South China Sea, it ends up looking more like a map of Southeast Asia than just a map of China. The newly issued map probably will enrage China's neighbors, many of which are engaged in volatile territorial disputes in the resource-rich area.
"There is not a single ancient map, whether made by Chinese or foreigners, showing that the Spratlys and Scarborough Shoal was ever part of Chinese territory," Philippine Supreme Court Judge Antonio Carpio told the Philippine Inquirer, pointing out two of the most disputed territories.
This isn't the first time China's maps have caused controversy among neighboring nations. In 2012, China issued new passport designs that included watermark images of the disputed areas as well as other disputed territories on the travel pages. In protest, immigration officials in Hanoi refused to issue entry stamps on new passports, and instead stamped separate piece of paper.
But China's government is saying that the newest map is not intended to provoke criticism, but rather, to make it clear to the Chinese public. "The goal is to serve the Chinese public," Foreign Ministry spokeswoman Hua Chunying said in a news briefing. "China's position on the South China Sea issue is consistent and extremely clear. Our stance has not changed."
© Copyright IBTimes 2023. All rights reserved.