China's One-Child Policy May Be Replaced With 'Two-Child' Law, After 35 Years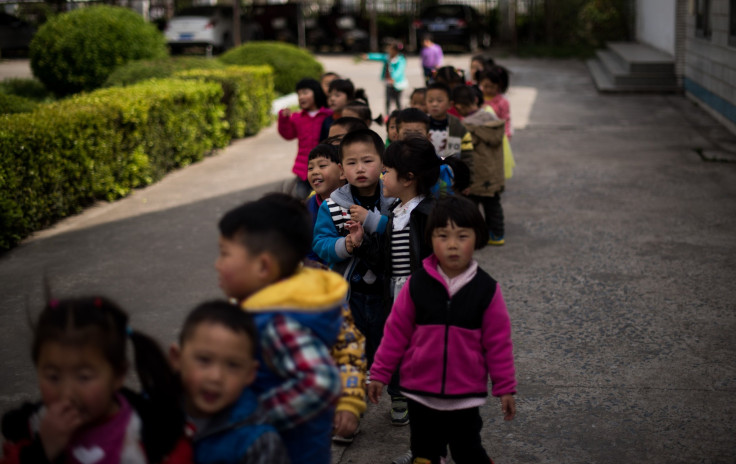 After 35 years, China's one-child policy could soon change. The family planning policy, which has been relaxed in recent years, may be removed or replaced with a "two-child policy" in the country's next five-year plan, which is due after a meeting of top officials later this month, according to Quartz.
Francis Cheung, head of China and Hong Kong strategy for brokerage firm CLSA, told Quartz the new plan will focus on several areas, including labor participation, investment and productivity, and it may include elimination of the one-child policy because of China's aging population and waning work force. China's top think tanks studied years of demographic data on the current fertility rate and recently released a report advising the government to "immediately drop" the one-child policy and implement a "two-child policy." The advisers, which included the CASS Institute of Population and Labor Economy, the Population and Development Research Center of Renmin University of China and the China Population Development Research Center, expressed concerns over the nation's low birth rate, employment profile and aging population, according to First Financial Daily newspaper in Shanghai.
China reached a population of 1.37 billion by the end of last year. If current trends continue, it is estimated to decline to 1.3 billion in 2050, according to Zhang Juwei, director of the Institute of Population and Labour Economics at the Chinese Academy of Social Sciences.
"These projections are part of the background reports we submitted for China's leadership to consider when it designs its new national five-year plan," Zhang told the Irish Times last week.
The birth rate on the mainland is 1.18 children for every couple, which is significantly lower than the global average of 2.5 children and the 1.7 average in developed countries. Several scholars have also called for the fertility restrictions to be relaxed.
"China has undergone a birth rate below the replacement level of 2.1 for 20 years straight. Its population will no doubt start to decrease in 10 years, even if the one-child policy is further relaxed immediately," Wang Feng, a demographer with the University of California, Irvine, and a guest professor at Fudan University, told the South China Morning Post of Hong Kong Wednesday.
In 1979, the Chinese government introduced the family planning policy requiring couples from China's ethnic Han majority to have only one child. Ethnic minorities and some rural populations were largely exempt from the rule. The law was loosened slightly two years ago to allow more couples meeting certain requirements to have a second child. But the policy has remained largely unchanged for 35 years.
© Copyright IBTimes 2022. All rights reserved.
FOLLOW MORE IBT NEWS ON THE BELOW CHANNELS