China's Shanghai Maglev Ranked World's Fastest Train - IBT Graphics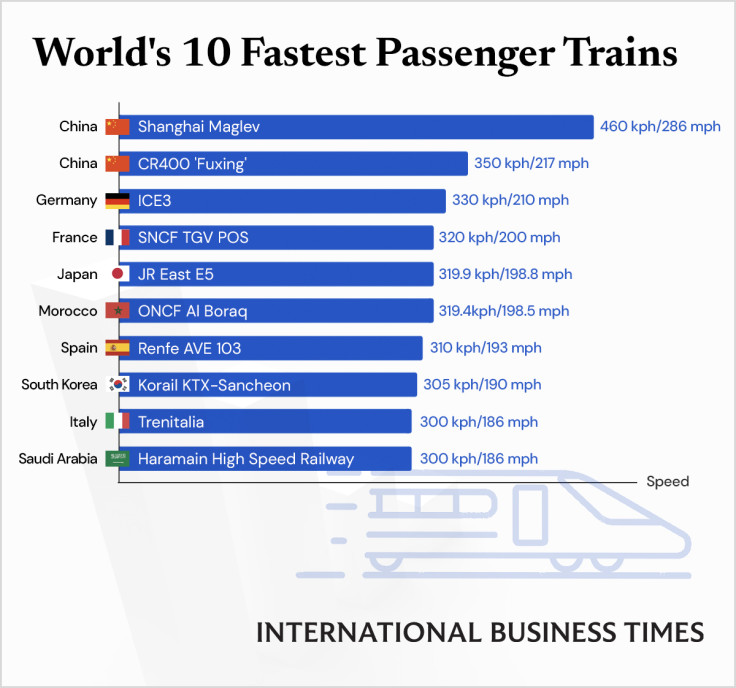 High-speed trains are once again gaining momentum, as several travelers try to reduce their reliance on short-haul flights in an attempt to lower greenhouse gas emissions.
Japan's Tōkaidō Shinkansen or "bullet train" became the first high-speed rail system in 1964 as it achieved a speed above 124 mph (200 km/h). Pioneered by the Shinkansen bullet train in Japan and Train a Grande Vitesse (TGV) in France, high-capacity and high-speed railways have witnessed a significant boom.
Over the past decade, China has emerged as the world leader by investing hundreds of billions of dollars in high-speed trains on its 38,000-kilometer network spread through almost every corner of the country.
China's Shanghai Maglev takes the lead as the fastest commercial train in the world, running between Shanghai Pudong International Airport and Shanghai's financial district every 15 minutes at a speed of 460 kph/286 mph. It is followed by the CR Fuxing (CR series EMU) developed by the China Railway Corporation, operating at 350km/h. They have been tested to run as high as 420km/h.
© Copyright IBTimes 2023. All rights reserved.