China's Stocks Plunge As Regulators Probe Violations In Major Brokerages, Amid Weak Industrial Profits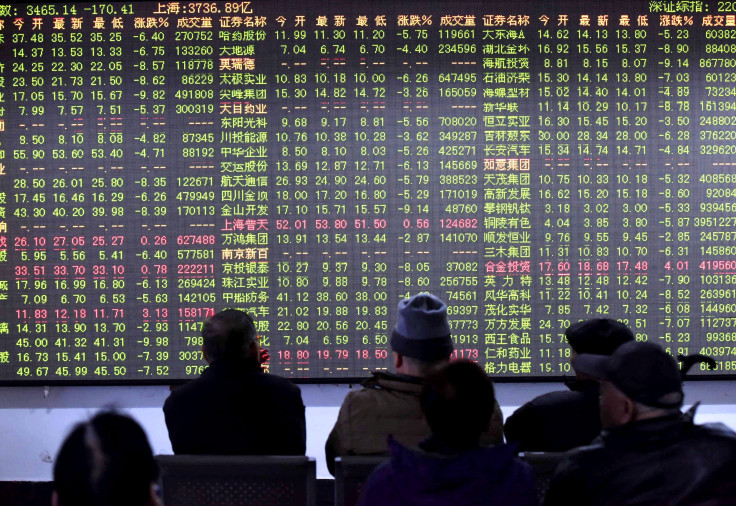 China's Shanghai Composite Index sank as much as 5.5 percent on Friday, the biggest daily fall since August, after Chinese regulators announced Thursday that they were investigating three of the country's largest brokerages for regulatory violations. The move comes as the government attempts to crack down on corruption after the $5 trillion stock market fall in August.
Stocks of Citic Securities Co. and Guosen Securities Co. took a major hit after the announcement of probes, Bloomberg reported. Haitong Securities Co., which fell 3.8 percent, is also being investigated for violations of securities regulations. The Nasdaq-style Chinext index plunged 6.5 percent while Hong Kong's Hang Seng index fell nearly 2 percent.
Citic Securities fell by the 10 percent limit allowed by Shanghai regulators and shed 4.9 percent in Hong Kong. The stock is down 12.8 percent in Shanghai and 7.5 percent in Hong Kong this week. Guosen was also down at the 10 percent daily limit in Shenzhen on Friday, off 6.4 percent for the week. The Bloomberg Intelligence China H-Share Institutional Brokerage index, which tracks seven Chinese brokerages listed in Hong Kong, also fell 4.9 percent on Friday.
Authorities are probing "malicious" short sellers and have arrested star fund managers following this summer's stock market rout. Analysts have said that the government's move is aimed at draining leverage and speculation from the market through the investigations, the Wall Street Journal reported.
"The sharp decline will raise questions whether the authorities' confidence that we are seeing stability in the Chinese markets may be a tad premature," Bernard Aw, a strategist at IG Asia Pte in Singapore, said, according to Bloomberg, adding: "The rally since the August collapse was not fundamentally supported. The removal of restrictions for large brokers to sell and the IPO resumptions may not have been announced at an opportune time."
The Securities Association of China said earlier this week that Citic Securities had overstated certain financial transactions between April and September, the Journal reported. Most of those transactions were related to its over-the-counter swaps business.
The China Securities Regulatory Commission on Thursday said that Citic Securities will be investigated for regulatory violations involving supervision and administration of securities firms. The brokerage said it will cooperate with the authorities, Bloomberg reported.
"The government wants to foster a stock market that can support the real economy, not one that allows speculative investors to profit from derivatives products," Guotai Junan's analyst Zhang Xin, said, according to the Journal.
During the summer, the Shanghai Composite Index, had fallen more than 40 percent from its peak and is currently up 20 percent since August, according to the Journal. Investors, who supported a year-long rally by borrowing massively to invest in shares, also contributed to heavy losses as the loans unwounded.
"After rebounding over 20 percent from its bottom, you need fresh capital to maintain the upward momentum [in Chinese stocks], but recent government measures to deleverage have sparked fears," Zhou Lin, analyst at Huatai Securities, said, according to Reuters, adding: "In addition, I don't see signs that the economy has bottomed out."
According to estimates from Dow Jones, the profits earned by China's industrial companies saw a slump of 4.6 percent in October, compared with a year earlier. Industrial profits covering big enterprises with more than 200 million yuan ($31.3 million) in revenue each year, fell 2 percent during the January-October period compared to last year, the National Bureau of Statistics said. Industrial profits declined 1.7 percent in the first nine months of 2015 from the previous year and state-controlled industrial enterprises fell 25 percent in the last 10 months from a year earlier. The Chinese economy slowed to a six-year low of 6.9 percent in the third quarter of the year.
© Copyright IBTimes 2023. All rights reserved.