China's Trial Of The Century: Why People Care About The Bo Xilai Trial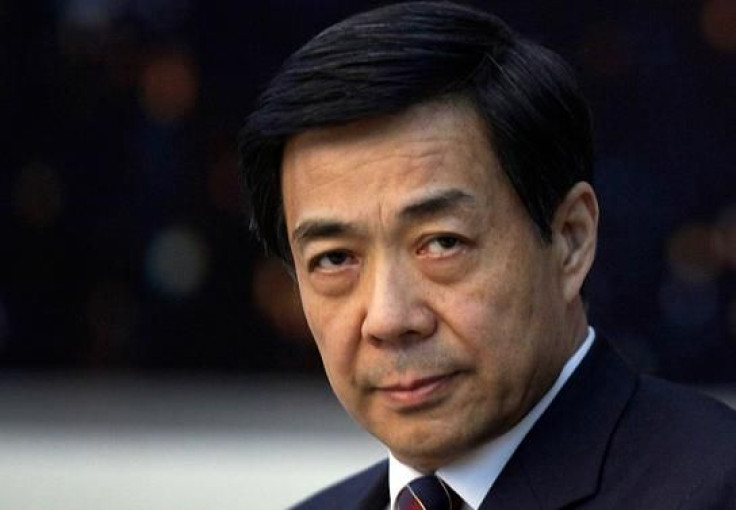 The biggest story in Chinese news this week will take place in the unassuming city of Jinan, Shandong Province. Though a long way from Chongqing, the bustling southern municipality that fallen political leader Bo Xilai once helmed, it's where Bo's trial for abuse of power and bribery will begin Thursday, officials in Beijing have announced.
The dramatic story surrounding Bo Xilai, his wife Gu Kailai, the deceased British citizen Neil Heywood, and the fate of the couple's son, Bo Guagua, involves every possible sensationalist headline and includes murder, money, and lies. Many have already resigned to the trial being merely a formality, and believe a long-time jail sentence is inevitable and in fact the best case scenario for the defendant. But beneath all the attention-grabbing headlines and the mostly bureaucratic exterior of the Communist Party's court procedures, the highly anticipated trial matters beyond just Bo's fate. And for a number of reasons.
1. The scandal began in the Hu era, but is ending under the Xi regime.
The scandal erupted early last February ahead of China's annual parliamentary session in Beijing, the last one that would be helmed by Hu Jintao, the predecessor of current president and then Vice-President Xi Jinping. The trial and sentencing of Bo under Xi Jinping will solidify the Xi administration's hard line against corruption, and more importantly make a negative example of Bo's tendency to move politically without the Party's sanctioning. Part of Bo's success in Chongqing as the municipality's Party chief was a result of going against the advice of China's top officials, including Hu an Xi themselves. Bo's aggressive implementation of the 'Chongqing Model,' which focused on cracking down on corruption and bribery and the promotion of affordable housing in the growing city, eventually proved to be successful, leading to high praise from the central government at the time, particularly from Xi. Xi even visited Bo in Chongqing, where he praised the leader for "cracking down on criminal gangs and safeguarding social safety," state-run Xinhua News Agency reported at the time.
Now, as Bo goes to trial accused of corruption and bribery himself, many Chongqing locals are hesitant to throw their support behind the prosecution. As someone who was able to effectively reduce crime in the city, even earning acclaim from the same party that is now prosecuting him, Bo still has a lot of supporters. "It's certainly an ironic inconsistency and therefore they may fail to uplift public confidence about the trial," Cheng Li, a senior fellow at the Brookings Institution said to Bloomberg. "They [the Party] understand that Bo Xilai has lots of supporters. They want to reduce all the ideological debates and narrow down on corruption."
2. The trial is important for everyone else in China.
The frenzy that surrounds what many are calling the "trial of the century" in China has drawn a lot of international attention. As reporters descended on Jinan to stake out the courthouse and begin coverage of the trial, groups of protesters seized the opportunity of magnified media coverage to air the many grievances and issues they have with China's government. According to Huang Qi, the founder of Skynet, a Chinese website that logs petitions made against the government, protesters from at least six different provinces in China have come to Jinan as of Wednesday local time. One of them, a woman named Wu Guizhen, made the trek from Beijing ahead of the trial to express discontent with the nation's justice system. "We are here to see whether Bo Xilai is given a fair trial. The government is immoral, there is no rule of law and no justice," she said, according to a report by the Telegraph. The woman, who held a sign in Chinese outside the courthouse, was later arrested by police. But Bo's trial was just one item on Wu's long list of complaints. "My house was demolished in 1993 and they promised me compensation but I have not had any money," Wu said, among others who also came to protest. "They said I would get two houses in return but they only gave me one." Another protestor, Wu said, was trying to settle the score for an incident that happened several decades ago: "One of my friends who is here with me has been petitioning for more than 30 years after her husband was beaten to death."
"There are lots of things that need to go to trial aside from Bo," on user on Weibo, China's Twitter-like social media platform, said. "Justice won't be served until it's served to all."
3. China's new leadership is making a definitive stand on Party corruption.
The Bo Xilai trial takes place in a political climate defined by the unwavering stance that new president Xi Jinping, who took office in March, has assumed against corruption among officials. Xi's plans to overhaul and streamline politics in China have been seen in many ways. Xi began with cutbacks on the showboating of officials by condemning expensive banquets, motorcades of expensive cars, decorative banners and flowers, and all the pomp that surrounds official travel in the country. Xi made repeated calls for a crackdown on officials who rely on bribery, ill-gotten gifts and other illegal means to leverage their power. Now, with Bo's trial, Xi along with the rest of the country's top politicians hopes to send a message: the central government hopes to show that even Bo Xilai's status as a "princeling," the son of former Vice Premier Bo Yibo, one of China's "eight immortals" of the Communist Party, doesn't grant him immunity from the new hard line against corruption.
FOR FREE to continue reading
✔️ Unlock the full content of International Business Times UK for free
offer available for a limited time only
✔️ Easily manage your Newsletters subscriptions and save your favourite articles
✔️ No payment method required
Already have an account?
Log in
© Copyright IBTimes 2023. All rights reserved.