China's Troubles With Uighur Minority Continue With Fatal Attack In Xinjiang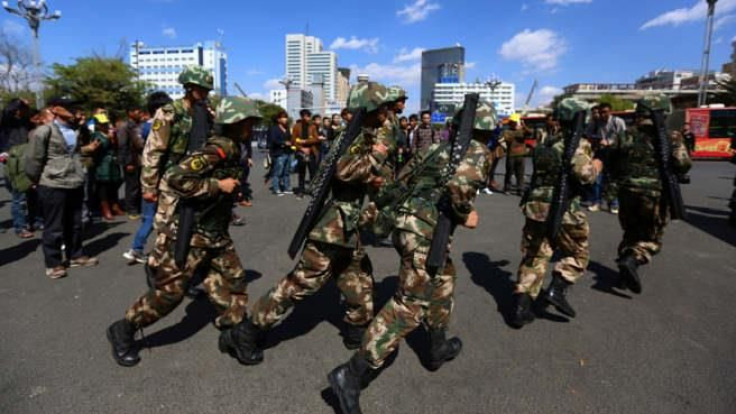 China's announcement nearly 100 people -- including 59 terrorists -- died in a militant attack last week marks the latest episode in Beijing's increasingly turbulent relationship with Uighurs, an ethnic group native to the country's far-western Xinjiang region.
Although the Chinese government has not released full details of the incident, its basic account is this: Last Monday, armed and masked militants attacked police stations and government offices in Shache County, near Kashgar in China's far west. The official Chinese news agency Xinhua reported 37 Han Chinese and two Uighur civilians were among the dead.
Tensions between China's Communist Party and its Uighur population, which comprises 45 percent of Xinjiang's population, has existed throughout the history of the People's Republic. But the past 12 months have been particularly violent. In July of last year, an armed Uighur attack on government offices in the Xinjiang city of Lukqun killed 35 while in October a Jeep carrying five Uighurs plowed into Beijing's Tiananmen Square, the symbolic center of the Chinese nation, killing two and injuring dozens more.
And this year, the violence has continued: In January, police killed six in the town of Aksu, Xinjiang, while in May assailants detonated explosives in a vegetable market in the regional capital of Urumqi, killing 43. Most spectacularly, in March, a group of 10 masked militants indiscriminately attacked passengers at the railway station in Kunming, Yunnan province, killing 30.
The Chinese government has successfully captured, tried and killed those held responsible for past episodes of Uighur violence, but has struggled to find a solution for the underlying causes of the unrest. Many Uighurs, who are Sunni Muslim and speak a Turkic language, chafe at Chinese repression of their language and culture, and have accused Beijing of economic and social discrimination. The Chinese government, meanwhile, typically blames Uighur violence on terrorist groups, such as the shadowy East Turkestan Islamic Movement, which allegedly receives financing and support from outside China.
China, which has identified Nuramat Sawut as the ringleader of the most recent attacks, started a yearlong crackdown on terrorism following the attacks on the Urumqi vegetable market in May. Referring to Islamic extremism in the region, Zhang Chunxian, the Communist Party's top official in Xinjiang, vowed "to pursue the tottering enemy with force."
Meanwhile, Dilhat Raxhit, spokesman for the World Uighur Congress, an advocacy group, told Reuters Beijing's repressive policy, left unchanged, "could lead to even more clashes."
FOLLOW MORE IBT NEWS ON THE BELOW CHANNELS