China's Milk Formula Advertising Restrictions Aim To Promote Breastfeeding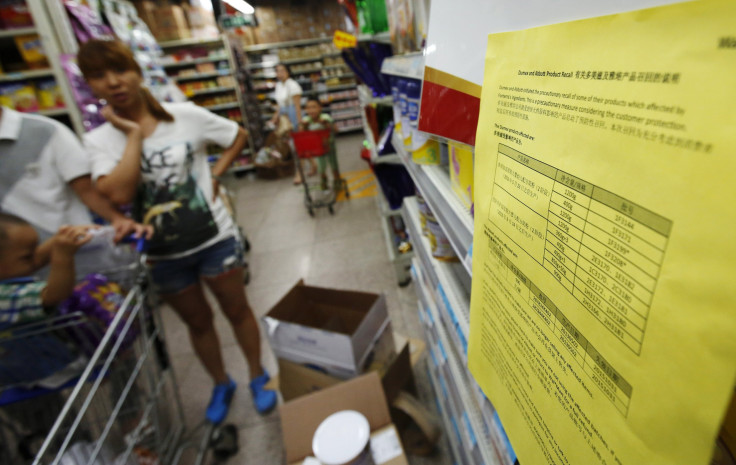 Not for nothing, Chinese President Xi Jinping has gained a reputation as the nation's most authoritarian leader since Chairman Mao Zedong, especially in the spheres of journalism and social media. As the government has muted conversation that conflicts with the Communist Party line, much of the censorship has been aimed at protecting the party itself: Scrutiny of the personal fortunes amassed by officials has been banned, along with coverage of the pro-democracy movement in Hong Kong.
But now the Chinese government is wielding media restrictions in the service of a public-health campaign: It aims to promote breastfeeding by Chinese mothers by limiting sales of milk formula. Toward that end, the government has delivered new regulations that forbid makers of baby formula from making claims in advertisements that their products can "replace a mother's milk, fully or partially." Violators are liable to be fined as much as 1 million yuan ($160,937).
The rules open a new front in the Chinese government's muscular oversight of media and the Internet, broadening the campaign to include a new area that has so far escaped with little attention: advertising. The regulations have been offered up in the name of protecting Chinese consumers.
China's vast and growing advertising industry has generally been governed by the same rules for decades, even as the country's explosion as a commercial powerhouse has changed much of life and other areas of law. According to Advertising Age, the last time the Communist Party applied an edict was in 1994 when the National People's Congress Standing Committee established a number of new policies, like the kind of language that can be used to describe efficacy in medical advertisements.
The new regulations reflect in some ways China's effort to catch up with global advertising standards that have evolved along with technology and culture. Consumers will now gain the power to close Internet pop-up ads -- something that did not exist in 1994. Celebrities who tout products in ads will now be held accountable in the event of false claims about the goods they are peddling.
The changes fit into a larger pattern of beefed-up consumer protections in China. State-run China Central Television has begun acting as the country's consumer-rights watchdog, with the tacit support of the government. In the past, CCTV's annual World Consumer Rights Day investigative report became popular by focusing on exposing injustices and corporate violations of Chinese consumer rights. State-controlled banks and multinational companies such as the McDonald's Corp. have been scrutinized in the report.
Last week, China's ruling State Council announced the goal of boosting the rate of breastfeeding by 50 percent over the next five years. In a sign of the intensity of the campaign, the country's top legislative body went so far as to consider banning advertising for milk formula, but instead opted for limits on what makers of these products can claim.
While baby formula is considered a decent alternative when breastfeeding is not possible, medical professionals overwhelmingly recommend the benefits of mother's milk, especially during infancy. The National Resources Defense Council has indicated breastfeeding has multiple benefits, including a decrease in the risk of disease and an increase in the passing of antibodies from mother to child, which helps boost the immune system. The Lancet medical journal published a study arguing that exclusive breastfeeding was more beneficial to the health of a newborn than improved sanitation when it came to preventing child deaths from disease in developing countries.
Still, the breastfeeding rate around the globe continues to decline, and it's now less than one-half of what it was 17 years ago. While UNICEF data put the world average of exclusive breastfeeding (using only breast milk to feed a child) at roughly 40 percent, the most recent reports by the National Health and Family Planning Commission found only 22 percent of Chinese mothers do exclusive breastfeeding through six months of age. In 1998, government data published in the Chinese Journal of Family Planning reported the comparable average as 46.3 percent.
For China, shunning breastfeeding appears to be a result of the country's breakneck economic growth and a sense among urban, professional women that the practice is uncouth and uncultured. As the nation has developed in recent decades, millions of migrant workers have moved from farms in the hinterland to booming coastal cities in pursuit of jobs. New mothers have left infants in the care of grandparents at home as they have pursued wealth in faraway cities -- a reality that has sharply boosted dependence on formula.
Last year, formula sales in China reached $21.8 billion, according to the market-research company Mintel.
So great is China's appetite for infant formula that not even a food-safety scandal in 2013 deterred sales. After 1,000 metric tons of New Zealand milk powder were found to be tainted with bacteria, parents in China went to enormous lengths to get their hands on milk formula online and overseas, even at huge markups.
Now, the Communist Party is employing one of its customary tools in altering public action -- controlling information. Though now, rather than stamping out reports of dangers inside state-owned factories or illegal land seizures by corrupt party officials, the government is seeking to make China's 1.3 billion people healthier.
FOR FREE to continue reading
✔️ Unlock the full content of International Business Times UK for free
offer available for a limited time only
✔️ Easily manage your Newsletters subscriptions and save your favourite articles
✔️ No payment method required
Already have an account? Log in
© Copyright IBTimes 2023. All rights reserved.