Chinese Coastguard Ships Scream Out Their Presence In Disputed South China Sea Waters
Chinese Coast Guard (CCG) vessels that regularly patrol the South China Sea are trying a new tactic in what may be an attempt to assert sovereignty over some disputed areas rich with oil and natural gas reserves.
That "tactic" is to make themselves deliberately visible to onshore observers and other ships by turning on their internal tracking signals.
This is different from previous actions by Chinese boats and warships that have regularly passed through the Sibutu Straight near the Philippines under a veil of stealthiness with no notification to coastal authorities, a violation of international maritime law.
The Washington DC-based Asia Maritime Transparency Initiative (AMTI) that tracks vessel movements in the area reported that it had identified 14 CCG vessels broadcasting automatic identification system (AIS) signals while patrolling three shoals over the past year.
The report said, "There don't appear to be any other contested areas where CCG presence is so persistent, and where China clearly wants regional counterparts to know they are present. Beijing has evidently taken a special interest in Luconia, Second Thomas and Scarborough shoals. It seems to be wagering that if it can maintain a semi-permanent CCG presence for long enough, regional states will eventually accede to its de facto control of those areas."
The AMTI report continued, "And if that strategy succeeds at Luconia and Second Thomas (as it arguably already has at Scarborough), it will serve as a compelling blueprint for extending Chinese administration across other reefs and shoals."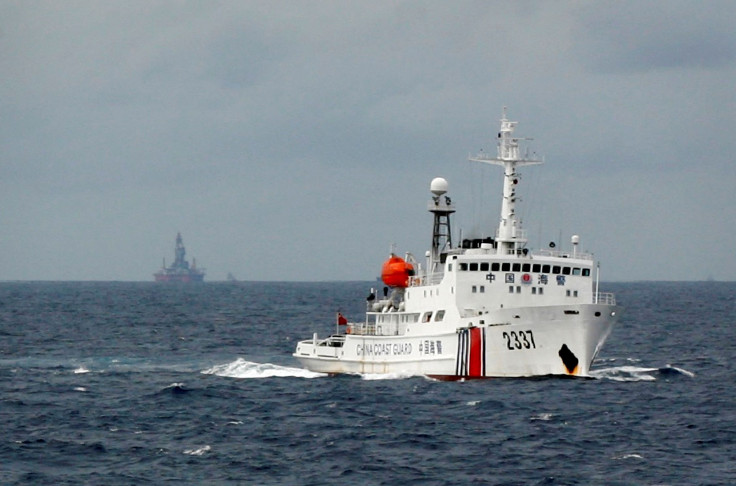 China has been at odds with other countries bordering the South China Sea. A Chinese survey ship, the Haiyang Dizhi 8, started operating off the Vietnamese coast, attempting to block oil rig operations by Vietnam at Vanguard Bank. The Spratly Island chain located inside the Philippine's exclusive economic zone is another area of contention.
The vessels patrolling the three shoals are not heavily armed, carrying only water cannons and small weapons, but they have a size advantage over the enforcement or even fishing vessels of their rivals in the South China Sea. The AMTI report pointed out, "This makes them ideal for operations that might involve threatening collisions and, if necessary, shouldering other vessels to drive them away without using lethal force."
Collin Koh, a research fellow with the Maritime Security Programme at the S Rajaratnam School of International Studies in Singapore, said, "The mere fact that these ships are out there, openly broadcasting AIS signals, could have a debilitating effect on non-state actors, especially fishermen of those countries who usually operate in their exclusive economic zones – particularly when they do not enjoy or expect any effective protection from their governments' maritime agencies."
© Copyright IBTimes 2023. All rights reserved.