Chinese College Graduates Cannot Secure Jobs: 28% Of Beijing's 2013 Graduates And 44% Of Shanghai's Have Found A Job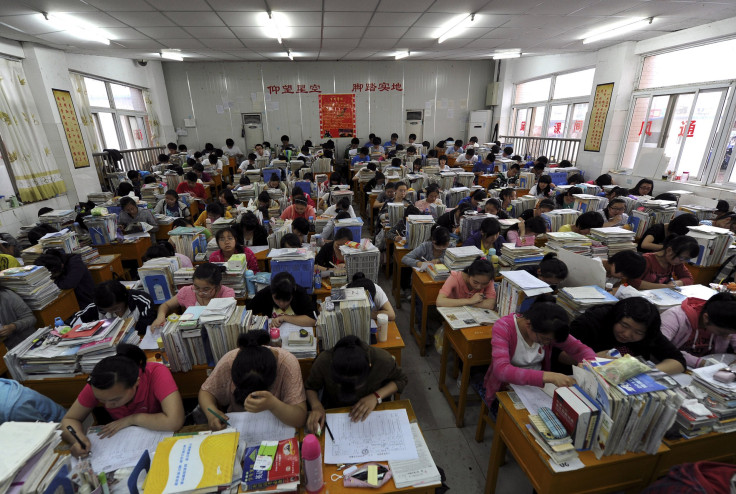 College graduates in China will face a tough reality when they hit the job market this year. By mid-April, only 28.24 percent of Beijing's 2013 graduates had found jobs, and Shanghai's graduates fared only slightly better, at 44.4 percent.
The low placement numbers reflect the higher number of graduates this year and the slowdown in China's economy, experts say. Netizens have dubbed 2013 "the worst year to graduate in history."
This year a total of 6.99 million students graduated with a master's, bachelor's or technical college degree in China, an increase of 190,000 from 2012. In contrast, the number of jobs available decreased by 15 percent compared with 2012, according to China Youth, a state-run youth newspaper. Combined, these statistics mean a large portion of graduates will not have a job coming out of school.
In Beijing, 229,000 students will graduate this year, 9,000 more than in 2012. According to data from hiring businesses and organizations, however, there are only 98,000 jobs available for graduates, 16,000 less than in 2012. Many privately owned companies have lowered their hiring quotas, and most are offering jobs that are less lucrative than in previous years, with diminished benefits. By April 19, only 28.24 percent of Beijing's 2013 graduates had secured jobs -- of that fortunate group, 36.59 percent will graduate with a graduate degree, 26.6 percent with an undergraduate degree, and 16.84 percent with a technical college degree.
Shanghai graduates are a little luckier: 178,000 are graduating this year, and as of May 10, 44.4 percent of these graduates had secured employment. This is 2.05 percent lower compared with the same measure in 2012.
"The percentage of graduates with jobs did fall compared to last year, but we shouldn't say it's the 'worst year,'" said Li Ruiyang, the deputy director of Shanghai's Bureau of Education, according to China Youth. "Compared to last year, the numbers this year are a little lower, but they are comparable with the year before."
Part of the problem is that a slowing economy is causing companies to hire fewer new graduates, but the bigger problem might be that the jobs offered do not always match graduates' skill levels. There are 152,000 jobs open to new graduates in Shanghai; if students are not picky, almost all of them will find a job.
Even graduates from top schools are having a hard time compared with previous years. Xiong Yizhi, the director of the career center at Tsinghua University, said only 60 percent of Tsinghua's graduates have jobs, but he expected that number to climb at the end of May, when many students who are still considering their offers will make a decision, according to China Youth.
Making matters worse for graduates, the "lucky" ones with jobs can expect an average salary of 3,000 yuan per month ($487.89). Netizens have calculated that at this rate, a 2013 graduate will have enough money to purchase a bathroom in the suburbs of Beijing in 10 years, if she doesn't eat and chooses to live on the street.
FOLLOW MORE IBT NEWS ON THE BELOW CHANNELS