Chinese Student Hires Hitman To Kill Father For Pressuring Him To Study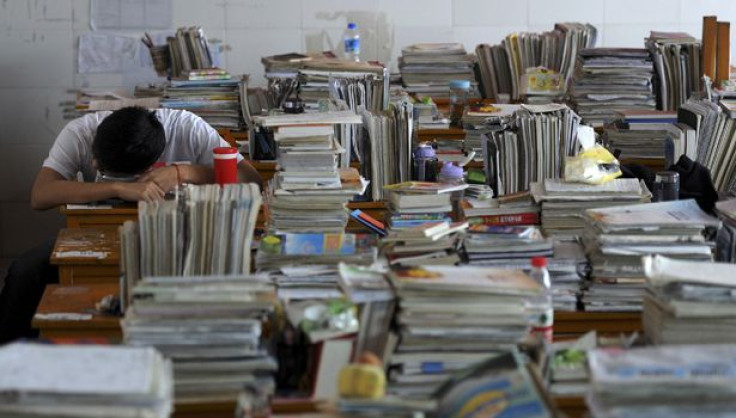 The intense pressure on China's students to succeed in school -- whether self-imposed, cultural, or from family members or the school -- has resulted in an increasing number of reports of students resorting to extreme measures to cope. Even murder.
In a chilling tale from Henan province, a high school student has been detained after allegedly hiring two hitmen to kill his father and older sister because they "had given him too much pressure to study."
According to a report in the South China Morning Post, 49-year-old Gao Tianfeng, a high-ranking member of the judicial committee of the Intermediate People's Court of Zhoukou City, and his 20-year-old daughter, were found dead inside their home in China's central Henan province. Neighbors raised concern around 2 a.m. local time Sunday when they heard sounds of a break-in. Surveillance cameras confirmed that two men wearing baseball caps jumped over a wall shortly after 2 a.m. and entered the home and retreated a short time later.
After the police interrogated Gao's son, a senior at a high school in Luohe, which is located roughly 70 kilometers from his home, he revealed that he had hired the hitmen via the Internet.
Officials have confirmed that Gao's son and one other man have been detained, but a search continues for the other hitman, who remains at large.
Some users on Weibo, China's popular Twitter-like social media platform, have floated some other theories suggesting that Gao's wealth and affluent career could have made him a target by enemies.
This is not the first story to come out of China of students breaking under the pressure to excel in school.
Earlier this May, reports of two teenagers committing suicide in Eastern China after "failing to complete homework assignments" made top news.
According to a report by China Daily, one of the students was a 15-year-old boy in the eastern city of Nanjing who failed to complete his assignment over the May 1 National Labor Day holiday and then jumped to his death. On the same day, a 13-year-old boy in the same town was found hanging in his home two hours after waking up to complete his assignment at 4 a.m. Whether the cases are related is still unknown.
China is known for its highly competitive and rigorous school system. According to the South China Morning Post, a student can spend as much as 12 hours in the classroom each day, in addition to several hours of homework. China's notoriously difficult "gaokao" college-entrance exam has also been criticized as a source of pressure on students.
© Copyright IBTimes 2022. All rights reserved.
FOLLOW MORE IBT NEWS ON THE BELOW CHANNELS