Chinese Global Soccer: How China Plans To Become FIFA 'World Football Superpower' By 2050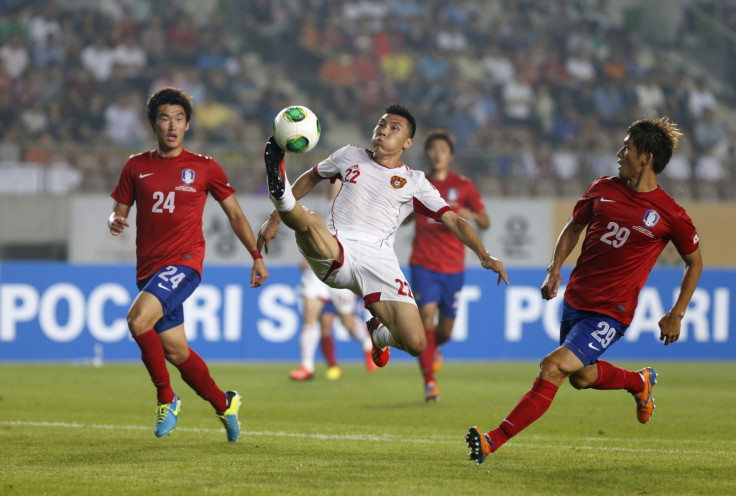 China outlined a bold plan Monday to ascend the world soccer ranks, and the ultimate goal is lofty: By 2050 it wants to become a "world football superpower," according to the BBC. The country's main economic planning body, the National Development and Reform Commission, released a report that featured specific targets in three phases.
The first phase aims to build a soccer base by 2020 that includes 20,000 training centers across the country, with more than 30 million primary and secondary school students playing the sport. The second phase, ranging from 2021 to 2030, calls for the women's team — runner-up at the 1999 World Cup — to be among the top squads in the world, while the men's team should be among the top Asian teams. The third phase, ranging from 2030 to 2050, calls for the country as a whole to emerge as a superpower.
The Chinese men's soccer team has struggled on the international stage, appearing in just one World Cup — the 2002 tournament in South Korea and Japan. FIFA ranks the squad 81st in the world, behind Zambia (78), Bolivia (79) and Cyprus (80). The women's team, ranked 12th in the world, lost in the 2015 World Cup quarterfinals to the United States, the eventual champions. Prior to the 2015 tournament, the onetime world power failed to qualify for the 2011 World Cup and the 2012 Olympics.
"It is very hard to buy such success in a team sport — not only football — because such sports are deeply anchored in popular culture and have everything to do with little kids playing them from when they start to walk," Andrei Markovits, a University of Michigan professor and author of the book "Gaming the World: How Sports Are Reshaping Global Politics and Culture," said in an email to International Business Times. "This said, contemporary China is different because it is not only a planned system but also has a powerful market in which sports like association football [soccer] have to be nested to be successful. ... Lionel Messi is every bit as much a presence in China as he is in Barcelona. Every Chinese kid can watch him play in real time. So yes, I can see China being a global association football power in 2050."
Chinese President Xi Jinping is a known soccer fan and has pushed for the game to grow in the country. Teams in China went on a massive spending spree during the latest transfer window — the time period during which players can be moved from squad to squad — spending some $366 million on big-name players like former Atletico Madrid striker Jackson Martinez and former Chelsea midfielder Ramires Santos do Nascimento, known simply as Ramires.
© Copyright IBTimes 2023. All rights reserved.