Lionel Messi And The Panama Papers: Why The Barcelona Star Could Be In Trouble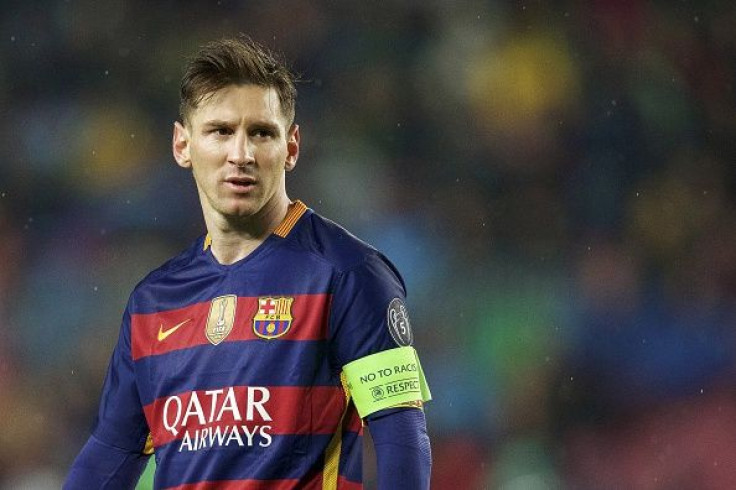 On the field, it's a good time to be Lionel Messi: He's fresh off winning his fifth Ballon d'Or award, given to the world's best player, his club FC Barcelona sits atop Spain's La Liga after winning five trophies last year and he has scored 22 goals in 26 league games this season. But outside the comforts of the soccer pitch, one of the world's most famous athletes is fighting off two financial scandals that could see him land behind bars.
Messi was named this week in the Panama Papers for his alleged involvement in setting up a shell corporation amid an ongoing tax-evasion court case in Spain that could put him in prison for 22 months. So far, his endorsement deals and standing as a beloved global star have been unaffected and Messi appears unlikely to suffer a major hit to his multimillion-dollar brand — as long as the world's favorite soccer player can stay out of prison.
"In the pecking order of things that fans react negatively to or hurt his brand, I think this is probably way down on the list of transgressions," said Tom O'Grady, partner and chief creative officer at Gameplan Creative, a Chicago-based sports branding firm. "I don't think sponsors will take a disparaging view of that until there's a possible conviction."
When news broke of the so-called Panama Papers leak — a trove composed of more than 11.5 million documents from law firm Mossack Fonseca that detailed offshore accounts and in some cases suggested money laundering, arms and drug deals and tax evasion — Messi was among the top-line names connected with documents in reports among power brokers such as the prime ministers of Britain, Iceland and Pakistan and the president of Ukraine. Offshore accounts are not illegal, but a report based on the documents from German paper Süddeutsche Zeitung connected Messi to a purported shell corporation called Mega Star Enterprises that allegedly served as a tax haven for the star's image deals.
In a separate but similar case, Messi and his father have been charged with three counts of tax fraud — amounting to $4.4 million in unpaid taxes in Spain from 2007 to 2009 — and await a trial set for late May. If found guilty, Messi could face up to nearly two years in prison.
Messi's father, Jorge Messi, who has been involved in both cases, said in a statement, "Lionel Messi has not participated in any of the acts in which he is being implicated." Messi, for his part, has in the past said he has simply gone along with his father's business decisions. The family also plans to sue a Spanish paper that has reported on the alleged tax-evasion scheme.
The Argentine forward is among the top earners in global soccer, and possibly trails only Real Madrid rival Cristiano Ronaldo. The magazine France Football estimated Messi makes some 65 million euros per year, or about $74 million, when salary, bonuses and sponsorship money are combined. Forbes pegged him as the fourth-highest-paid athlete in the world, also estimating $74 million in total compensation, $22 million of which the magazine estimated came through endorsement deals. Messi is attached to some of the biggest brands in the world, including Gillette, Pepsi and, most recently, Chinese smartphone giant Huawei. He has crafted a relatable, if quiet, persona and has been featured in fun commercials showing him as a superhero or juggling a can of soda.
So far, the blowback for Messi with his major partners has been limited to nonexistent. Barcelona said in a statement Monday that it supports the Messi family and would make all of its "judicial means, fiscal and administrative, at the family's disposal in order to make his actions and honor clear in this case."
Adidas, perhaps the most visible company attached to Messi — they make his signature cleat and rely on him as a cornerstone asset to counter Nike and Ronaldo — said they were cognizant of Messi's situation, but didn't add much to that stance.
"Adidas is aware of the on-going situation regarding the Panama Papers. However, anything to do with an individuals [sic] financial affairs is solely a matter for them and their management," a spokesman said in a statement to International Business Times.
Messi is incredibly popular, and is the gold standard as an athlete partner, sports branding experts said, and companies will likely think long and hard before creating any distance between their brand and the Barcelona star. On social media, he trails only Ronaldo in popularity among athletes worldwide. The Marketing Arm, a marketing and promotion agency that measures consumer engagement, found that in the United States alone (where soccer is less popular), Messi measures alongside movie star Dwayne Johnson and now-retired NFL quarterback Peyton Manning in terms of influence, according to data provided to IBT.
"You can walk into Central Park in Manhattan on a Saturday and you'll see as many Lionel Messi jerseys as you'll see Peyton Manning," said Joe Favorito, a sports media consultant and sports marketing professor at Columbia University in New York City.
Messi's brand isn't invincible, Favorito said, but it's close, and "the goodwill ... for him on a global basis, it's hard to beat back."
​Messi is far from the lone person in the world of soccer involved in the Panama Papers. On the heels of an awful 2015 for international soccer's governing body, FIFA, that featured two rounds of sweeping corruption charges and the banning of its former president, things only got worse with the Panama Papers. FIFA official Juan Pedro Damiani, who was a key member of the group's ethics committee, was connected to dealings of FIFA officials who have been indicted. Michel Platini, the banned former boss of the Union of European Football Associations, was linked as the creator of an offshore company in Panama in 2007. Documents also apparently showed members of Spanish team Real Sociedad were paid in a method that reduced the tax bill for both the players and organization. Most recently, even FIFA's new president, who promised to cut away at corruption, was pulled into the Panama Papers drama Tuesday regarding deals made when he served as director of legal services at UEFA.
"The soccer system has always been clouded with these accusations with criminal activity and therefore I feel many people feel justified in evading taxes or not following the letter of the law," said Stefan Szymanski, a professor of sports management and economics at the University of Michigan and the co-author of the blog Soccernomics. "It's hard to believe Messi would be the only player involved in this."
In fact, Messi is certainly not alone, according to the International Consortium of Investigative Journalists, which brought together a number of journalism outlets to report on the Panama Papers. It reported the "documents include the names of nearly 20 high-profile soccer players, past and present, representing some of the globe's best-known professional football clubs, including Barcelona, Manchester United and Real Madrid."
The Panama Papers are beginning to have real-world consequences. Iceland's prime minister resigned Tuesday amid massive protests concerning his involvement. But while Messi is dealing with two scandals at once, he'll likely walk away unscathed as long as he stays out of a jail cell.
"I think that there's probably a ton of forgiveness for something like this," said branding expert O'Grady. "If he's found guilty and goes to jail, that's different, because it's hard to score on the pitch from a jail cell."
© Copyright IBTimes 2023. All rights reserved.