Chinese Internet Censorship: DuckDuckGo Search Engine Blocked By Government Authorities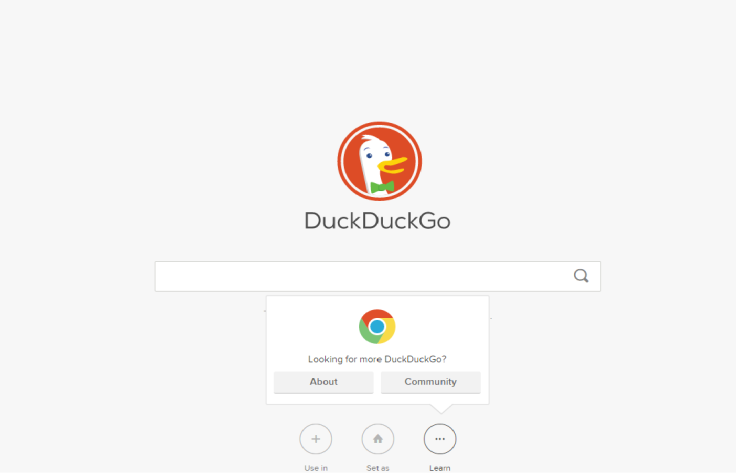 A U.S.-based search engine that had been gaining popularity in China for its privacy-protected search results has become a target of Chinese censors. The website, DuckDuckGo, joins the ranks of other foreign websites blocked by the government, including Google and Facebook.
According to a report Tuesday in Tech In Asia, a technology news blog, Chinese authorities have not only blocked access to the Paoli, Pennsylvania-based DuckDuckGo from Chinese servers, but they even appear to be censoring any mentions of the search engine online as well.
"We saw the online mentions that DuckDuckGo was blocked," DuckDuckGo's founder and CEO Gabriel Weinberg said. DuckDuckGo is a search engine that boasts "real privacy" by not collecting or sharing personal information from its users. GreatFire.org, a website that monitors the access of websites in China, shows that access to DuckDuckGo had been blocked as early as Sept. 4. Weinberg said that the outage of access is not coming from their end, citing no problems with their servers.
On Weinberg's personal blog, he goes into a little bit more depth about how important Internet privacy is to him, even opting out of the commonly used Google services, not only because they are competition but because he believes in "privacy policies that do the minimum collection needed as opposed to the maximum collection possible."
DuckDuckGo is the latest one barred from China among a long list of foreign-run websites, including Twitter, Facebook and YouTube. Google has openly spoken out against China's censorship practices and has refused to cooperate with the Chinese government. In addition to the search engine, Google's other services like Gmail and Calendars also experience outages when accessed in mainland China.
Unlike Google and DuckDuckGo, which sacrificed the huge China market by refusing to adhere to government policies, competing search engines Bing and Yahoo do operate in China. Though Yahoo and Bing are not blocked, search results, particularly those related to sensitive topics like Tibet or Tiananmen Square, have been censored.
© Copyright IBTimes 2023. All rights reserved.