Chinese Issue Veiled Warning To North Korea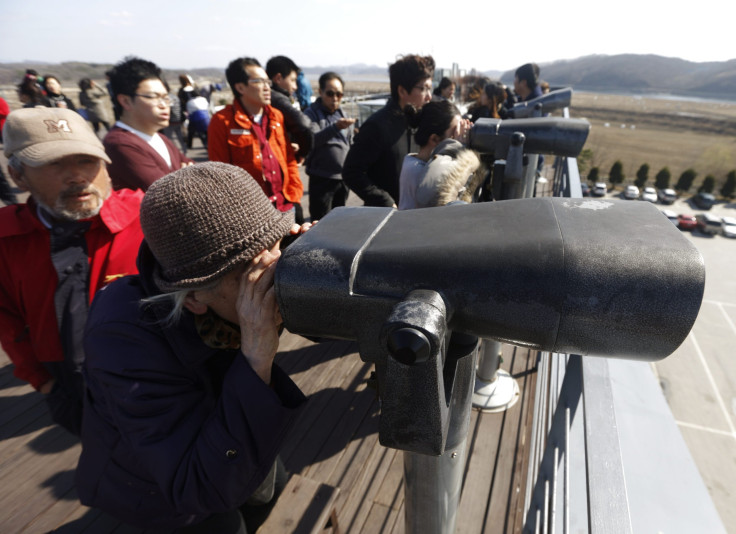 A top South Korean national security official said Sunday that North Korea may be readying another missile test or some other provocation within days, the Associated Press reports.
Kim Jang-soo, President Park Geun-hye's national security director, said the warning to diplomats to quit Pyongyang and other recent North Korean actions are an attempt to force South Korea and the U.S. to offer a dialogue and enlist China and Russia to intervene on its behalf.
Tensions between the Koreas led South Korea's Joint Chiefs of Staff to announce Sunday that its chairman had put off a visit to Washington. The U.S. military said its top commander in South Korea had also canceled a trip to Washington.
Meanwhile, Chinese President Xi Jinping deplored tension on the Korean Peninsula Sunday and in an apparent reference to North Korea, said no country should be allowed to plunge the region into chaos, Reuters reports.
Addressing a regional forum on the southern island of Hainan, Xi did not refer to China's Communist neighbor by name, but said no country "should be allowed to throw a region and even the whole world into chaos for selfish gain."
Stability in Asia, he said, "faces new challenges, as hot spot issues keep emerging and both traditional and non-traditional security threats exist." Xi said that the international community and its collective scrutiny should act as a platform for common development rather than an "arena where gladiators fight each other," The Washington Post reported.
Chinese Foreign Minister Wang Yi, in a statement late on Saturday, relating a telephone conversation with U.N. Secretary-General Ban Ki-moon, expressed similar frustration.
"We oppose provocative words and actions from any party in the region and do not allow trouble making on China's doorstep," Wang said, according to a ministry statement on its website.
On Sunday, the ministry expressed "grave concern" at rising tension and said China had asked North Korea to "ensure the safety of Chinese diplomats in North Korea, in accordance with the Vienna Convention and international laws and norms."
China's embassy, it said, was "understood" to be operating normally in Pyongyang. Other nations, including India and Germany, gave similar reports.
South Korean Joint Chiefs of Staff Chairman Gen. Jung Seung-jo had planned to meet with his U.S. counterpart, Gen. Martin Dempsey, in Washington on April 16 for regular talks. But tensions on the Korean Peninsula are so high that Jung cannot take a long trip away from South Korea, so the meeting will be rescheduled, a South Korean Joint Chiefs officer said Sunday. The officer spoke on condition of anonymity, citing office policy.
The top U.S. military commander in South Korea, Gen. James Thurman, will not make a planned trip to Washington this week to testify before Congress because of tensions with North Korea. In an email Sunday to the Associated Press, Army Col. Amy Hannah said Thurman would remain in Seoul as "a prudent measure." He was scheduled to testify on Tuesday and Wednesday.
The U.S. Defense Department has delayed an intercontinental ballistic missile test that had been planned for this week because of concerns the launch could be misinterpreted and exacerbate the Korean crisis, a senior defense official told the AP.
The test was "long planned and was never associated with North Korea to begin with," the official said, but added that "given recent tensions on the Korean Peninsula, it's prudent and wise to take steps that avoid any misperception or chance of manipulation, so the test has been postponed."
The test was planned for next week at Vandenberg Air Force Base in California. It would have tested the Minuteman 3 ICBM missile.
The U.S. will conduct another test soon, the senior defense official said, adding that the U.S. "remains strongly committed to our nuclear deterrence capabilities."
© Copyright IBTimes 2023. All rights reserved.