Chinese Markets 2016 Outlook: Uncertainty Opens Third Week Ahead Of World Economic Forum, GDP Report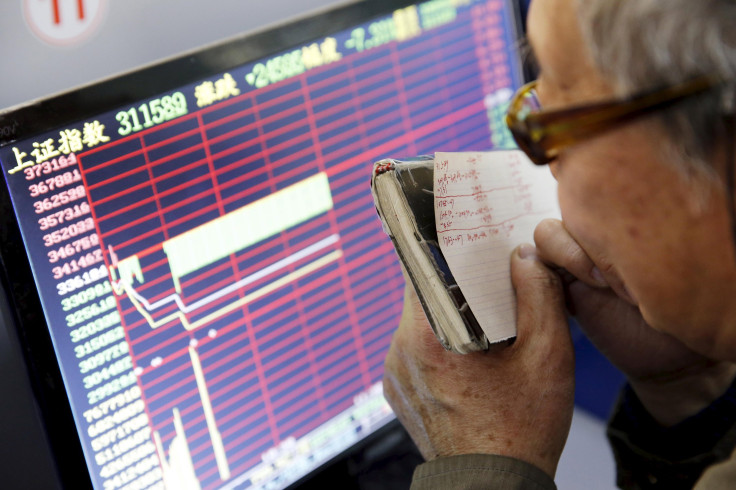 UPDATE: 10:30 p.m. EST -- Chinese markets began the week Monday with the Shanghai Composite, after opening 1.84 percent lower, down .41 percent and the Shenzhen composite up .17 percent after opening 2 percent lower. Before the market opened, the People's Bank of China fixed the yuan at 6.5590 to the dollar, for a slightly stronger price compared to Friday's 6.5637 yuan to the dollar.
Elsewhere in Asia, Japan's Nikkei 225 regained some of its earlier losses and was trading down 1.94 percent, while South Korea's KOSPI traded .41 percent lower.
Original story:
Framed by a bleak outlook, Chinese markets are set to enter their third week of trading in 2016. Upcoming this week are the publication of China's GDP report for 2015, due to be released Tuesday, and the start of the World Economic Forum Wednesday in Davos, Switzerland, from which key monetary policies and other decisions are expected to be issued.
The outlook for Chinese markets this week, meanwhile, remains bleak, after the Shanghai Composite Index entered entered bear territory Friday and as China's economic volatility reverberates the world over.
Elsewhere in Asia early Monday, Japan's Nikkei 225 slumped 1.8 percent. Singapore's STI dropped 0.5 percent, Australia's ASX 200 0.7 percent and New Zealand's NZX 50 2 percent.
Since Jan. 1, global markets have fallen more than 7 percent, and for investors and governments alike, a key question is how to weather the uncertainty wrought by an ongoing slowdown and broader shifts in China's economy that seem unlikely to be resolved anytime soon.
China's stock market has fallen 18 percent so far this year, while the price of crude oil sits below $30 a barrel -- a drop of 20 percent just this year and more than 50 percent since its 2015 high. On Jan. 4, the first day of trading in 2016, Chinese stock markets fell so sharply, by 7 percent, that it triggered a mechanism to shut down the market altogether.
Over the summer of 2015, Chinese stocks fell more than 40 percent, and the Chinese government was quick to react with steps that were criticized as excessively heavy-handed. In the last six months of 2015, capital flowed out of China at an annualized rate of $1 trillion.
For China, a primary driver of economic growth has long been manufacturing. But that has slowed in recent years, as China's economy has shifted toward services and consumption, to the detriment of many emerging markets and developing countries that supplied China with the commodities and raw materials it needed to sustain its appetite for manufacturing.
"The end of China's investment boom means the reverse," Patrick Chovanec, chief strategist at Silvercrest Asset Management, told the Washington Post.
As the economy shifts, China has aimed at opening up capital markets and freeing its currency, the yuan, which since August has lost about 5 percent of its value against the dollar. The Economist has blamed China's handling of its currency as the country struggles to sort out who or what should really dictate the terms of the economy: the market, or the government?
Xiao Gang, China's chief securities regulator, said at a meeting of Chinese securities officials that the "abnormal volatility" seen over the past year within Chinese markets was due to "an immature market, inexperienced investors, imperfect trading system, flawed market mechanisms and inappropriate supervision systems," the Wall Street Journal reported. Xiao also criticized companies that he said had engaged in "exaggerated storytelling" to inflate stock prices.
© Copyright IBTimes 2023. All rights reserved.
FOLLOW MORE IBT NEWS ON THE BELOW CHANNELS