Chinese Media Call On World To Be Patient With North Korea, Say China 'Will Never Curse' The Country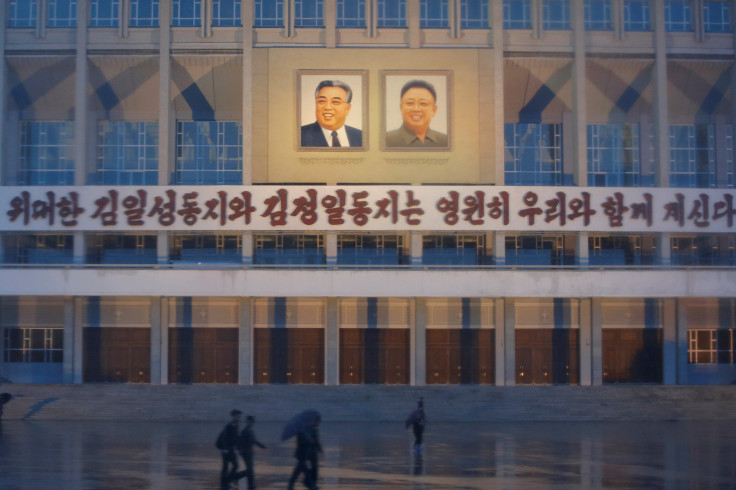 SHANGHAI — As North Korea's ruling Workers' Party holds a rare congress seen as setting the future direction for the regime of its youthful ruler Kim Jong Un, media in China – the isolated country's last backer, but one that has become increasingly frustrated by Pyongyang's insistence on continuing with its nuclear program, in defiance of international sanctions – have suggested the country needs to reform, but said it should be given time.
After Pyongyang claimed in January to have carried out its first hydrogen bomb test, and later launched a long-range rocket and claimed to have miniaturized nuclear warheads for such missiles, China agreed at the U.N. Security Council to impose its toughest-ever sanctions on north Korea. Beijing has frozen some North Korean financial assets, turned away some vessels from the country and halted imports of its coal. And amid reports that China's leaders have grown increasingly frustrated with Pyongyang, one leading academic told International Business Times recently that Beijing now sees Pyongyang "more as a liability than an ally."
The official Global Times recently cited estimates that at least 60 percent of Chinese citizens opposed Pyongyang's nuclear tests. It said many people, "both elites and the general public, deem North Korea is China's burden and an annoying neighbor instead of an old friend."
Yet in an editorial published in both its English and Chinese editions Friday, the Global Times appeared to express some sympathy for the leadership in Pyongyang. It said the country's nuclear program "has brought its regime huge damage," and may have had "far more negative effects on its security than it may have predicted when it initiated its weapons program in the early years." And it said the nation was now at a "critical juncture," adding that the congress would show whether Pyongyang could resolve the "contradictions" between economic growth and nuclear technology – and initiate "reforms and opening up" – a reference to China's own move toward a more market-based economy over the past three decades.
But the article also appeared optimistic about the prospects for a younger, more stable and "pragmatic" new leadership, saying that Pyongyang "has a strong desire to get rid of its long-term isolation and sluggish economy," though it was "confused as to how to take the first step."
And it called for patience, saying it was "not realistic to expect North Korea to make abrupt changes." It criticized foreign countries for an overly negative view of the isolated nation, saying "the outside world" – an apparent reference to the west – "knows very little about the country and instead paints it with entrenched stereotypes," reflecting "a completely negative attitude toward Pyongyang's politics and values."
The paper also suggested that despite the "unpleasant atmosphere" in relations between Beijing and Pyongyang in recent years, "the Chinese public sincerely wishes that North Korea could extricate itself from its plight and realize healthy development." It said that while China opposed Pyongyang's nuclear development, it fully respected the country's autonomy.
And it added: "Many forces are now cursing the country, but China will never be one of them."
The article, in a newspaper known for expressing relatively nationalistic views, may be an indication that, despite its frustration with Pyongyang, the country's establishment is not unanimously opposed to North Korea.
While one Chinese academic recently appeared to break a taboo by arguing that a South Korean takeover of Pyongyang, in the event of a war between the two Koreas, could be economically beneficial to China, Beijing remains highly alarmed at the prospect of any collapse of its neighbor, fearing this could lead to a refugee crisis on China's northeastern border.
Beijing has made it clear that it is also concerned about the stepping up of U.S. military cooperation with South Korea following Pyongyang's recent nuclear tests. China has warned that a proposal to deploy the U.S.-developed THAAD missile defense system in South Korea is partly targeted at "containing China" — and the Global Times recently accused Washington of trying "to pull Seoul to its side and intensify the military pressure on China," and has said such a strategy could lead to a "destructive arms race" in the region.
Chinese academic Cui Zhiying, head of the Korean Peninsula Research Center at Tongji University in Shanghai, also appeared to express some sympathy for Kim Jong-un Friday, telling the Global Times that "Kim may emphasize both military buildup and party building at the congress to help stabilize the country in [the] face of growing pressure from the U.S."
FOR FREE to continue reading
✔️ Unlock the full content of International Business Times UK for free
offer available for a limited time only
✔️ Easily manage your Newsletters subscriptions and save your favourite articles
✔️ No payment method required
Already have an account?
Log in
© Copyright IBTimes 2023. All rights reserved.