Chinese Media Praise Mark Zuckerberg's 'Cooperative' Attitude, Fuel Speculation Facebook Could Be Unblocked In China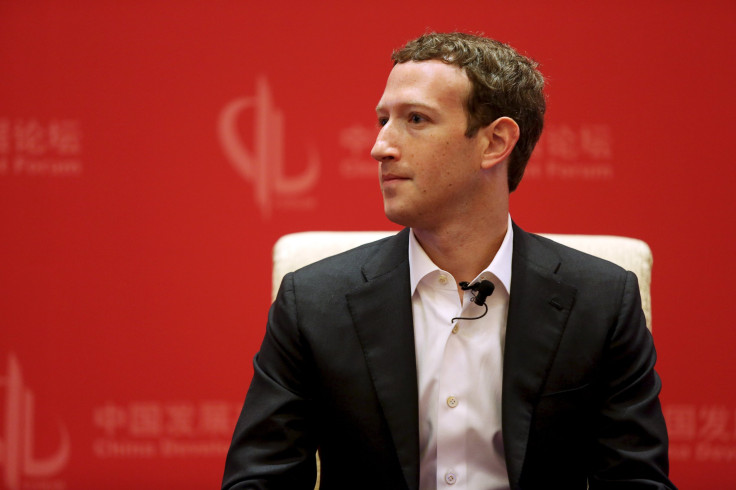 SHANGHAI — Chinese media praised Facebook founder Mark Zuckerberg for his "cooperative" attitude with China's internet authorities during a visit to Beijing this weekend — and some Chinese analysts say the nation may be considering unblocking Facebook, currently blocked by China's "Great Firewall" censorship mechanism. But analysts said the social networking website might have to comply with China's increasingly strict controls over online content.
Facebook has been blocked in China since 2009, when the government restricted access to a number of social media sites, including Twitter, amid concerns over online comments on sensitive political anniversaries, and after riots in the northwestern region of Xinjiang, which the government said were stirred up by information spread using social media.
However, Zuckerberg's popularity among young people in China has been growing, both for his efforts to learn Mandarin Chinese, and recently, for his pledge to donate most of his Facebook shares to a foundation for health and education initiatives set up jointly with his wife Priscilla Chan. In 2014, he also hosted China's internet regulator Lu Wei at Facebook's offices in Silicon Valley, and was seen with a copy of a book by President Xi Jinping displayed prominently on his desk.
On Saturday, Zuckerberg was given what Chinese media called "a rare meeting" with top Communist Party propaganda official Liu Yunshan in Beijing, where he was attending the China Development Forum. Liu praised Facebook's "advanced" technology and governance, and expressed hope that Facebook could "work with Chinese internet enterprises to enhance exchanges and share experiences," according to the official Xinhua news agency.
The visit, which comes as China tightens controls on internet users and media in general, showed that "unlike many foreign business elites who hold old-fashioned prejudice against China, Zuckerberg has been friendly to the country," Steven Dong, a professor at the Communications University of China told the official Global Times. Dong said this "sets a good example for foreign countries hoping to enter China's market."
The paper also quoted Qin An, a Chinese cyber security expert, as predicting that it was "highly possible" that Facebook would be allowed to return to the Chinese market. However, Qin said that since Facebook's filter system for dealing with "harmful information and internet fraud" was "relatively lax," it would first need to be "improved according to Chinese laws."
Zuckerberg, who also took part in a panel discussion with Alibaba founder Jack Ma during the weekend conference, did not comment publicly on his ambitions for Facebook in the country. However, he has repeatedly emphasized his enthusiasm for China, and sought out President Xi Jinping during the Chinese leader's visit to Washington State last September, asking him for a suggestion for a Chinese name for his new-born daughter. On Friday Zuckerberg posted a picture of himself jogging in Tiananmen Square on his own Facebook page, with the comment "It's great to be back in Beijing!"
Some Chinese analysts suggested that China's internet market, which has more than 600 million users, was simply too big for Facebook to ignore, with one predicting that the company might launch a Chinese version of its website, one "which subscribes to the country's laws." One media commentator suggested this might be similar to that launched by LinkedIn in China: the professional networking site's Chinese version has grown rapidly in popularity over the past two years — though it has also faced criticism outside China for blocking posts which the Chinese government would consider politically sensitive. Some such posts are now only accessible to users outside China.
Some observers have also noted that China's social media market is already heavily saturated, and dominated by local giants like social media App WeChat, owned by Tencent, which combines functions of sites like Facebook and WhatsApp. One commentator said Facebook had less to distinguish itself from Chinese competitors than LinkedIn. However, the lack of access to such Western networking sites without a Virtual Private Network connection tool — some of which are also sometimes blocked in China — is a major source of frustration for many foreigners living in the country, and removing it might win the authorities some plaudits. And China's commerce minister stressed at the China Development Forum this weekend that the country was planning to open the economy further to foreign investment in the coming years.
But content controls may be a sticking point. Since President Xi Jinping took office three years ago, the Chinese government has shown itself to be increasingly wary of an unfettered internet, setting up a new "cyberspace administration." It has also arrested a number of well-known bloggers, and drafted a new internet law which requires service providers to increase censorship of content, locate servers in China and allow Chinese officials access to them when required. It has also called for a global agreement for countries to not intervene in each other's "internet sovereignty" by criticizing censorship.
China's leadership has also tightened controls on China's mainstream media content. President Xi recently asked journalists in official media organizations to promote the Communist Party's interests at all times, leading to concerns about the future of challenging journalism in the country. Several journalists have been detained in recent months, including one taken for questioning last week, apparently for his links to a website that published a letter calling for Xi to step down. China has also recently restarted blocking access to the website of Hong Kong's South China Morning Post, which was recently taken over by Jack Ma's Alibaba.
© Copyright IBTimes 2023. All rights reserved.