Chinese Muslim Uighurs In Xinjiang Defy Government Ramadan Ban, Continue Traditions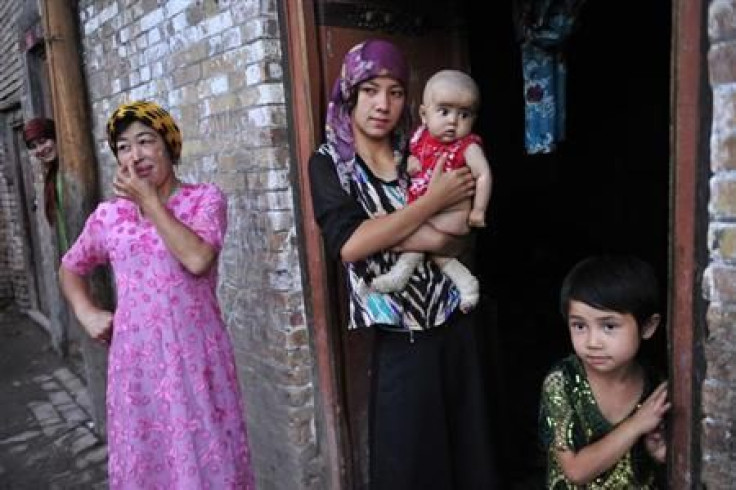 China's nationwide ban on state officials and schoolchildren fasting during the Muslim holy month of Ramadan has backfired, prompting ethnic Uighurs in the vast northwestern region of Xinjiang to become more observant of the holiday.
In Xinjiang's far-western city of Kashgar, near the borders of Tajikistan and Kyrgyzstan, Chinese Uighurs say the ban has only prompted them to become more devout in following Islamic custom.
Human rights groups have criticized the ban, calling it a systematic attempt to eliminate religion from the officially atheist country and marginalize the culture of the indigenous Uighurs. Authorities claim the ban was implemented to ensure the health and safety of government employees and schoolchildren.
Despite the concerns of the Chinese government, Uighurs not employed by the government, like Ghulam Abbas, a shopkeeper in Kashgar, have decided to proudly display their religion in other ways. According to a report by Al Jazeera, groups of young women wear traditional headscarves or full veils as they pass signs that bar veiled women from entering the city's main hospital. During Ramadan, the ban also forbids government employees' children from entering mosques -- still, dozens of men attending a night prayer have also brought along their children.
"Sure, it's against the law to bring kids to the masjid [mosque], but we do it anyway," Abbas said. Abbas also explained that another practice, maktaps, part-time school held at mosques where children memorize the Quran, has also been outlawed in Xinjiang. Abbas says he has resorted to teaching his 8-year-old son in private.
"They want to cut our children off from Islam," Abbas said. "We are not allowed to teach them the Quran, but we do, at home secretly."
"The Chinese don't want us to have kids, but we just pay fines or bribe people," Abdul Razzak, a father of five, said in the report. Razzak has three more children than allowed by the law, and says that his two sons and daughter that followed his first two children cost him about 60,000 yuan, or about $9,670 in fines.
Even the religious text itself, along with other Islamic texts, needs to go through the state-vetting process. Only state-approved copies of the Quran are allowed to be used. According to an unnamed bookstore owner, unauthorized translations of the Quran can land you in jail.
© Copyright IBTimes 2023. All rights reserved.
FOLLOW MORE IBT NEWS ON THE BELOW CHANNELS