Chinese Navy Chief Conducts 'Unprecedented' Survey Of Spratly Islands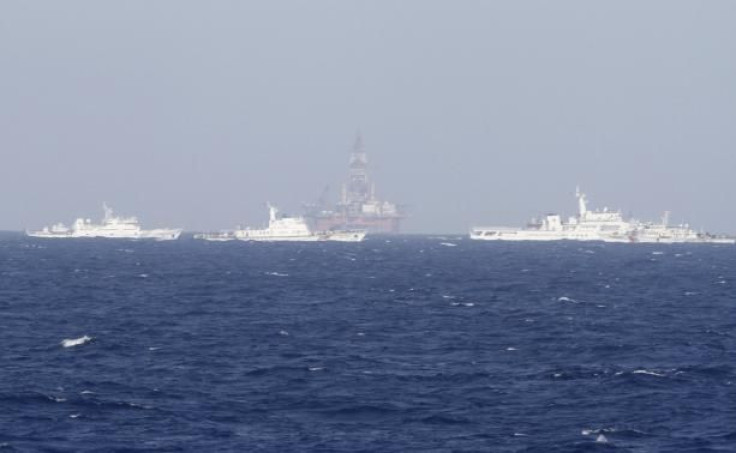 China appears to have made headway in the so-called reclamation of disputed areas in the South China Sea, a project to create new land masses using reefs in areas claimed by both Beijing and its neighbors. According to Taiwan and Hong Kong news sources, China's naval chief has been surveying islands located in disputed maritime territories, angering nations locked in territorial disputes with China such as the Philippines.
According to Taiwan's Want China Times, which cited briefing given in Taipei by Lee Hsiang-chou, the director general of Taiwan's National Security Bureau, Chinese admiral Wu Shengli, the commander of the People's Liberation Army Navy, completed a survey of five islands in the archipelago known as Spratly Islands. The Spratlys are claimed by multiple Southeast Asian countries, including the Philippines, Brunei and Malaysia. Lee called Wu's visit to the islands "unprecedented" even for China, a nation that continues to assert claims in the area by setting up oil rigs, military outposts and other structures.
Hong Kong news source Takungpao wrote that Wu spent a week surveying the islands and reported that the approval for the mission came directly from China's President Xi Jinping. China's government has been actively developing its presence in the area. A BBC report in September revealed China's efforts in churning out island masses in the disputed waters with factory-like efficiency, turning many of the reefs in the area into new pieces of land to claim. Aerial photographs taken by the Philippine Navy show the massive amount of development that has been done since January, with millions of tons of rock and sand being dredged up from the seafloor. China's presence has made other countries in the area worried that new land masses could signal attempts at developing air bases and other military facilities.
During the briefing, Lee also reported that admiral Wu was also overseeing troop drills on a part of the Spratly archipelago the Chinese call Yongshu Island. Known by the Philippines as Fiery Cross Reef, the site is home to about 100 Chinese troops and is the country's home base for their efforts in the area.
© Copyright IBTimes 2023. All rights reserved.