Chinese Navy Flexes Its Muscle In Taiwan Strait
China conducted live-fire drills in the Taiwan Strait on Wednesday — the first of its kind since 2016, the China Global Network reported. China's Taiwan Affairs Office Director Liu Jeyi said, "The drill aims to safeguard china's sovereignty and integrity."
It came after Chinese President Xi Jinping reviewed the People's Liberation Army Navy (PLA-N) in the South China Sea on Friday. The live-fire drill, conducted 65 kilometres (40.3 miles) off Taiwan's Kinmen Island, was a message to Taipei and also a show of support to Russia to put pressure on the United States.
Macau-based military expert Antony Wong Dong said military conflict between the U.S. and Russia in Syria could "break out anytime" and the live-fire drill in Taiwan was meant to be a show of support toward China's strategic partner Russia. It was also meant to divert attention from the Syrian crisis after President Donald Trump threatened a strike.
Taiwan accused China of sabre-rattling, which refers to display or threat of military forces, the Sydney Morning Herald reported. Taiwan's President Tsai Ing-Wen downplayed the navy exercise — the first live drill in the Taiwan Strait since she took office.
President Tsai made her first presidential visit to Africa, arriving Tuesday in Swaziland, which is one of the few nations to offer Taiwan a diplomatic recognition.
Li Zhenguang from the Institute of Taiwanese studies said the cross-strait relations are at its lowest and the drill was the mainland's response to those who are seeking "independence of the Island."
"The military drill sends a message to the U.S. that it should stop backing the separatists on the island," he said.
Adding to tensions with China, the U.S. in March passed the Taiwan Travel Act, which encourages visits by officials from the latter to Taiwan. China complained this violated the long standing One-China policy, according to which, Chinese on the either side of the Taiwan strait maintains there is one China and Taiwan is a part of China.
On April 13, President Xi presided over China's largest ever naval drill held in the South China Sea. It involved the nation's only aircraft carrier, 48 ships, 76 helicopters, fighter jets, bombers, and 10,000 personnel.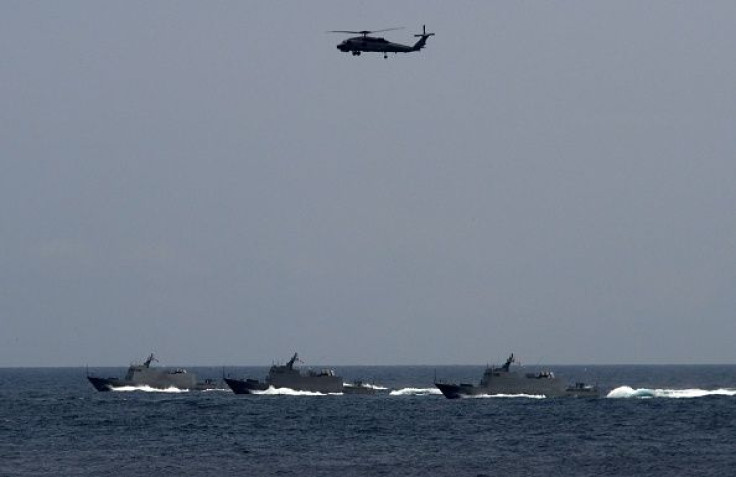 According to Indian daily the Times of India, the country's navy tweeted "a warm welcome" to three Chinese warships, which had entered the Indian Ocean region. The Indian Navy followed up the tweet with a map, which showed 50 warships on vigil 24/7 to counter any threat to the national security. The Indian navy then added "happy hunting" to its welcome message to the Chinese ships, which Beijing said belonged to the 29th Anti-Piracy Escort Force in the PLA-N in the Indian Ocean Region.
© Copyright IBTimes 2023. All rights reserved.