Chinese Netizens Commemorate Tiananmen 'May 35th' Massacre With Rubber Duck Version Of 'Tank Man' [PHOTO]
Today is May 35 in China, a day that may not exist on any calendar but holds great significance to many who struggle to commemorate the June 4, 1989, events in Beijing dubbed the Tiananmen Massacre.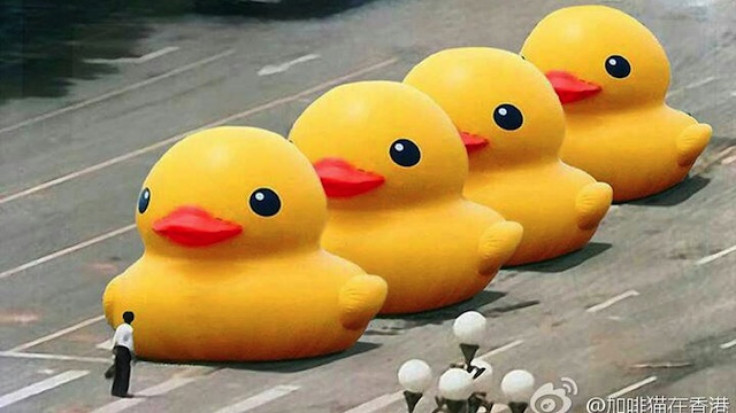 China's infamous Internet censors have been placed on high alert for any incriminating posts that would allude to the protests that took place 24 years ago and their bloody repression. As a result, China's savvy netizens have taken to unconventional strategies in order to circumvent social media censors that are policing China's popular Twitter-like social media site, Weibo.
Aside from referring to the anniversary date as "May 35" or "535" on Weibo, because the phrase "June 4" would undoubtedly be blocked, one image that has been shared is an edited version of the infamous "tank man" that has since become a renowned photograph synonymous with the June 4 events. The satirical version of the photo includes the now-famous Hong Kong harbor duck instead of tanks.
According to GreatFire.Org, a censorship-monitoring website, the image was quickly shared across the site, and, soon enough, the term "Big Yellow Duck" was also censored. China Media Project, a research program associated with the University of Hong Kong, tweeted the rubber ducky image on its Weibo account and said it came down in less than 60 seconds.
According to the China Digital Times, China's censors on Weibo went beyond blocking expected "sensitive" terms like "Tiananmen Square" but also any abbreviations or variations of the date's numbers, 6, 4 or 89, in addition to blocking the code term "May 35th" or the corresponding "535" code. Even the French-language "six-quatre" and Roman numerals "VIIV" were blocked. The full list of blocked words were all-encompassing of the event, even censoring the words "today," "that day" and "special day." An emoticon on Weibo of a burning candle, often used by netizens as a symbol of remembrance, was also barred from use today, as it was last year.
Because of these heavy censors, June 4 is known as "Internet maintenance day" in China. However, many on Weibo did note Beijing's weather today, as a storm rolled into the city at mid-day, with darkness combined with smog blanketing the city. Chinese and China-based foreigners took to social media and were able to make the sinister connection.
Aside from the symbolic storm, China's central government wasn't able to stop the annual vigil that took place in Hong Kong's Victoria Park.
Every year, Hong Kong residents flock to the square to commemorate the Tiananmen Square democracy protests, a place that is likely the only area where people have the freedom to do so. The turnout for the vigil reached tens of thousands, many of whom were holding candles, gathering in the square remembering the events that the mainland government is trying so hard to forget.
© Copyright IBTimes 2022. All rights reserved.
FOLLOW MORE IBT NEWS ON THE BELOW CHANNELS