Chinese Police Give Female Students Tips On Dealing With Rapists Such As Avoiding Eye Contact, Using Condoms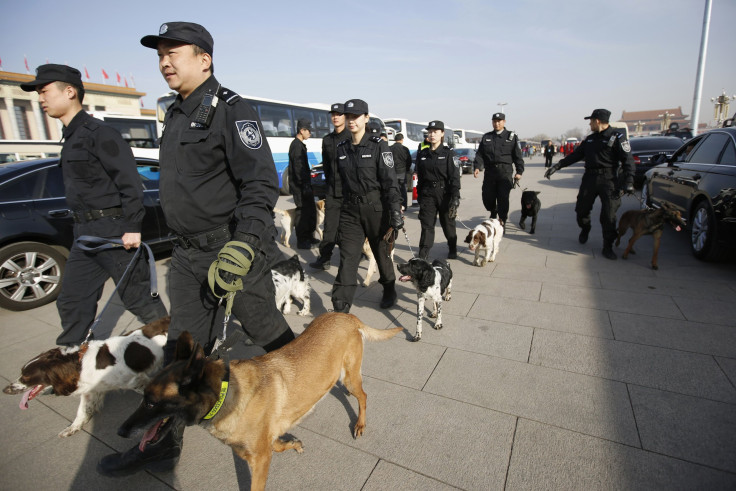 SHANGHAI -- Police in a southern Chinese city have given female university students advice on how to avoid being raped and how to respond if they do become victims of such crimes. The Southern Metropolis News reported on its website that police in the city of Shunde in Guangdong province held an advice session last week for 200 female students at the city's Professional Technical College.
The move comes after a study by the local court, which showed that 84 percent of sex crimes in the area over the past three years were committed by people who were known to their victims.
Local Police Officer Nie Weiwen, the paper said, told students that, to avoid being raped, they should keep away from people who were "very tactile," and also avoid being alone with "silent, introverted" people. When alone with men, he said, women should not only keep a physical distance, but also avoid "words which could be misinterpreted or had provocative meanings." If men tried to use "suggestive phrases," he added, women should make their position and opinion clear.
When it came to strangers, the officer told the students to be on guard against people following them, and against motorcycle taxi drivers and, in particular, drunks -- since the latter might "not only attack you, but are also more likely to be overtaken by sexual urges and carry out sex attacks."
He suggested that students should use public transport when returning to their university late at night, rather than walking along the quiet wooded road leading to their campus. Officer Nie showed a video of a young female student walking home alone, who was followed, attacked and dragged into the wood within the space of just one minute, according to the paper.
The officer reportedly also pointed out that 70 percent of rapes took place in residential buildings. He said female students should be cautious when responding to advertisements looking for private tutors, and should tell their friends or parents if they were going for an interview.
If they were in danger of being attacked, he added, women should remain calm: in a public place they should scream loudly, since research showed that "most rapists are not killers, they're not that brave." If they were indoors, they should try to call the police, and keep the line connected even if it were not possible for them to speak, so that police could locate them.
However, if they were attacked, the officer advised women not to say, "I'll remember you, I'm going to tell the police," since this might anger the attacker. They should also avoid "looking directly" at their attacker, he said, in order to "give the perpetrator a reason not to kill you." If they could not avoid being raped, they should demand that the attacker used "protective measures" -- in other words a condom; they should then call the police as soon as it became safe to do so, and should avoid washing their clothes immediately afterwards in order to preserve evidence.
Officer Nie also said it was "vital" for women to learn protective martial arts; online videos of what's known as "skills for fighting off wolves" are common in China. But he said women should be realistic about their fighting skills in comparison to the "brute strength of an attacker." He suggested women should work to improve their fitness so they could "at least run fast" if they had to escape. He also advised them to buy sprays and rape alarms.
The policeman's comments are the latest in a series of official warnings about rape to young Chinese women. Last year, a police officer based at Wuhan University in central China aroused controversy online with a list of suggestions for avoiding rape, including the suggestion "be ugly, it's the safest thing of all."
As in many countries, experts say cases of rape -- and domestic violence -- are often not reported in China, where the topic has in the past been seen as taboo, or as shameful for victims and their families. However, media reports suggest sex crimes are becoming more frequent. A case in August last year, in which a pedicab driver in the northern city of Jinan abducted a female student and repeatedly raped her over a four-day period, received widespread coverage.
Leta Hong Fincher, a Hong Kong-based academic and author of Leftover Women - The resurgence of gender inequality in China, said warnings by officials to young women about rape had become more common in recent years. But she noted that China still does not have a law against marital rape, and said official attitudes were often "completely absurd … almost laughable." In one case, in 2012, for example, the operator of the Shanghai subway system suggested women should not dress provocatively in order to avoid being harassed. Hong Fincher said such views remained common in China: "It's classic victim blaming - if women are attacked it's really their fault." And she described the Shunde policeman's suggestion that rape victims should ask their attacker to use a condom as "not helpful in the least – completely counterproductive."
China's legislature is currently studying a draft of the country's first law against domestic violence, which is expected to enter into force later this year. Hong Fincher said this was a "positive step." However, she noted that Chinese police recently detained five young women's rights activists who had been campaigning against domestic violence and harassment of women. The five, from several Chinese cities including Beijing, Guangzhou and Hangzhou, were arrested in early March ahead of International Women's Day, apparently as part of a recent crackdown on grassroots activists. They are still believed to be in detention.
Hong Fincher said the detention of women who were campaigning on an issue that was "completely in line" with central government policy was "shocking and egregious." She said it was "particularly hypocritical" since the Chinese government is preparing to co-host a Global Women's Summit at the United Nations in September to mark the 20th anniversary of the 1995 World Conference on Women in Beijing.
Separately, Chinese academics have also called for the passing of an amendment to China's laws to criminalize male rape, which is not currently classified as a crime in China. It follows one recent case in which a man in Chongqing who raped another man was released with only an official reprimand, as police said they could not charge him with any crime.
© Copyright IBTimes 2023. All rights reserved.