Chinese Rescuers Find 8 Survivors In Mine, 5 Days After Collapse Left Several Missing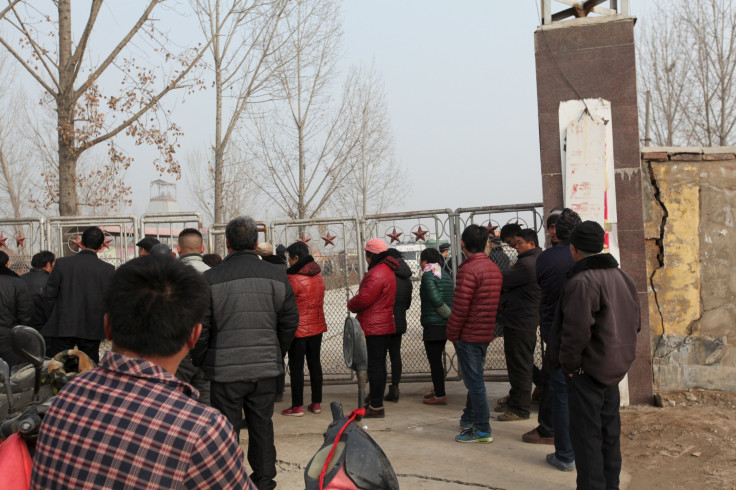 Chinese officials have found eight miners alive days after a gypsum mine collapsed in Shandong province in eastern China. The accident, which killed at least one person and triggered a minor quake, happened Friday.
Officials have started planning a rescue after they used infrared cameras to discover the survivors waving their hands, state-run Xinhua reported. Nine people were still missing at the mine and Xinhua added that rescue operations were obstructed by falling debris and the instability of the structure. However, holes were drilled so that life detectors and provisions could be sent down.
At the time of the accident, the cause of which is yet unknown, 29 people were inside the mine and 11 people were rescued in the days following the collapse.
Four senior officials in Pingyi county, where the mine is located, were fired from their jobs after the mine's collapse, which reportedly triggered a 4.0-magnitude quake. According to the Associated Press, Ma Congbo , the mine's owner, killed himself by jumping into a well after the accident.
There have been several mining accidents in the country over the past couple of years. Earlier this month, two accidents in Liaoning and Heilongjiang province killed 36 people. Last month, 21 people were killed in a fire at a mine in Heilongjiang. In April, eight miners were killed while 13 were trapped in another accident in the Shanxi province.
However, recent improvements in safety standards have helped reduce the number of accidents and casualties. Last year, mine accidents killed 931 people in the country, compared to the 7,000 people killed in 2002.
© Copyright IBTimes 2023. All rights reserved.