Chinese Think Tank Issues Bleak Growth Forecast, Urges Beijing To Ease Policy Further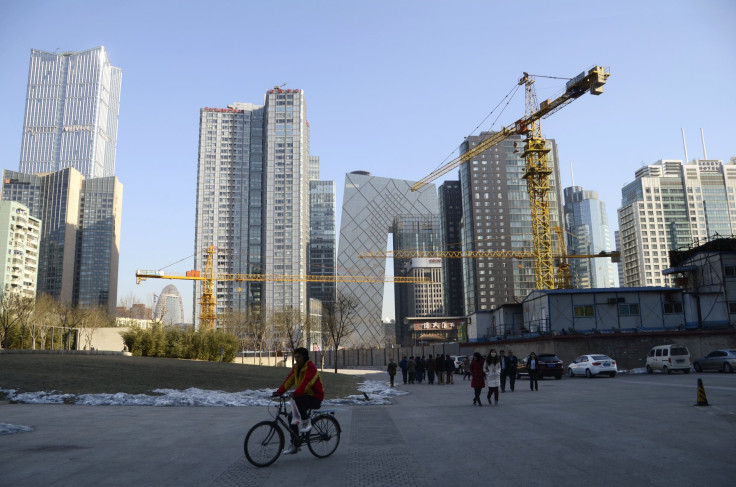 As China's economy continues to face downward pressure from slowing domestic demand and flagging exports, growth in the world's second-largest economy is expected to slow further next year, a Chinese think tank reportedly said Sunday. The bleak forecast by China's National Development and Reform Commission's (NDRC) economic research institute came just days after the People's Bank of China revised its growth projection for 2016 to 6.8 percent — down from an expected 6.9 percent this year.
Growth in household spending and consumption could be limited to single digits in 2016, while exports, buoyed by a depreciating yuan, may grow slightly, the research institute reportedly said, in its report.
"Some hidden unemployment problems will float to the surface to intensify unemployment pressure, and it will be a threat to job stability next year," the NDRC's think tank said, in the report, adding that investment growth, which stood at 10.2 percent between January and November this year, could fall to about 9 percent next year as a cooling real estate market drags on overall growth.
Despite a raft of policy measures aimed at boosting growth and attracting investment to the country, Beijing has been struggling to achieve its target of 7 percent growth in gross domestic product this year — a problem recently acknowledged by Chinese Premier Li Keqiang.
As the government's policy easing steps, which include cutting benchmark interest rates, lowering the amount of deposits banks must hold in reserves and devaluing the yuan, continue to meet with limited success, many in Beijing have begun to embrace the "new normal" — a 6.5 percent annual growth over the next five years.
In order to rescue the economy from a deepening quagmire, the NDRC recommended that China's government should continue to cut interest rates and banks' reserve requirement ratio to bolster flagging growth. It also urged Beijing to allow a modest weakening of currency to assist exports and issue more treasury bonds to raise capital for big-ticket projects.
"We must give more green lights and reduce the number of red lights for businesses so that innovation can be put on a fast track," former NDRC vice-chairman Xu Xianping reportedly said, at a press conference over the weekend.
© Copyright IBTimes 2023. All rights reserved.